Surgical scalpels and stethoscopes were behind them. But shovels, seedlings and soil were a far-fetched swap for two medical professionals eyeing retirement.
The citified couple were on a Sunday morning drive in northern Douglas County when they came upon a heavily treed 16-acre property with a for-sale sign.
Instead of breaking ground on a home in west Omaha, they did a 180 and became owners and stewards of a private arboretum — without a stick of landscaping experience to guide them.
The couple, who wished to be identified by first names only, acquired the property in October 1996. The re-imagined their new home plans to better suit the wooded site and had it built deep into their property. A deck with a sail-like canopy and an extended basement underneath was added in 2008. They share their home with an energetic Doberman puppy.
The property — which once supported a vineyard and an orchard and was hard hit in the ice storm of '96 — boasts some 300 cultivars of native and adaptive trees, woody plants, grasses and perennials. The homeowners' painstaking attention to plant diversity, design and maintenance has led to a coveted designation as a Nebraska Statewide Arboretum Landscape Steward Affiliate Site.
Horticulturists and tree experts have been the couple's primary teachers the past 23 years.
They planted 500 trees that first year. About 300 survived.
Their experiences have consistently validated that bare root or bag-grown trees do best in Nebraska. When they plant, they water for the first year. After that, it's survival of the fittest.
"We learn by mistakes," Carol says.
"There's just so much to know," Bob says. "It's been a progression of knowledge."
The landscape, more than ever, is giving back through education, research and enjoyment.
Early on, Carol got involved with the Nebraska Statewide Arboretum and eventually joined its board. She became a Master Gardener through the Nebraska Extension. And she reads. Her home library includes volumes of plant and tree encyclopedias and reference books.
Through the Arboretum network, Carol and Bob have developed friendships along with expertise.
"It takes all those people to help you when you don't know anything," she says. "They are so willing to share their knowledge and make sure you understand what to do with it."
Each season brings beauty and challenges.
"We love it in the spring and hate it by winter," Bob says with a smile.
There's nothing like the awakening of the landscape with sprouts and buds and color.
But spring's arrival also means flower beds to clean, bushes to prune and trees to trim.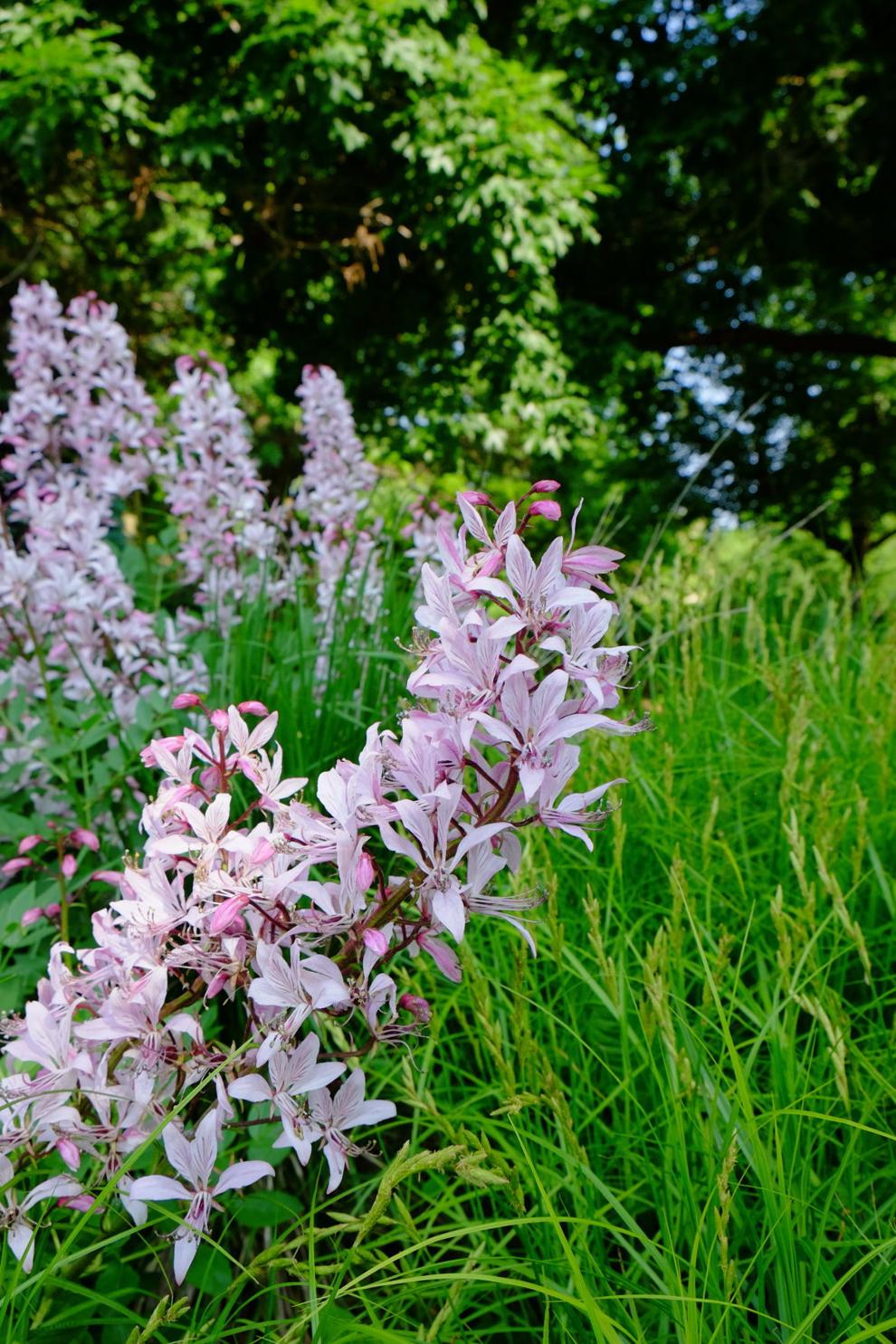 In summer, flowers are in full bloom. "But weed management is impossible," Carol says.
"I find it really annoying that it can't be perfect. You have to learn to embrace the dandelion. That's really hard."
This summer, she created a pocket prairie garden using native sedges as green mulch.
Autumn brings stunning changes to the landscape, sometimes daily. And relief: the end of mowing season. Days, however, are filled with cutting native and adaptive grasses.
During busy seasons, the couple sometimes have help a few days a week.
Winter brings snowy views from their picture windows. "I actually prefer the shorter days because I can read," Carol says. Bob works in his machine shop. And he pushes snow.
"Carol knows most of what we have because she put it there," Bob says.
Her strategy is to have something in bloom throughout the growing season, plus landscape interest in winter.
"It's fun to see things come up where you didn't think they would," she says.
Photos: Their own arboretum
The couple didn't plan to buy a 16-acre property. But they couldn't resist the lure of this Douglas County land, which they've turned into a Nebraska Statewide Arboretum Landscape Steward Affiliate Site.