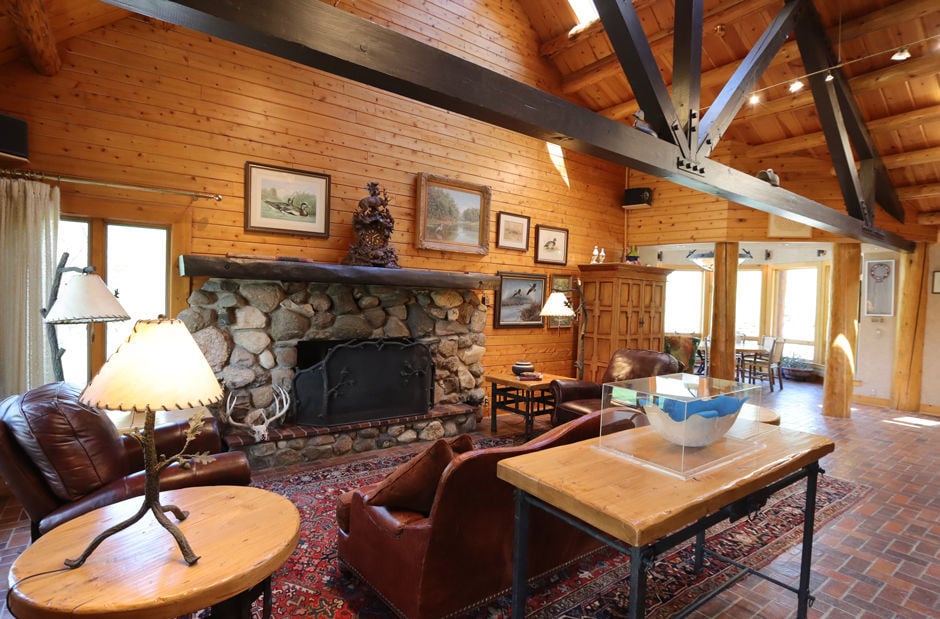 For years, car thieves smuggled their plunder into this hidden valley, stripped the parts and left the remains to rust.
Nearly 45 years have passed since bulldozers first pushed the junk up into a ravine, freeing the natural bowl for a new lease on life.
It would take seven years to clear the overgrowth and debris and sculpt the landscape. But by 1983, the property would boast an authentic log home, a 2½-acre lake and 100 acres of healthy woods for hiking, target shooting and morel hunting.
Fast-forward to 2020. The 1½-story house has grown a bit to 4,000 square feet, and a stone's throw away there's a 2,200-square-foot guest lodge with a tuck-under garage against a backdrop of towering trees.
Welcome to Five Oaks, a private sanctuary in the Loess Hills north of Council Bluffs.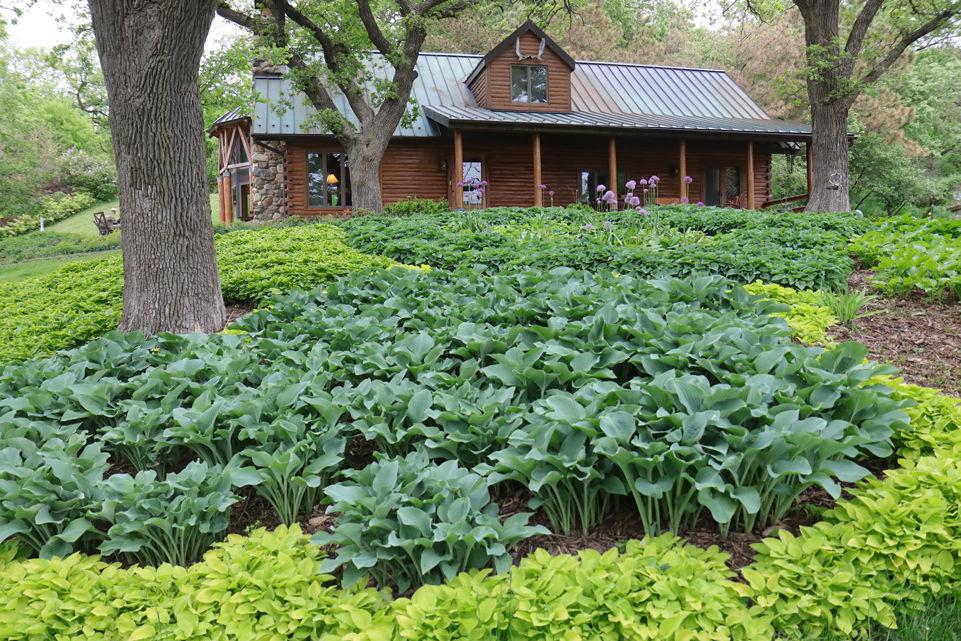 "There were old cars and parts everywhere," Barbara Schlott recalls of the property she and her former husband explored on horseback early in their courtship, and then redeveloped as their future home.
"Bob had the vision for the landscaping," Barbara says of her former spouse's desire for a rustic but refined private retreat. Together they chose a frontier-style kit house and expanded the square footage to fit their needs and the terrain. The logs and timber beams arrived on flatbed trailers, lettered and numbered for assembly.
South Dakota fieldstone was trucked in, too, for the fireplace surround and exterior chimney. The hearth is crowned with a massive walnut mantel. "It took six or seven guys to position it. And they were working up a sweat," Barbara says.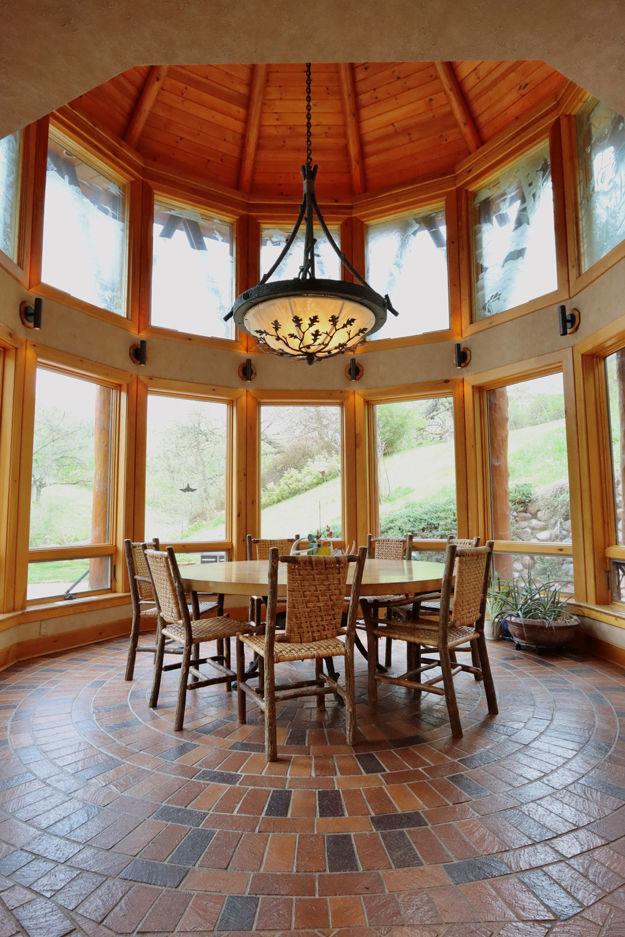 In 2001, an addition to the back of the house brought an upgraded kitchen (Barbara loves to cook and bake) and a gazebo-like breakfast nook with custom etched glass depicting flora and fauna specific to the property. The artist, Steven Kersey, continued the theme in the kitchen's etched glass cabinet doors.
The 18-month renovation project also included a wine cellar and a tunnel between the house and the heated garage, a car enthusiast's dream with 14 stalls.
The lodge/garage, of solid-log construction, was built in 1988. It, too, features a fieldstone hearth and gourmet kitchen, and a one-of-a-kind 24-foot plank dining table that seats 18. Through the years, the lodge has welcomed patrons of Children's Square and other local charities, as well as Airbnb guests from around the world.
The log home's long veranda is Barbara's favorite spot for sipping tea and reading — or simply gazing out across the lake.
The transformation from junkyard to sanctuary still amazes her.
A visitor would have no clue unless, perhaps, you stumbled upon random parts from that chop shop while hiking or hunting for morels.
Part man-made oasis, yes. But nature still is the centerpiece.
A red-brick lane follows the gentle curve of the lake and spills into a circular drive, revealing the 150- to 175-year-old stalwarts that give Five Oaks its name. Under the towering canopy, thousands of hostas, planted by color and texture, canvas the slope between the drive and the house.
A tour of the grounds with canines Diamondella and Miss Jackie tagging along is interrupted by a bird call high overhead. Barbara knows it well. "That's a nuthatch. Do you hear him?"
Birding is a hobby for this conservationist, and binoculars are never far away for panning the grounds for songbirds, towhees, grosbeaks, woodpeckers, bluebirds, orioles, hawks, owls and bald eagles. "I watched an osprey hunt once. That was cool."
In the near distance, plum, cherry and crab trees are springtime beauties, exploding with white and pink blossoms that fall like snow.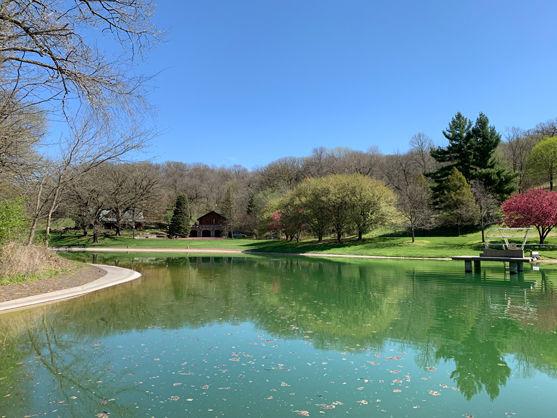 Garden patches and trellises hold vining hyacinth bean, sweet pea, iris, hollyhock, allium, daylily, wisteria and bleeding heart. There's even a small grove of cherry trees between the house and lodge that produces "millions of cherries for baking."
Barbara maintains about five acres of green space around the lake. "I'm constantly weeding and mowing, and I love it," she says.
Four young grandsons visit often, enjoying many of the same summertime activities their fathers did in their youth — swimming, fishing, canoeing, paddleboarding, mountain biking and picnicking.
In winter, a sledding hill provides hours of entertainment.
Walks along the ridge of the property are the ultimate for Barbara. Follow the ridge long enough and you'll reach Lewis & Clark Monument Park for a sweeping view of the Missouri River valley and the Omaha skyline. And if you're really lucky, you'll return home with a hatful of morels in season.
Or a deer skull with antlers.
"I have several around the yard, for fun."
Photos: Five Oaks oasis boasts two cabins, acres of woodlands and a man-made lake
A red-brick lane follows the gentle curve of the lake and spills into a circular drive, revealing the 150- to 175-year-old stalwarts that give Five Oaks its name.