"I need a puzzle. I'm desperate."
And with that, Judy Gacek swooped in, made a selection, dropped cash into a kitty and was on her way — until snagged at the exit.
We wanted to know, was she a serious jigsaw puzzler?
Yes, she does puzzles: "We always have a puzzle going at Christmas. It's been a 50-year tradition."
"I've been needlepointing, reading and baking" while in self-quarantine, Gacek said. "I'm bored with all that."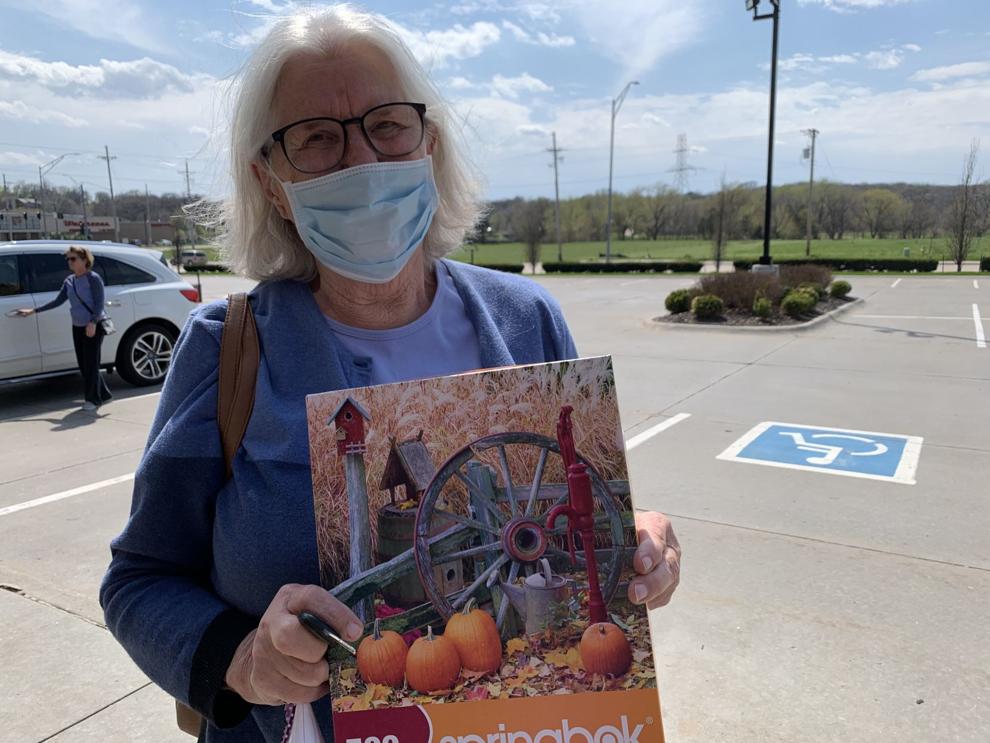 Puzzle building would occupy a few hours in a day — and help a good cause in the process.
The Omaha bookseller's puzzle exchange, which continues this weekend, is a fundraiser for Food Bank for the Heartland.
To start the exchange, The Bookworm solicited donations of gently used jigsaw puzzles of 250 pieces or more.
"We thought we'd get 20 to 50 over the course of the week," said sales associate Carl Erickson. "In the first day, we had at least 75."
By Sunday, some 360 puzzles were available for release. Several more remained in quarantine — just to make sure they were COVID-19-free before going into circulation.
"We were told that the virus that causes COVID-19 only lives on paper for 24 hours," said Betsy Von Kerens, a manager for the store in Loveland Shopping Center at 90th Street and West Center Road.
Customers who donated puzzles received Bookworm Bucks toward regular store merchandise. Those who took puzzles were asked to make a monetary donation to the Food Bank. The suggested donation was $5 per puzzle. Erickson guesstimated that more than $1,500 would be raised by the time the exchange wraps up, perhaps this week.
"We've had an incredible response," Von Kerens said. "People have been so generous" in donating both puzzles and cash toward the cause.
Avid puzzlers have been especially excited because they haven't been able to get a new puzzle for weeks, Von Kerens said.
"Everyone is sold out of adult-sized puzzles" she said.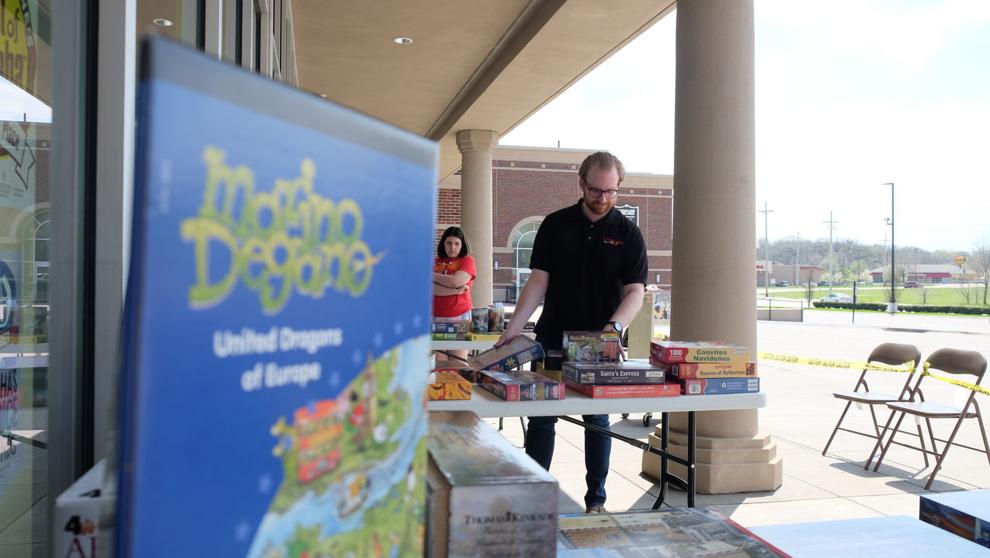 They began flying off the shelves at The Bookworm and other booksellers nationwide about the time people started realizing that they'd be sheltering in place for an indefinite period amid coronavirus concerns.
"Puzzle manufacturers weren't ready for that," Von Kerens said. "Who could see this coming? There's been this dry period in the pipeline as a result."
The Washington Post reported that U.S. puzzle sales in late March were rivaling Christmas volumes. Mega retailer Puzzle Warehouse in St. Louis told the newspaper it was selling as many as 10,000 puzzles a day online — 10 times the normal sales volume for this time of year.
Locally, interest in the exchange has ranged from millennials to baby boomers, Von Kerens said.
"We're seeing regular puzzlers and families," she said. "But there also has been an uptick of young adults, some who maybe are just discovering puzzling."
The appeal is that puzzles are a way to unplug. Your hands have something to do while your brain gets to relax. Studies also have found that successfully piecing a puzzle together encourages the production of dopamine, a brain chemical that improves learning and memory, and maintains a healthy brain.
Puzzle building also is something that can be done in solitude, with a partner or in small groups.
But the pastime's unprecedented popularity may wane.
"We'll probably see the need go down as people get to resume their lives," Von Kerens said of the relaxing of social-distancing guidelines in Nebraska, beginning Monday.
People can exchange puzzles at The Bookworm for as long as they're available, she said. However, the store currently isn't accepting any new donations.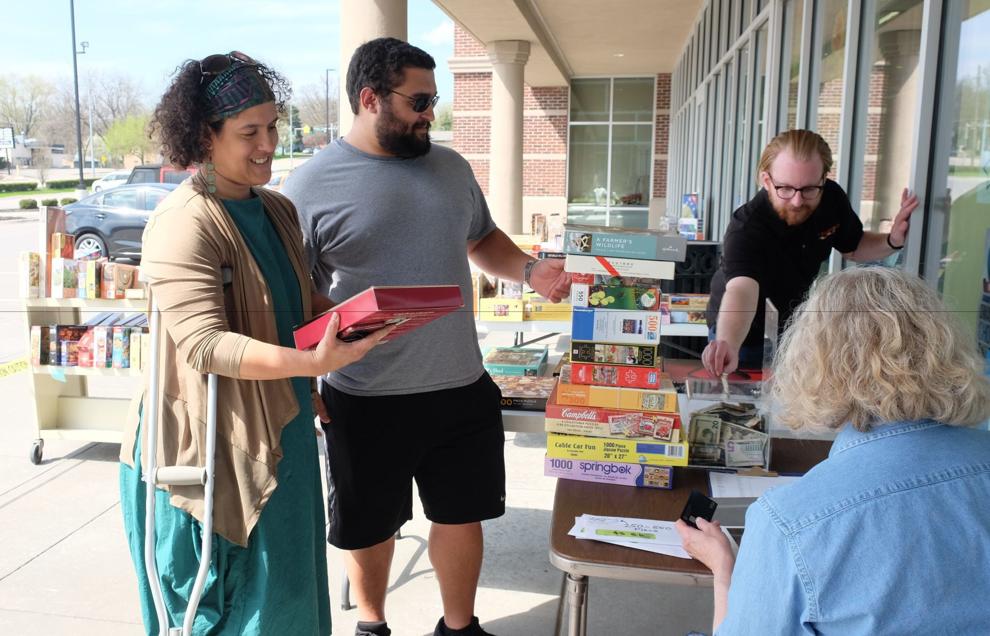 Omahan Naomi Hattaway and her son, Terran, left the store on Sunday with a precarious tower of 12 gently used puzzles.
"I normally do one puzzle every three or four days," Hattaway said.
Sheltering in place has been especially long for her. She's been homebound since an accident on Dec. 28 left her with a broken rib and a broken kneecap.
She ordered a few puzzles online from The Bookworm after the bookseller's stock was depleted in March. The puzzle exchange was a chance to stock up on more at a bargain price. (A 1,000-piece puzzle runs about $17.)
Von Kerens currently has a 3,000-piece puzzle in the works on her dining room table.
"It's a jungle scene with animals from different parts of the world that would never live together," she said. "It's hilarious."
She considers herself a sporadic puzzler.
"We did puzzles as kids, and Santa still brings a puzzle every year," she said.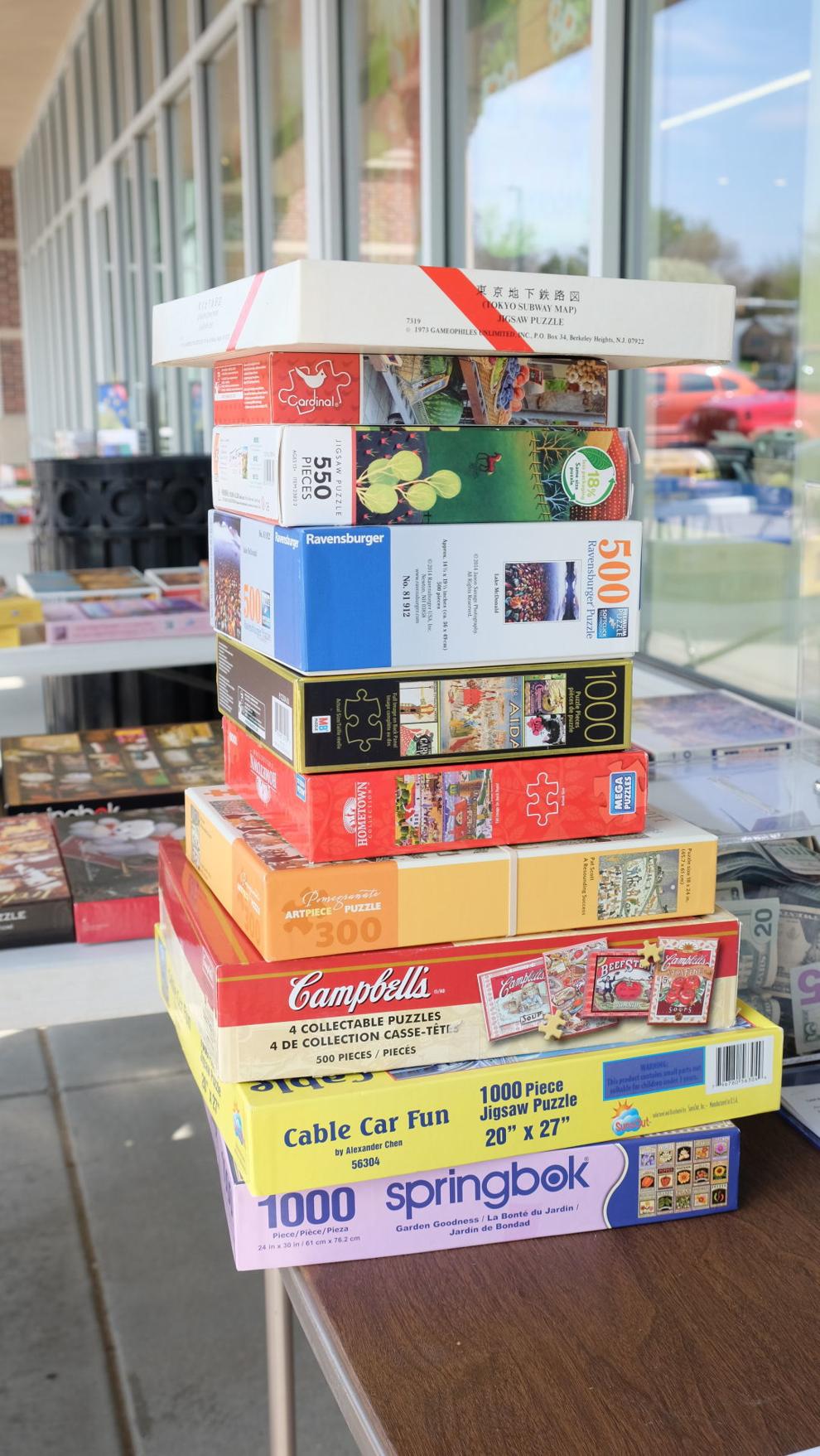 In case you're wondering, she's a sorter: "I use pans for big puzzles" — like the one that's swallowing her 9-foot table.
Interested in trying your hand at a jigsaw puzzle? Von Keren has these tips:
» Stay in the 300- to 500-piece range.
» Look for a puzzle with distinct colors rather than gradient colors, which can be very difficult.
» Avoid scenes with lots of solid color like a blue sky.
» Sort all the different colors into groups before you begin.
» Work in sections; you can make a lot of progress quickly.
And her No. 1 tip for puzzlers, regardless of working by shape or color:
"You get better by setting aside the puzzle picture and just studying the pieces."