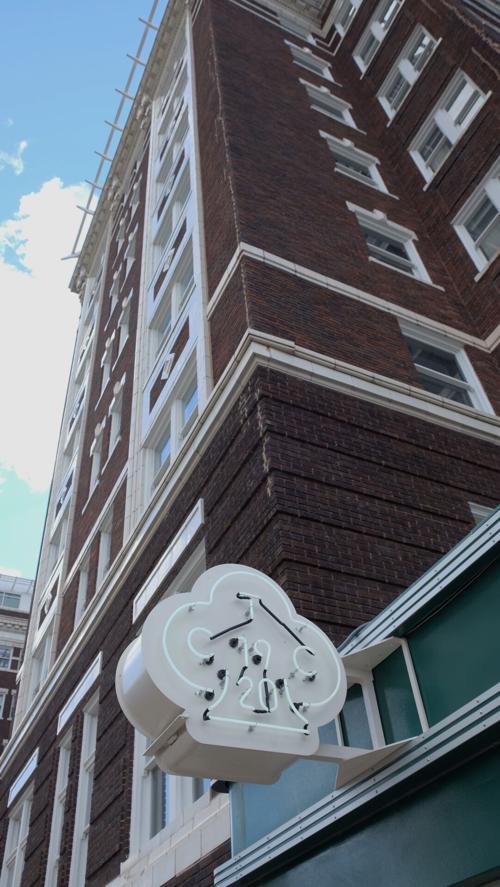 A city's love is here to stay with the revival of The Blackstone as The Cottonwood, Omaha's most historic and storied hotel.  
"There is a spirit, a soul to this building that is special to the community," James Schelnick says.
When the $75 million restoration was launched more than three years ago, a treasure trove of family stories of honeymoon stays, black-tie parties, late-night cocktails and more started flooding in. 
The anecdotes, from a time when the hotel was Omaha's social epicenter, are priceless, The Cottonwood's director of sales and marketing says.  
And now a new generation is intrigued — even enchanted — with the property's history and the prospect of being part of its continuing story as The Cottonwood, he says.
Omaha's grand dame of hospitality is both genteel and hip, paying homage to the past while carving its own niche under the flag of Kimpton Hotels.
Metro-area residents have been beating a path to the registration desk since the hotel's opening in November.
"Some weekends, we're flipping the entire hotel," Schelnick says. The Cottonwood has 205 guest rooms and suites — more than 160 original to the hotel. Nightly rates range from $139 to $399.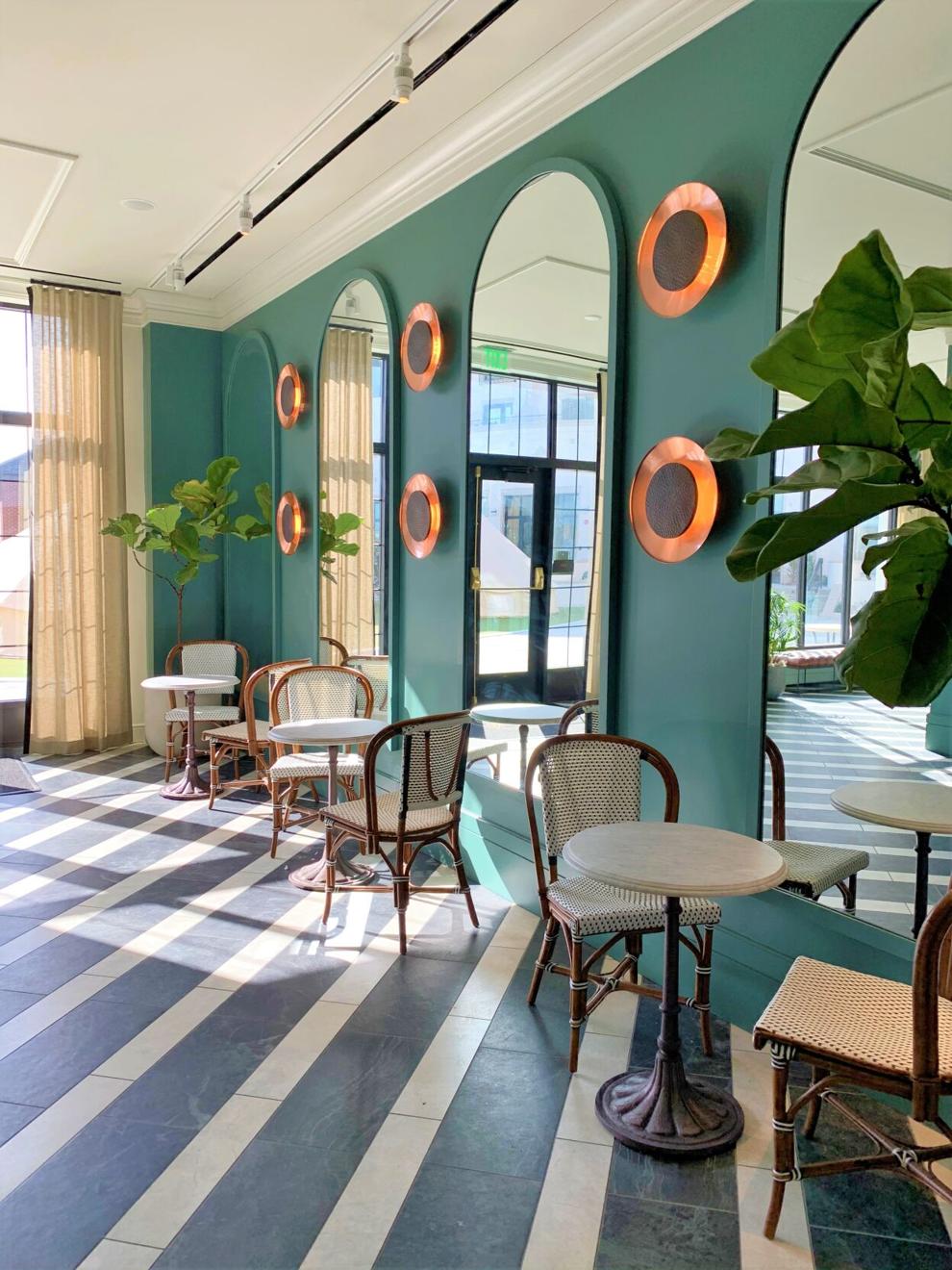 "Locals have been pushing the experience. It's been a nice surprise," Schelnick says. "Word of mouth means a lot in Omaha."
My husband Kurt and I arrived early enough on a Saturday afternoon to beat the line, but it was 40 people deep by 5 p.m. Several fur babies were checking in, too.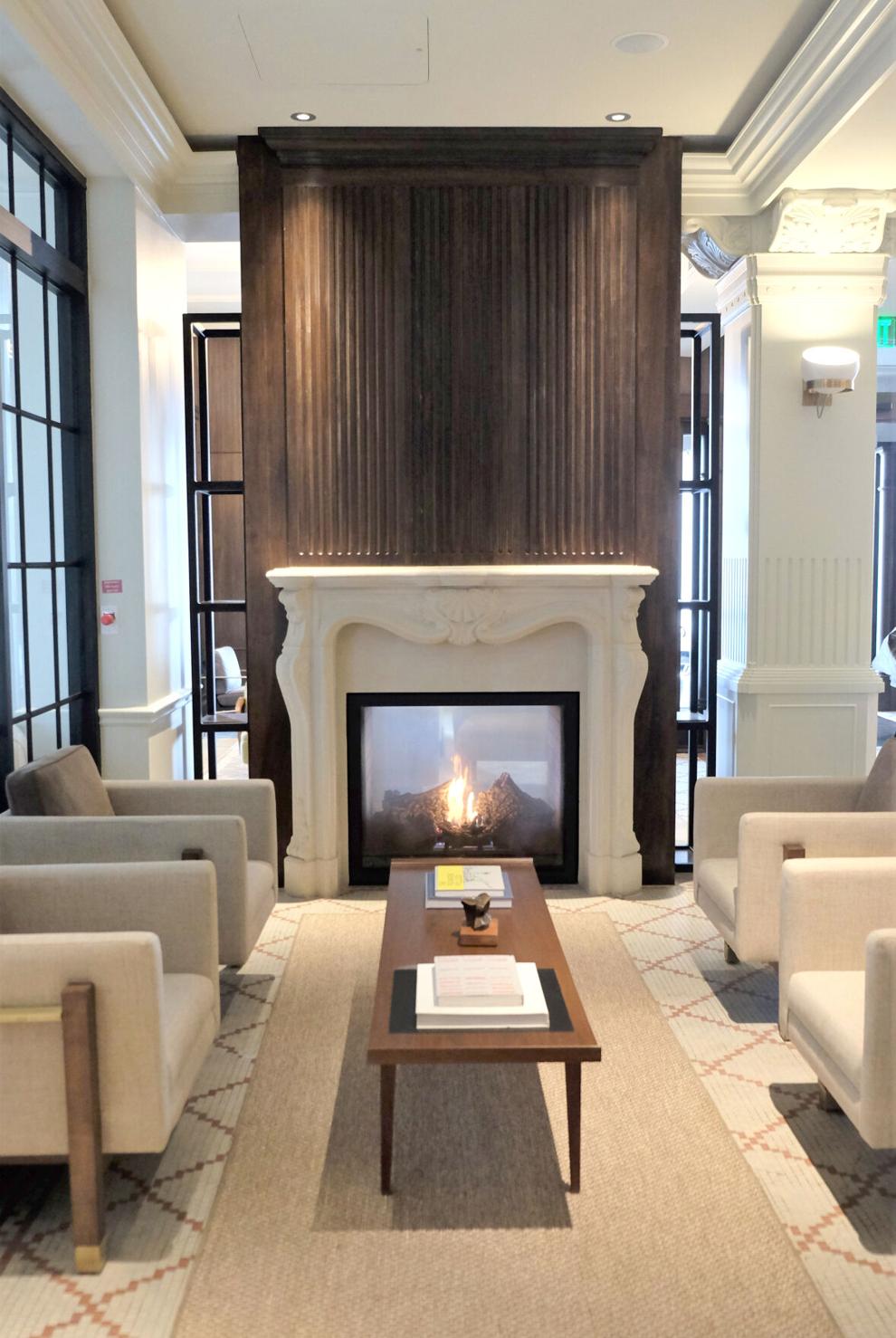 This Kimpton property is so pet-friendly, Executive Chef Ryan Arensdorf already has obliged a request to prepare a $50 fillet for a very pampered pooch. (He gets it; he has two spoiled dogs himself, Sous and Chef.)
Built in 1915 as a residential hotel, The Blackstone was designated an Omaha Landmark in 1983 and listed on the National Register of Historic Places in 1985. In 1920, the building was purchased by Charles Schimmel. He made it the place to stay between Chicago and San Francisco while traveling the Lincoln Highway.
For those familiar with the original hotel, a peek at the Orleans Room is a must. The mosaic tile, pillars, dark wood ceiling beams and velvet-upholstered window benches still exist.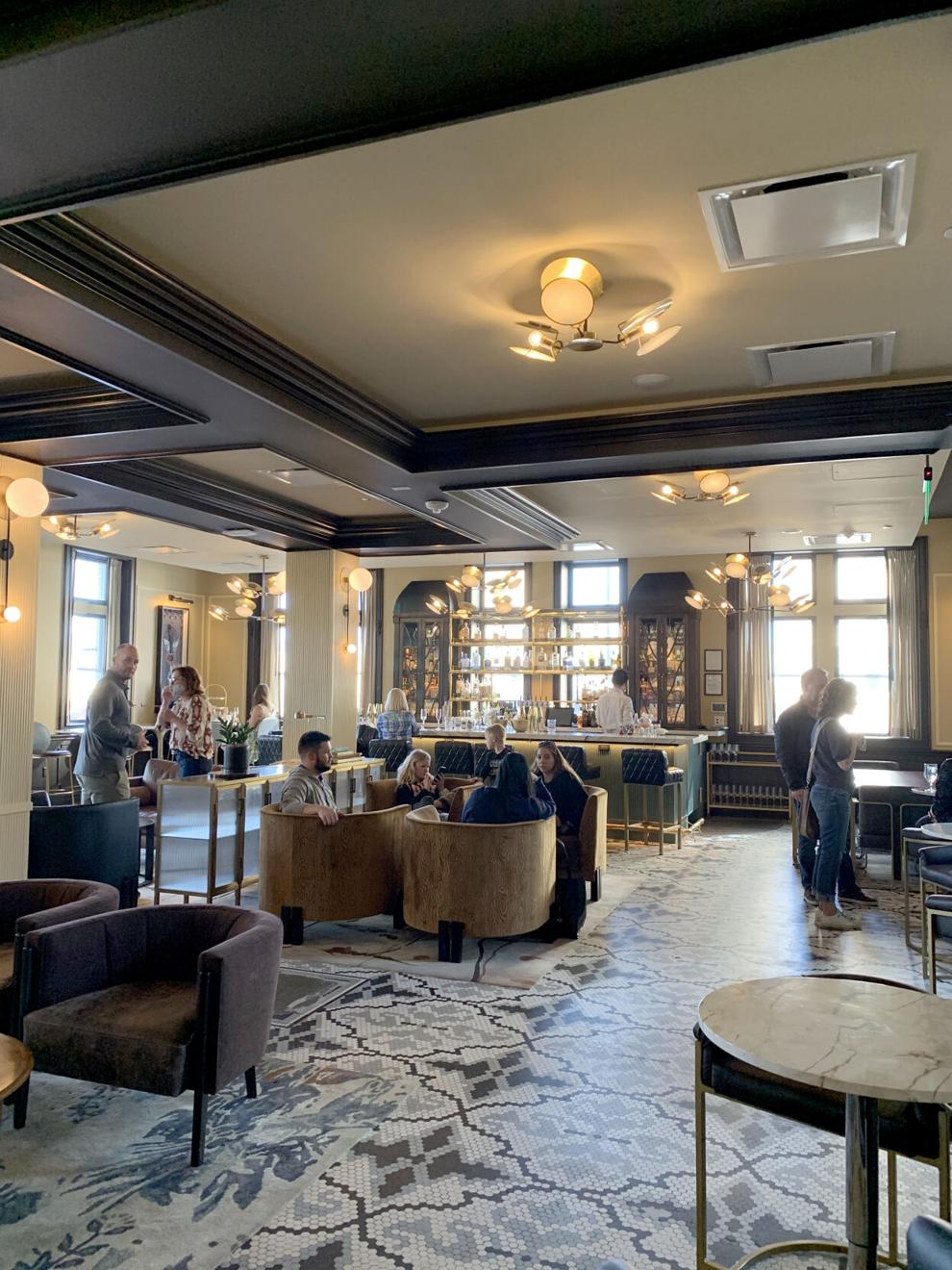 Billing the iconic restaurant-lounge as "Omaha's most comfortable living room" isn't a stretch. Cozy conversation areas, a handsome bar and gin cocktails complement the smooth jazz track playing in the background. It's the perfect setting for a mid-day meet up with clients or drinks with friends after work — no room key required.
An a la carte brunch is served every Sunday from 10:30 a.m. to 2 p.m. The sophisticated-yet-approachable menu includes small plates of lobster deviled eggs, crispy chicken lollipops and marinated olives, large plates of steak, mussels and chicken, and, of course, the famed Blackstone Reuben.
"I had to take that sandwich very seriously because of the history," Chef Arensdorf says. "I never thought I could like sauerkraut as much as I do."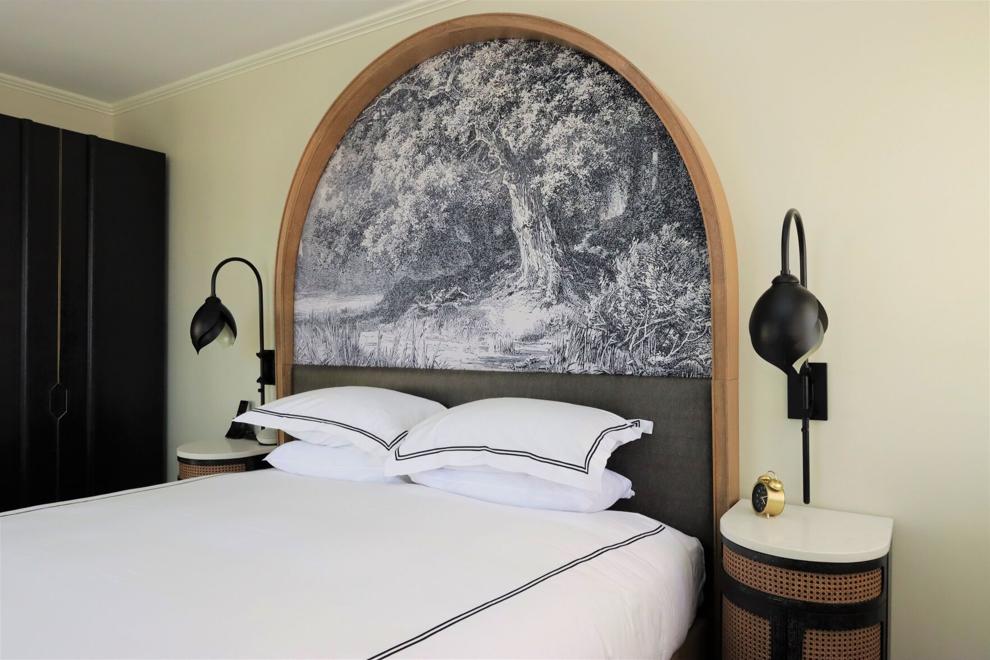 Tea service with scones and petit fours is offered Saturdays and Sundays from 1:30 to 3:30 p.m. Reservations are required. (To be totally cool, you'll want to pronounce the name of the room correctly. It's Orr-lee-ahns).
The 1920s-inspired Garden Lounge just off the lobby is destined to become The Cottonwood's most identifiable setting.
"A thousand percent," Schelnick says. "If you're looking at the highest percentage of Instagram photos from a single place in Omaha, this could be it."
The Cottonwood Room on the lower level won't be far behind for a must-have selfie. It's the city's prettiest cocktail lounge, bar none, with a golden cottonwood tree in the center of the circular bar. In the background, a multi-panel wall screen projects a tranquil river scene. 
The hotel's fine-dining restaurant on the same level is The Committee Chophouse.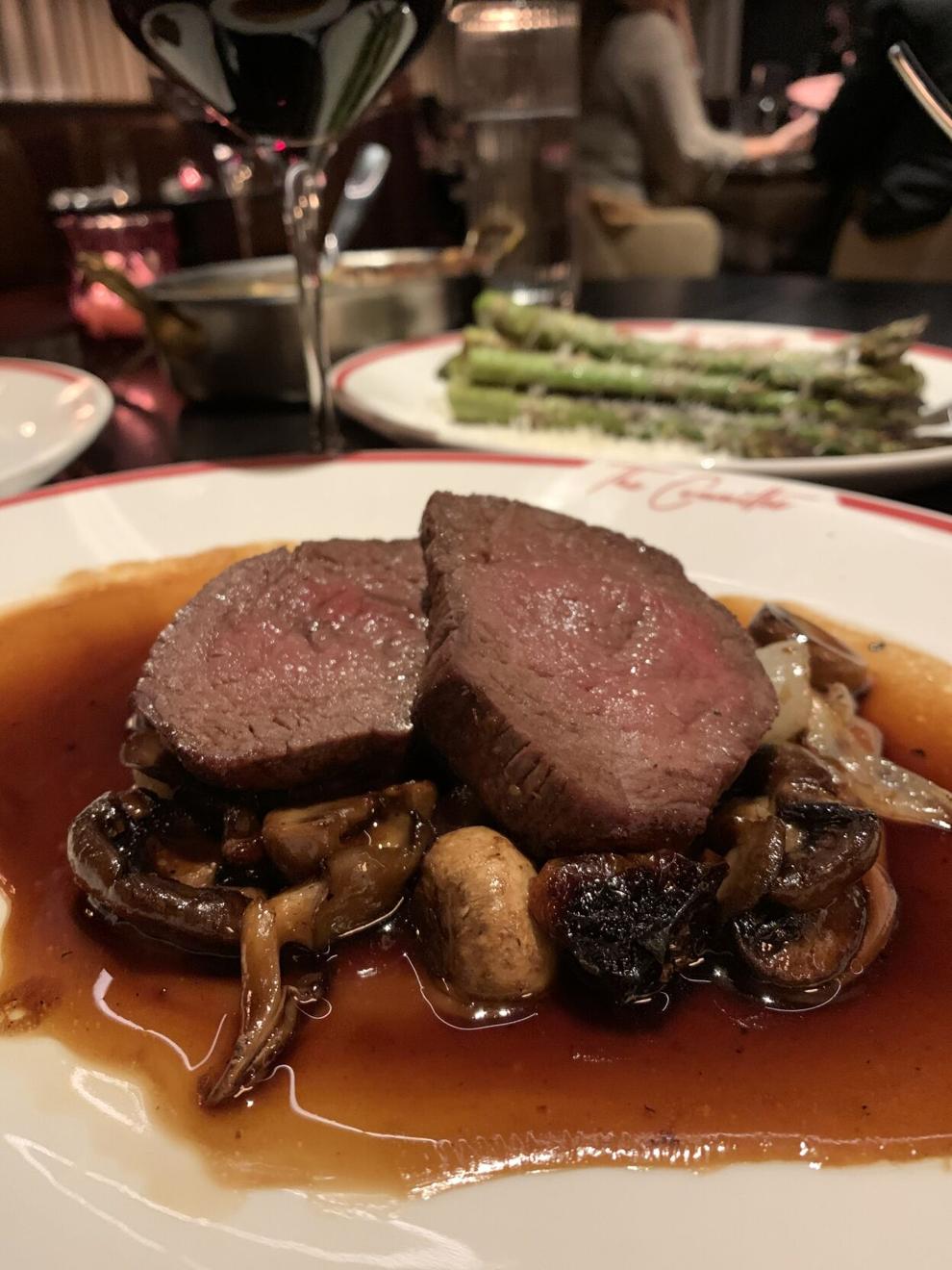 "We're in another world right now," Kurt said as we sat down for dinner. "I'm just blown away."
I agreed, although my "where-are-we" moment came in a dim corner of The Cottonwood Room, sipping an Old Fashioned and a martini before dinner.
The Committee wait staff was friendly and knowledgeable and our meal was exquisitely prepared and presented. Steak stars on the French-based New Orleans menu.
 "Omaha is on the cusp of being more adventurous" when it comes to food, Arensdorf says. 
He's using 100% prime cuts and locally sourced ingredients in his quest to make "simple things great" and earn a spot among the top steakhouses in the nation. 
This butcher's daughter loves a perfectly charred fillet, but the sides were unforgettable. That may have a lot to do with the gruyere cheese in the scalloped potatoes, creamed spinach and asparagus we sampled. For dessert, it had to be Baked Alaska. 
We hadn't dressed up for dinner in more than a year, and it felt great to put some effort into our attire. Swanky clothes aren't required, but it's appropriate when a tab runs $200 or more for dinner for two.
A Saturday evening reservation could be tough to get, unless you're booking several weeks in advance, Arensdorf says.  
"For locals, this is a perfect little getaway," he says. "We brought a little Chicago or New York to Omaha."
---