Enter the ultimate storage solution: a private car condominium.
Omaha's first such community of customizable garage units is set to open this spring. Called Victory Lane Omaha, the automotive-centric complex is situated near 204th Street and West Center Road.
Sign up for The World-Herald's afternoon updates
Receive a summary of the day's popular and trending stories from Omaha.com.
"It's just about the most expensive real estate in town," said Robert Foster, one of four local collector-investor-owners in the car condo venture.
But he and partners Scott Rouse, Bill Peel and Mike Welniak aren't complaining. The area is booming with upscale development.
"Finding the right location was the hardest part. It took four years," Rouse said. "We wanted to be on the edge of town, in an area with a high concentration of people and easy access to restaurants and other amenities as well as the open road."
"Every city of Omaha's size or larger seems to have a facility of this nature," said Peel, who shares a number of business interests with Rouse. "We're very excited about being in a premium part of town."
Victory Lane Omaha, Rouse said, gives a collector a safe and secure space to store his or her investment and socialize with like-minded auto enthusiasts.
"It's not a space for mechanical or restoration work," Rouse said. "It's a showroom, a gathering spot. And when you decide to get out of the hobby, you still have an asset you can sell."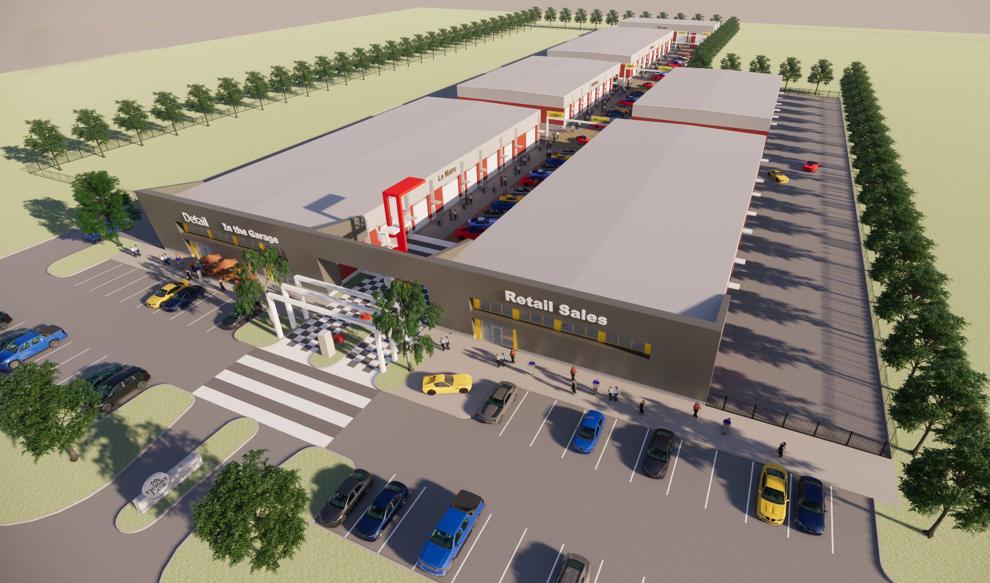 Peel is eager to see the collector community's response to owning a high-end private garage unit. "There are a lot of people in Omaha who have two or three cars but might like four or five but have no space for them," he said.
Several committed buyers already are on the hunt for vehicles to fill their spaces, Rouse said.
He sees another key market: baby boomer collectors who are downsizing their homes but up-sizing their hobbies.
"We're all passionate car enthusiasts and collectors," Rouse said of the Victory Lane Omaha partnership. "Each of us could relate to why this made sense."
The investors flew to Kansas City, Chicago, Minneapolis and Scottsdale, Arizona, to scout car condo communities and collect ideas.
Construction began a year ago with Welniak, owner of S&W Fence Inc., serving as project manager.
Victory Lane Omaha features about 55 basic units in what the owners see as Phase I. Phases II and III, should demand merit, would add two additional buildings for a total of 90 basic condo units.
As of mid-January, 22 units reportedly had been presold. Foster, the partnership's director of sales, declined to disclose the base price. He expects to conduct showings by early April, when Victory Lane Omaha is likely to be ready for occupancy.
The car condo units are available in three basic floor plans, from 850 to 1,190 square feet. The smallest base unit can accommodate up to four vehicles; the largest, six to eight.
Each unit has 25-foot ceilings, in-floor heating, rough-ins for plumbing and electrical service, and capability of accepting one or multiple lifts for stacking cars.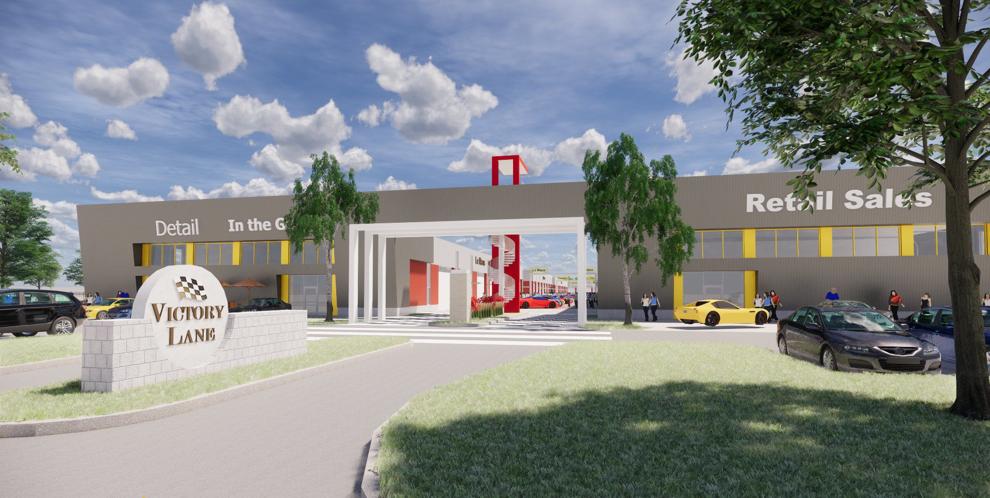 Buyers can modify the interiors as they wish. The exteriors, however, cannot be altered.
"Some owners are buying multiple units for more space. A wall between them is optional," Foster said.
"It's the ultimate man cave. You can have cable TV, Internet, furniture, a kitchenette and mini bar — even a loft or mezzanine," Foster said.
While all of the partners will have condo space for their collections, Rouse and Peel's footprint will be the largest. They plan to rebrand and relocate their Peel's Auto Sales Inc. in Valley to a 3,200-square-foot front bay. The boutique dealership will specialize in specialty vehicle sales but also carry automotive-themed decor and arcade games.
Victory Lane Omaha's design has a raceway vibe.
"It will feel like you're entering the pit area of a race track," Rouse said.
Planned are a 30-foot flag tower with viewing platform; paving stones in a black-and-white checkerboard pattern, and buildings named for famous race tracks around the world.
A central concourse gives condo owners and visiting automotive enthusiasts a place for socialization as well as automotive-related activities and experiences. Two acres of green space also are available for special events, including charitable fundraisers and concerts.
"The whole concept of a car condo is kind of like a lake house or a country club," Rouse said. "Most of the time when you go to the lake, it's not to get the boat out. It's to see who is there and to socialize. This really is an entertainment space and cars just happen to be the theme."
Peel is eager for spring and the grand opening. "People who love cars like to hang together. We have lots of friends who are married and go to car shows and car events as a couple or family. This place will be ideal for them."
---
11 key developments around the Omaha metro area