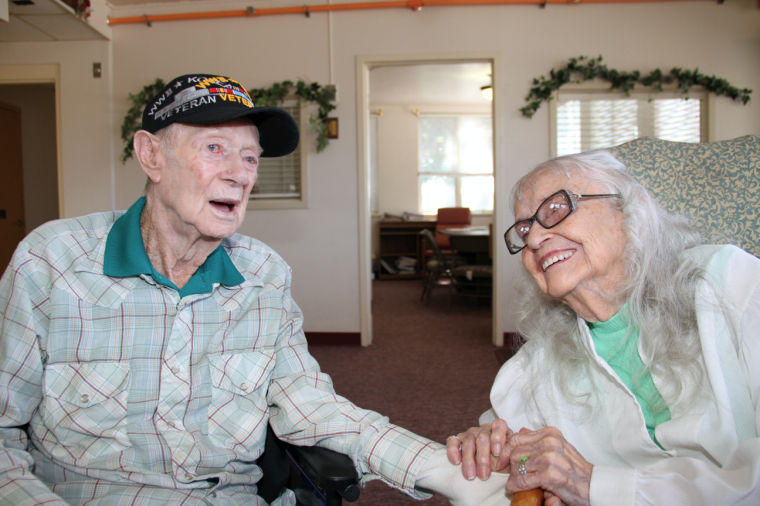 SUTHERLAND, Neb. — Jim Minyard was a sixth-grade farm boy in Weatherford, Okla., when he first laid eyes on a cute little fifth-grade girl named Hope.
He was instantly smitten, and on Monday the couple will celebrate their 73rd wedding anniversary. The two have been friends — and sweethearts — for 80 years.
Young Hope was impressed with Jim's musical talent. He was a fiddle player and entertained with his brother, Denzel.
Today, the couple live at the Sutherland Care Center. Dementia has taken much of Jim's memory, but his eyes still sparkle when he looks at his bride sitting next to him.
"I wouldn't trade her for anything," Jim said. "She's always been smarter than I am."
"My mother didn't like Jim," Hope admits. "I was a town girl and he was a country boy."
Jim was so taken with the young Hope that he deliberately flunked geometry his senior year so he could graduate at the same time as his sweetheart.
"You can bet the next time he took it, he got all A's," Hope said.
At their senior prom, Jim gave Hope a ring that she still wears today. He raised the money to pay for it by working for the telephone company, earning $9 a month. It was a lifetime promise of love.
The couple married in a cafe in Clinton, Okla.
"A preacher married us," Hope said. "He owned the cafe. My mother refused to come to the wedding. I think she eventually came to tolerate Jim, but she never liked him."
After their marriage, they attended Southwestern State College, where Jim graduated with a degree in medical technology. He took a job running a medical lab in Atchison, Kan. They had two children: a son, Denny, and a daughter, Lynne.
During World War II, Jim joined the Navy and served aboard the destroyer H.J. Ellison. At one point, he lost his wedding ring over the side of the ship, so he fashioned a silver dollar into a ring and wore that.
Hope followed her husband to San Diego, leaving their two young children with Jim's mother in Oklahoma. There she went to work in a factory building airplanes.
"I wasn't a Rosie the Riveter," she said with a laugh. "I was a screwer."
She attached tails to the bodies of the planes.
After Jim completed basic training, Hope moved to Norfolk, Va., where she worked in the naval accounting office.
"Jim never wanted me to work." Hope said. "I only worked outside the house when he was away. I had lots of different jobs. The worst was unloading caskets off of trains. They were heavy."
One of Hope's first purchases was a blue Harley-Davidson motorcycle. During Jim's leave, they rode the bike from New York City to Oklahoma to visit family.
"It was wintertime and we wore every stitch of clothes we had," Hope said. "Oh, we were cold, wet and miserable."
After the war, Jim went back to school on the GI Bill. He joined the Army ROTC and the National Guard. His unit was called up to go to Korea. He spent a year in Japan and a year and a half in Korea.
The couple eventually settled in Greeley, Colo.
"We wanted to live in a college town because of our children," Hope said. "Both of them graduated."
Eventually they settled in Belmont, Neb., south of Crawford. They joined a band, often entertaining at Fort Robinson during buffalo stew cookouts.
"In the summer, we hiked, and, in the winter, we skied," Hope said.
The couple remained in their home until last March, when Jim fell on his 93rd birthday and broke three ribs.
They came to Sutherland to be close to their granddaughter, Mickey.
What's the secret to 73 years of marriage?
"We've had a lot of joy and some heartache, too," Hope said. "You just love each other, that's all."