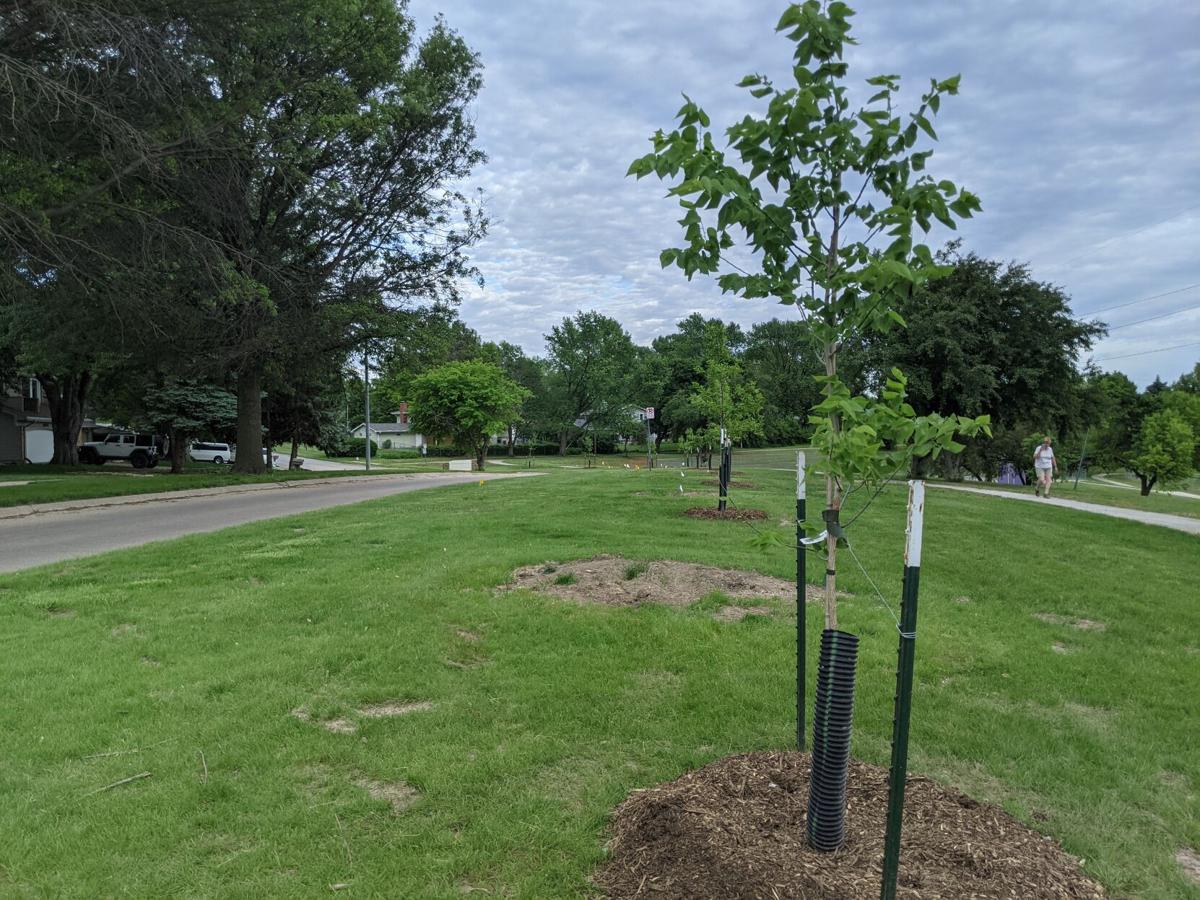 With the fall planting season approaching, the Omaha community is looking to replace trees that fell in the July 10 storm.
One local garden center is supporting the effort and encouraging the community to do the same.
With more than $4,100 toward the effort, that's enough to support the supplies, labor and other costs to plant roughly 20 additional trees in public parks and right-of-ways across the community and maintain them during their critical first year of establishment.
Keep Omaha Beautiful estimates that over their lifetime, the additional trees will sequester 185,715 pounds of CO2, prevent 333,835 gallons of storm-water runoff and remove 600 pounds of air pollutants.
"But this is only a fraction of the impact we can make. Even more so than the trees we're helping to plant, we hope to continue to raise awareness about the Trees for Omaha initiative and the importance of supporting a healthy urban forest," said Sarah Vanek, partnership and outreach manager at Mulhall's.
Using a palette of roughly 20 species native to the Great Plains, the Trees for Omaha program aims to improve the diversity of the city's tree canopy while making it more resilient to a variety of threats, including future storm damage.
Since its launch in the spring of 2018, Trees for Omaha has planted 2,582 native trees in nearly 70 parks and other public spaces around the city. Not one was lost in the storm, according to Christopher Stratman, executive director of Keep Omaha Beautiful.
What began as a response to the destructive emerald ash borer beetle will now include efforts to replace some of the trees lost from the storm.
"In addition to addressing public parks, trails, and other spaces that have lost trees due to emerald ash borer, starting in the spring of 2022, we will also address parks that lost substantial numbers of trees due to the July 10th storm," Stratman said.
Mulhall's is encouraging members of the community to help revitalize Omaha's urban forest by supporting the Trees for Omaha initiative or planting new trees on their own property this fall.
"If you're looking for a new tree, start with our native trees, especially ones that aren't already really common in your neighborhood. You might also choose something that can better resist storm damage — like swamp white oak, ironwood, redbud or serviceberry," says Ethan Anderson, senior team leader at Mulhall's Garden + Home.
According to Anderson, fall is an excellent time to plant a tree since plants tend to focus on root growth this time of year, giving them a head start on becoming established before the following spring and summer.
"A lot of people think they need to wait until spring to plant, but that's really not the case, and we're excited to help people who are ready to replace their trees this fall," Anderson said.
For more information about the Trees for Omaha initiative and how you can support the effort, visit TreesForOmaha.org.
United Way awards grants
Kids Can Community Center has been awarded a $210,000 grant and Project Houseworks was recently awarded a $30,000 one-year grant from United Way of the Midlands.
Thanks to United Way donors, Kids Can children and families in Douglas and Sarpy Counties will continue to receive comprehensive early childhood care and out-of-school programming.
The grant funding will ensure that the more than 1,300 children Kids Can serves each year will be able to participate in programming that will provide the necessary resources to build skills to be prepared for school and become lifelong learners.
"Because of this support, many children will receive quality programming in a safe and caring environment," said Robert Patterson, CEO of Kids Can Community Center. "Especially now, as students return to school, our staff focus on the social and emotional well-being of a child coming back after a pandemic. We are grateful to United Way and its donors for the continued support of these programs and our families."
Project Houseworks' Home Repair Program will help 165 senior homeowners to stay in their homes by providing free critical plumbing and electrical repairs, roof replacement and other renovations requiring immediate attention.
Low-income senior homeowners need a no-cost way to age in place in safe, healthy and warm homes. Project Houseworks addresses this need by providing no-cost repair and modification solutions.
"United Way of the Midland's assistance has been essential for Project Houseworks, particularly as we've been adjusting to a 'new normal' with more and more older adults seeking to age in place," said Lynette Farhart, executive director of Project Houseworks.
Donate blood, receive shirt
Give blood with the Red Cross from Sept. 13 to 30 and receive a limited-edition college football T-shirt, while supplies last.
Whether your favorite school wins or loses, everybody will know you're a champion on Team Blood Donor.
Plus, there's an extra treat to spruce up your fall look. Those who come to donate in September will receive a coupon via email for a free haircut from Sport Clips Haircuts.
Every two seconds, someone needs blood. Right now, there may be people waiting for blood in your own area. Go to redcrossblood.org.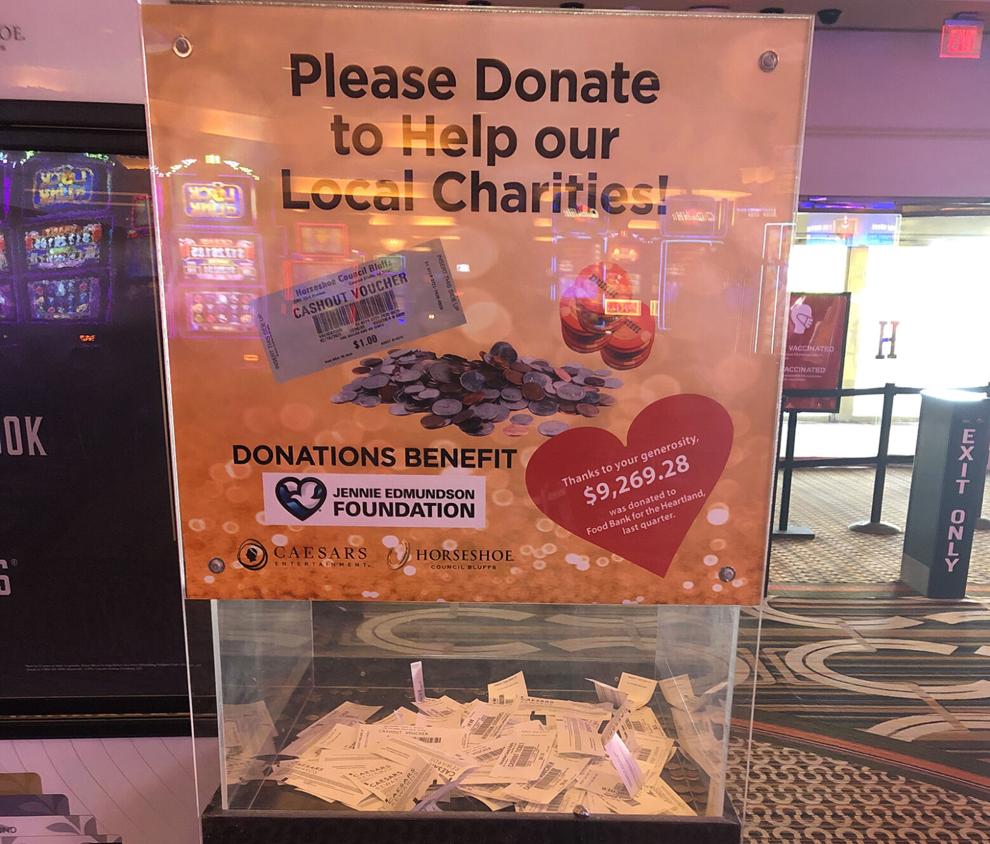 Making change count
Harrah's and Horseshoe Council Bluffs Casino is donating more than $9,000 to Food Bank for the Heartland as part of a new program within the casino.
Change to Make Change is a charitable campaign which allows guests to donate any unused slot tickets as well as cash, coins, or chips into a donation box at either property.
These monies received are donated to nonprofits selected by the casino. They have chosen Food Bank for the Heartland as their nonprofit recipient for the second quarter of fiscal year 2021. The proceeds, which totaled $9,269.28, will help the Food Bank provide healthy food to thousands of families and individuals struggling with food insecurity across the Food Bank's 93-county service, including 16 counties in Iowa.
"On behalf of our staff, volunteers, board, network partners, and those we serve, we are humbled and grateful for this support. With the lingering and uncertain pandemic recovery, combined with rising gas and food prices, the need to help our neighbors in need remains great. We continue to provide an average of more than 100,000 meals every day," said Brian Barks, president and CEO of Food Bank for the Heartland.
---