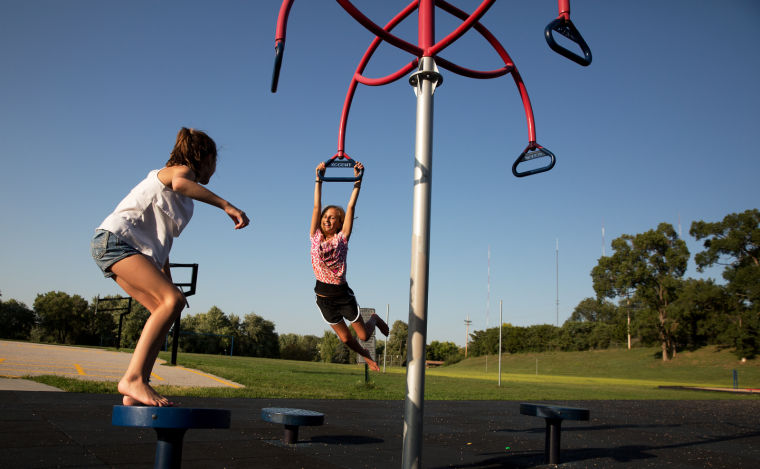 Driving along the Keystone neighborhood's tree-lined streets, you get a sense of peace.
It's quiet in the residential areas, and American flags are prevalent. People are friendly, several offering cold drinks to strangers armed with notebook and cameras who were walking through their neighborhood on a recent steamy evening.
"There is a very strong sense of community in Keystone," said Dawn Haston, who has lived near Boyd Elementary School for 15 years.
That comment was reiterated in one form or another by most of the people we met while walking through a six-block area just south of the school, where children were making use of the playground equipment.
The people we talked to said they may not know all their neighbors, but the ones they know are friendly, helpful and can be counted on when needed.
Residents can keep up with what's happening in the neighborhood by reading the neighborhood newsletter, which has been edited for the past 20 years by resident Sandy Nielsen. Each issue is full of information about events and meetings, a bit of history, area problems, new things or people, and even trivia.
Keystone has an interesting history. It originally was the large land holding of one person, William A. Paxton Sr., who came to Omaha in 1857. He put in some of the winding roads and planted or saved trees.
The tree-lined, winding roads established early on survive. Mark Nielsen said many of the roads in the neighborhood weren't paved until 30 or 40 years ago.
Eventually the land was broken up into the Keystone Park Neighborhood Subdivision, which included 78 lots ranging from 2 acres to 20 acres. Many of those lots also were subdivided over time, but one of the area's hallmarks is the large size of the lots on which many of the houses sit.
Paxton also sold a piece of his estate in 1887 to be used by the Fremont Elkhorn Missouri Valley Railroad. The tracks were abandoned and finally torn up in the 1970s, but the right of way became the first leg of the Keystone Trail in 1990.
Some of the neighborhood peace was interrupted from 2003 to 2005, when residents fought the Omaha Housing Authority's plan to build subsidized housing units at 87th and Boyd Streets. OHA won the dispute, putting in 40 units of apartments, duplexes and single-family homes. Those rare days of rancor are long gone. The only thing that sets the OHA area apart from older Keystone is its look — newer buildings that are all the same design and color, and no big individual lots or old trees.
The neighborhood association, the Keystone Community Task Force, is an active group. It sponsors clean-ups, fundraisers and the annual Pageant of Lights holiday decoration competition in December.
One of the group's projects is a survey of residents every four years. This year's results showed that people would like their neighborhood to have such things as a nice, sit-down restaurant and a store for crafters (they miss the 90th Street Hobby Lobby that closed), more traffic control and better street maintenance. They expressed worry about people not taking care of their homes and increasing crime.
A few people commented on the speeders on 84th Street and the need for speed bumps.
"Motorheads," as Shane Elkins calls street racers, make 84th Street hazardous and noisy sometimes. Elkins, 34, has lived on an 84th Street corner for three years. "Ninety-eight percent of the time it's quiet," he said.
Aside from the busy thoroughfare of 84th Street, the neighborhood is full of lovely winding streets, circles and dead ends. They make the area pretty and safe but they also can frustrate drivers. Almost every resident has a funny story about someone who has gotten lost.
Mark Nielsen's is about his grandmother, who knew how to reach his house as long as she "turned at the green house." But one day, after the house had been painted a different color, Nielsen got a call from another resident who said he had Mark's lost grandmother at his house.
 » Lots of big shade trees, large lots and good neighbors.
Terry Frampton, who works for Union Pacific, said his neighbors are quiet and keep to themselves, but they always can be counted on for help.
 » Confusing streets. Some houses in need of repairs.
According to residents, the roundabout at 87th and Boyd Streets is one of the most detested elements in the neighborhood. "Everyone hates it," said Mark Nielsen.
Keystone boasts several: Pilster, Democracy, Keystone, Templeton and some that don't seem to have official names.
Walkers and cyclists take advantage of the Keystone Trail, which starts in Democracy Park and wanders south into Sarpy County. The members-only Keystone Club offers swimming and tennis. The parks and schools have recreational and play equipment.
Even a few of the smallest houses have good-sized yards. That kind of space is what has drawn many residents. Gardeners and landscapers have a great time; most yards are cared for by homeowners. The Solis family replaced a huge garden that came with their house when they bought it with grass and a basketball court.
Neighborhood associations
The Keystone Community Task Force was started in 1969. The organization lets residents have their say on surveys every four years. Michele Fontaine is current president. Its website is www.keystoneneighborhood.org.
A newsletter keeps residents well-informed. Sandy Nielsen is editor.
Other active organizations include the Keystone Citizens Patrol, the Keystone Garden Club and Keystone Neighbors (formerly Keystone Seniors).
From Census tracts (data for two Omaha housing tracts with the boundaries matching the Keystone area boundaries):
• Racial makeup: 85 percent white; 9 percent African-American
• 25 percent of households are families with children
• Average household has 2.4 members
• 77 percent of homes are owner-occupied
From Curbwise data (based on sales since Jan. 1, 2012):
• Median house sales price: $119,000
• Average price: $128,722
Keystone has a wide range of houses, from very old (at least 100 years) to recent (within past 10 years). The streets we walked were mostly single story or split-level homes with siding, brick or stone work — built in the 1950s through 1970s.
Getting around in the Keystone area is its biggest challenge and visitors' biggest headache. The only two streets that go all the way through from 72nd Street to 90th Street are Fort and Maple. Within the area bounded by those roads, you find streets that come to dead ends or circles with no outlet, streets that make turns and take off in a totally different direction, and streets that just turn into other streets. Even residents can get lost when going to another part of the neighborhood.
Raccoons, foxes, possums, deer and woodchucks have been spotted. Turkeys wander through, and the trees are home to many species of other birds.
There is an active citizens patrol. Most complaints they get are for speeding cars, parking infractions or noise.
There have been a few break-ins, car thefts and vandalism in the mostly residential area, but since Jan. 1 the only clusters of crime seem to be near the busy (and more commercial) boundary streets: Maple, Fort, 90th and 72nd, according to crimemapping.com.
Every year, a King or Queen of Keystone is selected. Some years there are both. This year's king is Lynn Hooton, who was recognized for his community spirit, volunteer work and other neighborhood activities. Keystoners of the Quarter also are cited for contributions to community.
Classic car shows are held Tuesday evenings at the VFW and Wednesday evenings at the Keystone Tavern.
Everyone gets into the holiday spirit during the Pageant of Lights.