Omaha, meet the Missouri River.
A design team guiding the revitalization of The RiverFront in downtown Omaha want to introduce the mighty Mo through their design. Work started in March 2019 with the Gene Leahy Mall.
"We're bringing the river to downtown Omaha, using many of the native plants and trees you would find in this region," said Kyle Fiddelke, a partner in OJB Landscape Architecture, whose firm has been working on the project for the past four years.
Some local gardeners have been concerned about the plantings that will be used at The RiverFront, which includes the Gene Leahy Mall, Heartland of America Park and Lewis & Clark Landing. They didn't want to see just a few sculptured beds in a sea of green grass.
"We should celebrate the prairie here," one said.
The closer you go to the river, the more native and wild the plantings will be in the $300 million project, scheduled to be completed in 2024. That will draw more wildlife, birds and insects, as well as create new places to explore, Fiddelke said.
"If we made it 100% native, I think that would be great," he said. "There needs to be some familiarity to common plants. We've done a good job of trying to mix the two — natives and non-natives — so there is a little bit of everything for everyone down there."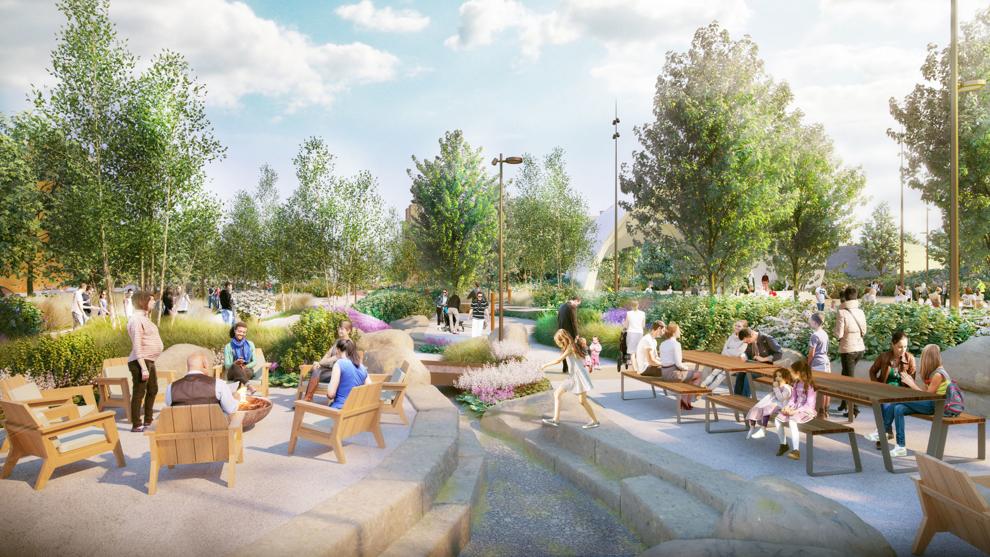 Plantings will be different in the three areas of the renovation, which is being done in phases.
The Gene Leahy Mall section in downtown Omaha will have a more curated landscape with some natives. Plants such as oakleaf hydrangeas, Russian sage and Siberian iris will have a high floral value and be well adapted to the Omaha area.
Trees of all varieties — maples, serviceberry, birch, oak and elm — will be introduced in the 15- to 18-foot range to give people places to hang out, socialize and enjoy picnics.
"We've kept grass to a minimum," Fiddelke said. "In the Gene Leahy Mall, there will be about a 60,000-square-foot lawn area that anchors the mall for events and concerts. Surrounding it is perennials and grasses."
Heartland of America Park, like the mall, will no longer be just pathways and slopes of green. There will be a large event lawn, as well as groves of trees and an ice skating ribbon in the winter that can also be used for roller blading and roller skating in warmer weather. Other play components include slides and swings.
The lake in the Heartland of America Park will be smaller, but its edges will be reinvigorated with native grasses, perennials and other types of plant life. Little bluestem, prairie cordgrass, coneflower, rudbeckia and others will give it a more natural look.
The biggest change is that you'll be able to see the Missouri. Fiddelke said many people don't even realize that Omaha sits next to one of the largest rivers in the United States.
"We want to expose the river and provide that strong connection that everyone is sort of looking for," he said.
Lost in the renovation was the master gardeners plot there, but Fiddelke said they are exploring ways to integrate them in the redesign.
"We are looking to partner with a variety of potential program partners such as the master gardeners and other educational groups through either a permanent garden or a scheduled educational demonstration," said Katie Bassett, vice president of parks for MECA.
Lewis & Clark Landing will be more green and more of a destination. Sports and volleyball courts may be added, and the area will be made more welcoming for boaters. They're even looking at adding an urban beach where people can play in the sand or just sunbathe. The crown jewel will be a one-of-a-kind, high-energy, high-stimulation play area.
When people are done playing, they can explore the native prairie plantings or walk the new riverfront promenade.
"People used to go there to walk the river," Fiddelke said. "There's going to be lots of reasons to hang out there all day long. I think it's really cool."
When the 90-acre project is done, it will be an active, vibrant, open space, Fiddelke and Bassett said. They cited places such as Millennium Park in Chicago, the Klyde Warren Park in Dallas and the High Line in New York, which have created not just a space people want to live next to but have also built a sense of community.
"This park is going to do a lot for Omaha and the region," Fiddelke said. "It's going to be right up there with these other spaces. People are going to be surprised when they see these places opening up."
Photos: 'Mountain stream' is centerpiece of backyard garden
Bob and Janelle Goding spend hours and hours working on their landscaping, but they love every minute of it.
RiverFront Plantings
Acer Buergerianum 'Abmtf'
State Street Miyabe'S Maple
Acer X Freemanii 'Jeffersred'
Cercis Canadensis Var. Alba
Street Keeper Honeylocust
Gleditsia Triacanthos F. Inermis 'Draves'
Gleditsia Triacanthos F. Inermis 'Skycole'
Gleditsia Triacanthos Inermis 'Shademaster'
Stately Manor Kentucky Coffeetree
Gymnocladus Dioica 'Stately Manor'
Gymnocladus Dioicus 'Espresso'
Skinny Latte Kentucky Coffee Tree
Gymnocladus Dioicus 'Morton'
Exclamation! London Plane Tree
Platanus X Acerifolia 'Morton Circle'
American Dream Swamp White Oak
Quercus Bicolor 'Jfs-Kw12' Pp 23632



Cephalanthus Occidentalis
Sixteen Candles Summersweet Clethra
Clethra Alnifolia 'Sixteen Candles'
Cornus Sanguinea 'Midwinter Fire'
Cornus Sericea 'Flaviramea'
Pee Wee Oakleaf Hydrangea
Hydrangea Quercifolia 'Pee Wee'
Symphoricarpos Orbiculatus
Thuja Occidentalis 'Smaragd'
Viburnum Opulus Var. Americanum



Agastache X 'Black Adder'
Echinacea Purpurea 'White Swan'
Echinops Ritro 'Veitch'S Blue'
Eryngium Zabelii 'Big Blue'
Eupatorium Dubium 'Little Joe'
Eupatorium Maculatum 'Gateway'
Heuchera Villosa 'Autumn Bride'
Caesar'S Brother Siberian Iris
Iris Sibirica 'Caesar'S Brother'
Nepeta X Faassenii 'Walkers Low'
Salvia Pratensis 'Pink Delight'
Salvia X Sylvestris 'Mainacht'
Stachys Officinalis 'Hummelo'
Pure Silver Spiked Speedwell
Veronica Incana 'Pure Silver'



Parthenocissus Quinquefolia



Calamagrostis X Acutiflora 'Karl Foerster'
Festuca Glauca 'Elijah Blue'
Schoenoplectus Tabernaemontani