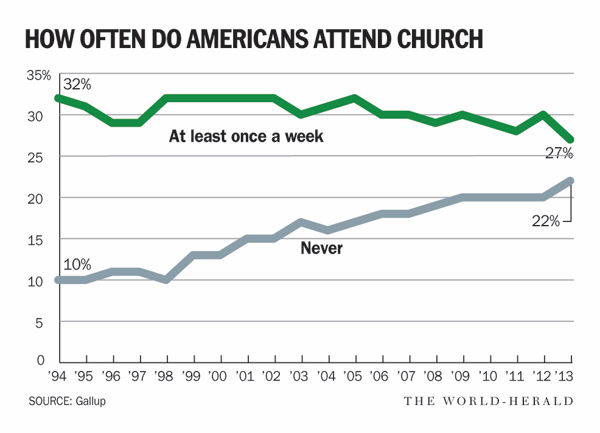 Laura Wilburn believes in God, prays every day and even quotes Bible verses to friends looking for inspiration.
But you'll rarely find the 27-year-old in church.
"I don't think it's necessary to have to sit in a pew once a week,'' she said. "It's (about) being able to worship in your own ways."
As Easter dawns, churches are facing a challenge. Pews will be full today, but that's not always the case the rest of the year — and Wilburn's mindset is a big reason.
The number of Americans who do not identify with any religion continues to grow rapidly. One-fifth of the U.S. public — and a third of adults under 30 — fall into that category, according to the most recent figures from the Pew Research Center.
That trend is playing out as national surveys have revealed slow but steady declines in the percentage of people who say they belong to a congregation and a rise in the percentage of people who say they never attend services.
Church leaders know they face hurdles but say they have reason to be hopeful. Surveys show that many people who aren't tied to a religion believe in God, consider themselves spiritual and pray every day, plus they believe places of worship help the poor and benefit communities in other ways.
Knowing there's potential to reach folks like Wilburn, local churches have been taking steps to connect.
One Omaha congregation launched an informal service this year in which the pastor doesn't do all the talking — attendees have a conversation with him and each other. One big west Omaha church is opening an additional site in midtown this spring, partly to reach young people at nearby university campuses. Churches know that community volunteer work can be particularly appealing to young people, and they highlight those opportunities.
Clergy emphasize that sharing the Gospel message is the goal of attracting people to the pews. But declining attendance and membership can squeeze congregations financially.
Churches sometimes have to scale back ministries when membership or attendance falls, because the decline affects financial giving. Sometimes church closures or mergers result.
Pella Lutheran in midtown Omaha, for example, closed last year mainly because of dwindling membership. Most people who remained joined a nearby Lutheran congregation, said Mitch McCartney, spokesman for the Nebraska Synod of the Evangelical Lutheran Church in America.
Membership and attendance in the synod both declined from 2005 to 2011, the most recent year available.
Other denominations have faced declining numbers, as well.
Although church membership within the Archdiocese of Omaha has grown during the past 20 years, the number of people actually showing up for church has declined.
The Pew Center surveys show that most people who aren't affiliated with a religion think that religious organizations are too concerned with money and power and too focused on rules and politics.
Wilburn said she is Christian and grew up attending church with her family. But she said by the time she was a teenager she had become turned off by the preaching.
Too often, she said, pastors focused on condemning people, such as gays and lesbians.
"They were too judgmental,'' she said.
Rules and policies are common among denominations, but some members leave, and some never join, because of them.
Deacon Tim McNeil, spokesman for the Omaha Archdiocese, said that for the Catholic Church, doctrine is essential because it helps unite members of a congregation and provides direction.
"When there is unity and order, the Holy Spirit is more able to flourish and lead people on the way to heaven,'' he said.
He also said that by joining a congregation, people experience the power of worshiping as a community. Praying in one voice, he said, is important because "God created us to be in relationship with each other."
Churches have long provided ways for members to connect with God and each other beyond the Sunday service, such as youth groups and senior citizens events.
But the effort is renewed as churches search for more ways to help people grow together in their faith.
Wilburn said she attended a Methodist church growing up but stopped attending services regularly about four years ago. She now goes just a couple of times a year with her family. She was not planning to attend an Easter service today.
Wilburn said even though she doesn't attend church much, she can see that changing down the road.
She said becoming part of a church would have benefits, even though she believes being a good Christian doesn't hinge on sitting in a pew.
She said she recognizes that congregations provide community. She hopes in the future to join a church that emphasizes what she believes — that God is loving and forgiving — and particularly one that demonstrates God's love through community service.
Omaha's Urban Abbey is one effort to reach folks like Wilburn. Run by First United Methodist Church, the Abbey has a reputation as a welcoming and accepting place of worship.
It opened four years ago in the Old Market as an effort by First United to redefine the church experience, better serve the community and draw new members. It's a church, a bookstore and a coffee shop, all under one roof and open to the public.
Community service is part of the Abbey's ministry. Members have cleaned parks, picked up trash in the Old Market and volunteered at a food pantry.
Other denominations, such as the Evangelical Lutheran Church in America, also recognize the value of community service and its appeal among young people.
Omaha's Kountze Memorial Lutheran runs a food pantry and launched a free medial clinic five years ago that draws volunteers of all ages, including teens and college students.
"Young people see that as an important aspect of what our faith tells us to do,'' said Gordon Boe, the church's urban outreach coordinator. "It's God's love."
King of Kings Church started a service this year aimed at people in their 20s and 30s who are looking for an informal worship experience. People sit around tables, and instead of just listening to a preacher, they interact with the minster and each other, asking questions, raising doubts and sharing their beliefs.
At St. Wenceslaus Catholic Church in west Omaha, a new effort to enhance and explain the faith is planned this fall. A 10-week series of talks will address such topics as church teachings and the Bible, followed by small-group discussion and faith sharing.
Lifegate Church in west Omaha is opening an additional site in a former Presbyterian Church at 55th and Leavenworth Streets this spring. Church leaders hope the midtown site draws students from the nearby University of Nebraska at Omaha and University of Nebraska Medical Center.
Mike Ballard, Lifegate's executive senior pastor, said he hopes the new church will send a strong message: "God loves you enough He will come to you."