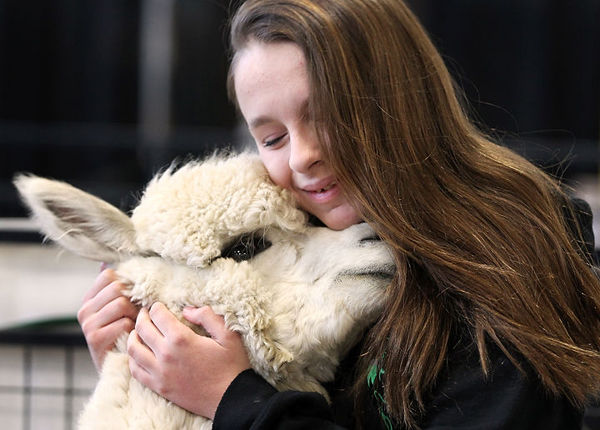 Alpaca owners, breeders and vendors from 27 states gathered on Friday at Fonner Park for the National Alpaca Show and Auction, sponsored by the Alpaca Owners Association, which is based in Lincoln.
More than 600 alpacas will be featured at the show, which will continue through Sunday, said Cindy Berman Morrow, who represents the Alpaca Owners Association.
Morrow said Fonner Park was selected for the national show because of its central location in the United States, along with the state-of-the-art facilities.
She said alpacas from across the country will be featured in show ring competition on Saturday and Sunday. Both Suri and Huacaya alpacas will be judged on conformation and fleece quality in many categories.
One of the participants at the show is 13-year-old Jane Wanek of Aurora, who was showing her alpaca, Alpha.
Jane got her first alpaca when she was 12 years old. She showed Alpha last year at the Nebraska State Fair.
Jane said she was introduced to alpacas through a friend of her sister. While her sister ended up with a llama, she said, llamas were too big for her, so she decided she wanted an alpaca.
"To me, it is more like a pet," she said. "They are fun to kind of hang around with. Some of them can be a little more frisky than others, but Alpha is real sweet-hearted."
Jane said her friends think her having an alpaca is "cool."
"Some of the guys at my school make fun of me and say, 'Let's make alpaca burgers,' but a lot of them think it is cool, and I try to get them involved," she said.
Alpacas are a domesticated species of South American camelid.
Smaller than llamas, they are bred specifically for their fiber, which is used for making knitted and woven items, similar to wool. The fiber comes in more than 52 natural colors.
Dozens of vendors and farms, such as Chris Riley of New England Alpaca Fiber Pool of Fall River, Massachusetts, are selling the latest alpaca fashions and handcrafted items at the show.
"This is a national show for us," Riley said. "What we do is support alpaca farms throughout the country. We are a manufacturer of U.S.-made alpaca products. Everything we do is made in the USA and made from U.S.-grown alpacas."
Riley said they are at the show to meet their customers and generate new customers.
"Business is fantastic," he said. "Over the last seven years, our business has grown better than 30 percent year over year. That is because people are interested in natural fibers and interested in 'Made in the USA.'"
Riley said the alpaca fiber is very warm and soft. He said it is semi-hollow, making it lighter than other types of natural fiber and allowing it to trap air, warming up very quickly. Also, the fibers remove moisture from the body, allowing the wearer to be warm and comfortable.
Jane said alpacas are generally sheered once a year in the spring. She has been to a couple of camps where she has learned to craft alpaca fiber into clothing items.
"But I am more into them for showing reasons," she said.
Jane said Alpha is her 4-H animal project, which she hopes to show this year at the Hamilton County Fair and again at the Nebraska State Fair this summer.
This is her first livestock project.
"I want to have as much time with Alpha as I can," Jane said. "It has been a success so far."
Jane's mother, Kim Wanek, said her daughters getting involved with alpacas and llamas was their idea.
"It is two different worlds," she said. "We have the llama, and we have the alpaca, so they don't necessarily have to compete against each other but support each other."
The alpaca was purchased from Red Roof Farms in Hamilton County, and Alpha is boarded at the farm of family friends Robin and Holly Jensen in Hamilton County, but Jane is out there every day taking care of Alpha.
Among the many breeders and alpaca owners at the show are Bruce and Myndee Jung of Fairbury, owners of Rock Creek Suris.
Myndee Jung said having one alpaca as a pet led them to get five more. But they've expanded to a herd of 120 alpacas in the past six years.
Jung said the popularity of alpaca fiber is growing nationwide and demand for the natural fiber is strong.
She said she is also learning to make clothing products from the alpaca natural fiber they harvest. Jung said she is also a fiber art enthusiast.
"Nebraska is a good state to raise alpacas," Jung said. "It is good weather. There is lots of grass, and they don't take up a lot of room. They are easy on the environment. They are easy to take care of, and they are very lovable."