Mike Williams calls the area in front of his house an oasis.
Not for him — but for all the pollinators his landscaping attracts.
Except for a 4-foot strip along the sidewalk, there's not a blade of grass. It's all garden.
"Some of us call that a yarden," he said.
Williams has turned over the narrow front of his large pie-shaped lot in Papillion to pollinators. Plants like Joe-Pye weed, butterfly weed, sneeze weed, Mexican sunflower and purple coneflower are a home for birds, bees and butterflies.
He once saw a big bumblebee and a hummingbird fight over access to the salvia.
Williams uprooted the suburban vision of a turf lawn and requisite trees when something killed his grass several years ago.
He had been learning the importance of pollinator habitat while becoming a master gardener. Buying native species from the Nebraska Statewide Arboretum cemented his shift in priorities.
"I thought it would be very, very cool, since it's the sunniest part of my yard, to make this whole thing a pollinator habitat and turn it over to them," Williams said. "It's not my yard; it's their yard. That's their area out there."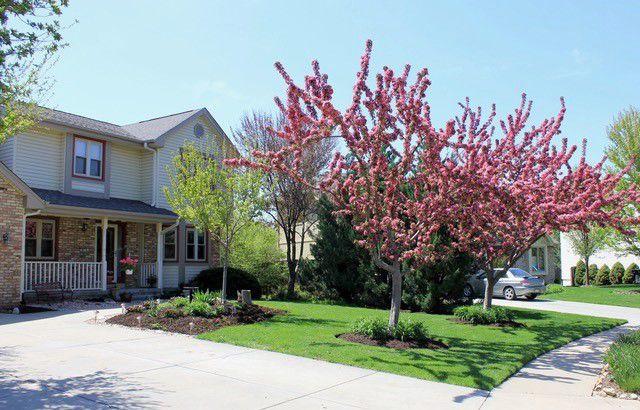 As plants mature and spread, Williams has been transplanting them to the back of his house. The upper part of the backyard, which he calls a work in progress, is densely planted with trees, and he has been adding plants that flower in the shade.
In the back half, there are several edible plants. He's also collecting native plants that are edible or were once used by Native Americans in the area for medicinal purposes.
"People don't realize this, but trees are really beneficial to pollinators," he said. "I have a couple of pawpaw trees in the backyard. That's the only tree a zebra swallowtail will lay its eggs on. Oak trees host more butterflies and moths than other species of trees."
Last summer, seven years after planting the pawpaws, zebra swallowtail butterflies visited for the first time. To Williams, it was one of the most exciting moments of the transformation.
Williams realizes that not everyone would be willing to make the same commitment to pollinators as he has made. But because so much of their habitat is vanishing, even a much smaller plot devoted to beneficial plants would be a big contribution.
Start with the three Ds, Williams says.
Diversity: Pollinators have different tastes, so you need several types of flowers to allow each species to access pollen.
Density: Planting a lot of flowers keeps pollinators happy. "It's important for them if they don't have to travel far. It's like going to the mall where there are many stores. It's all right there," Williams said.
Drawn out: Three seasons of flowers are needed to help pollinators. It's especially crucial in the fall to help monarchs survive the trip home to Mexico. "Autumn Joy Sedum is a common plant that blooms right about the same time the monarch migration comes through in the fall," Williams said. "You will see them loaded up."
Williams said his neighbors seem OK with the transformation of his yard, since as a retired federal worker, he's able to spend hours each week on maintenance. The property has drawn a lot of attention this spring from walkers in the area, numbers that grew during the coronavirus lockdown.
He was supposed to be part of this month's Munroe-Meyer Guild Garden Walk, which was canceled. He'll be in the lineup instead in June 2021, and that gives him time to fill in the many still-empty spaces in his landscape.
The effort has been rewarding, he said, especially as he watches the pollinators at work. They almost seem like pets.
"That cliché, 'If you plant it, they will come,' is so true," he said.
---
Photos: What to plant if you want to attract pollinators