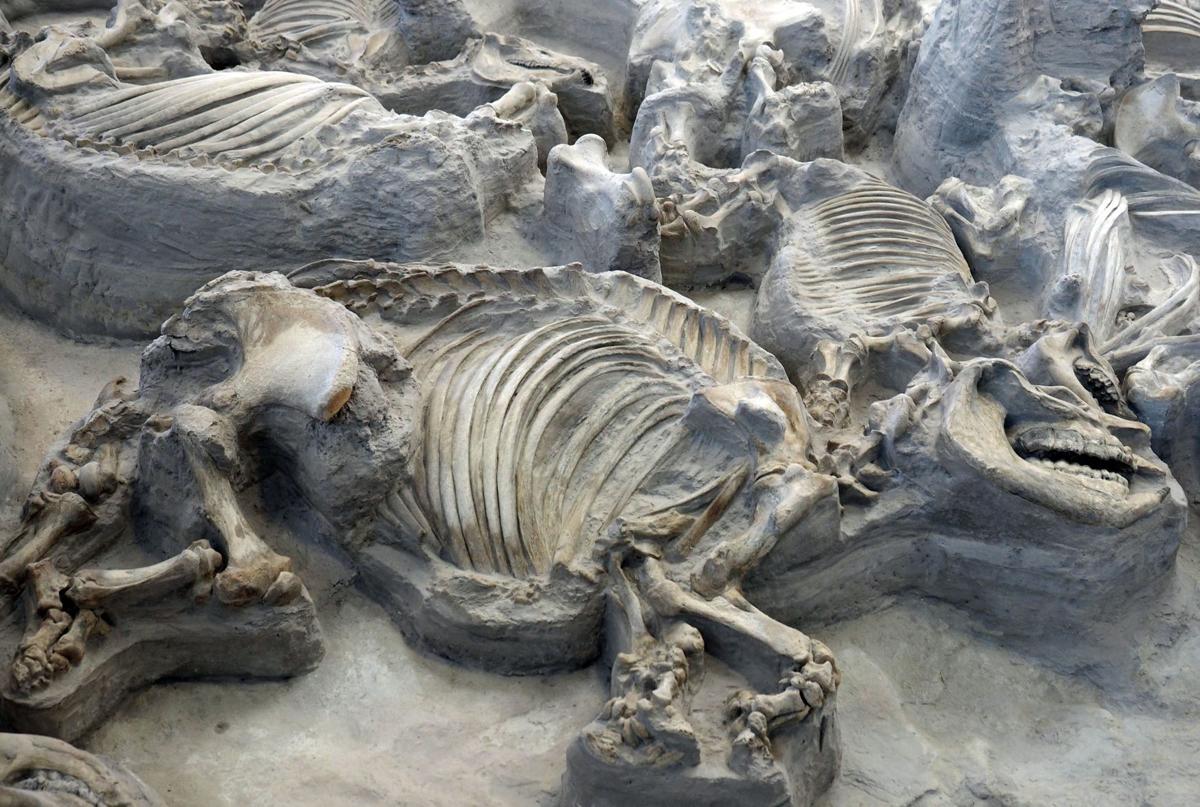 Congratulations! You survived the first half of summer break.
Now is when the boredom sets in. 
But fear not, we present you 25 different ways to fill the rest of your vacation. Whether you want to stay in the Omaha area or venture out into Nebraska, we have ideas that are sure to please kids of all ages.
The clock is ticking on summer. Take a look and get adventuring.
HAVE FUN AND LEARN AS YOU GO
1. River City History tours at the Durham Museum. The past comes alive during these history tours, which are historically accurate, entertaining and share the fascinating history of Omaha. Explore the city's vibrant past aboard Ollie the Trolley and hear stories from knowledgeable tour guides. Select from six unique tours in the coming months, including the new tour: "Remember the Ladies: The Women of Early Omaha." Others are: "From Expositions to Jazz Musicians"; "Last Call for Alcohol: Omaha's Bootlegging History"; "Millionaires and Mansions-North Gold Coast"; "Millionaires and Mansions-South Gold Coast"; and "Omaha's Parks and Boulevards." Ollie the Trolley has taken special COVID-19 precautions. Located at 801 S. 10th St. in Omaha. $25 per person; durhammuseum.org/tours.
2. Ashfall Fossil Beds. Did you know that rhinos used to live in Nebraska? Explore nature and science at Ashfall Fossil Beds. Watch and visit with student researchers as they excavate fossils in the Hubbard Rhino Barn. Hike the nature trails and enjoy a family picnic. Don't forget to grab a photo with our bronze rhino statues. Located two miles west and 6 miles north of Royal, Nebraska. $7.50 per person, children younger than 3 are free, state park permit required; ashfall.unl.edu.
3. Morrill Hall. Morrill Hall has four floors of family-friendly exhibits on dinosaurs, mammoths, fossils, bugs, space, science and more. Check out Cherish Nebraska, the recently renovated fourth-floor exhibit with more than 11,000 square feet of interactive fun. Poop & Paws is open through September and explores the clues animals leave behind in nature. Don't forget to see Archie, the world's tallest fully mounted composite Columbian mammoth fossil. Located at 645 N. 14th St., Lincoln. $8 for adults, $4 for children ages 5-18, children 4 and younger free; museum.unl.edu.
4. The Archway. The Archway features a family-friendly exhibit that tells the stories of the pioneers and adventurers who followed the Great Platte River Road through Nebraska and helped to build America. Walk the trails west. Visit a Pony Express station. Hear the stories of the Transcontinental Railroad and "America's Main Street," the Lincoln Highway. Then, watch the traffic on I-80 pass below you from our "Roadside Café" exhibit. Experience 180 years of Nebraska history in about an hour. Then, plan the rest of your travel adventure at the Archway's Nebraska Visitor Center. Location: Spanning I-80 at Exit 275 in Kearney. $12 for adults, $11 for seniors, $6 for youths ages 6-13, 5 and younger free; archway.org.
5. Wessels Living History Farm. The 1900s farm community includes a fully furnished two-story house, a post and beam barn, granary, equipment building, school house, church and other farm buildings. It is also home to many of the FFA animals from York High School from May through October. Their mission is to preserve the history and evolution of Nebraska's past, agriculture and farm life while connecting to current agriculture practices through education. Located at 5520 S. Lincoln Ave. in York, Nebraska. $7 for adults, $5 for seniors and students, $3 for ages 3 and 4, free for kids younger than 3 and active duty service members; livinghistoryfarm.org.
FINDING ADVENTURES IN THE GREAT OUTDOORS
1. Indian Cave State Park. Indian Cave State Park is home to a three-sided sandstone shelter where Native Americans left petroglyph carvings about 1,500 years ago. Visitors can tour a cemetery and some restored buildings at St. Deroin, a Missouri River town founded a year before the Nebraska Territory was established in 1854. There are also 22 miles of hiking and biking trails, 16 miles of equestrian trails, weekend living history demonstrations, a campground and plenty of wildlife. Located 15 miles southwest of Brownville, Nebraska. A state park permit is required; outdoornebraska.gov/indiancave.
2. Nebraska's oldest tree. Foresters often name old, large and solitary trees of any species which occupy a large amount of space as "wolf trees" because they are "wolfing up" space. Located in Ponca State Park, the Old Wolf Oak Tree is estimated to be 377 years old. The tree measures nearly 10 feet in circumference. It began its life in 1644, was 143 years old when the U.S. Constitution was signed on Sept. 17, 1787, and was 223 years old when Nebraska became a state in 1867. Located 2.5 miles north of Ponca, Nebraska. A state park permit is required; outdoornebraska.gov/ponca.
3. Cowboy Trail. Gather the family for a weekend getaway to bicycle the Cowboy Trail, which starts in Norfolk and spans 321 miles west to Chadron. It's the largest Rails-to-Trails project in the United States. While riding, you'll see plenty of nature, relics from the railroad days, beautiful bridges and more. To accommodate the needs of locomotives, railroads were built with wide, sweeping curves so cyclists, hikers and horseback riders will have fewer hills, dales and swerves than on most highways. outdoornebraska.gov/cowboytrail.
4. Go ape Treetop Adventures. Adventurers and thrill-seekers can try their hand at one of three attractions at Go Ape Treetop Adventure, Mahoney State Park's rope and zip line course. Treetop Adventure features 40 suspended rope and steel cable bridges and other challenges on six courses in the forest canopy. Each ends with a zip line ride to a soft landing in wood chips. The Treetop Journey course, suspended 25 feet above ground, features tree-to-tree crossings, including 20 obstacles and two zip lines. In the Monkey Drop, participants climb up to a 40-foot platform where they jump in a 10-foot free fall before being lowered back to the ground. There are height and weight limits for each. Located at Eugene T. Mahoney State Park, Exit 426 off I-80. A state park permit is required; cost ranges from $14.95 to $59.95; goape.com/location/nebraska-ashland.
5. Perseid Meteor Shower. The Perseids are a strong meteor shower that produce rich and bright streaks. This year, you will see activity from July 17 to Aug. 26, with the peak on the night of Aug. 11-12. If there's a clear sky, the Perseids will have a meteor rate of about 100 visible "shooting stars" per hour. In more typical viewing conditions, people will see one Perseid per minute. To best view a meteor shower, get away from city lights and give your eyes about a half hour to adjust to the dark (and avoid looking at your cellphone if you get bored). A good philosophy is to lie on your back and look straight up. That way you take in as much of the sky as you can. Viewers can start observing around 11 p.m. local time, when the rates of shooting stars increase, and can watch the sky until dawn.
GET IN TOUCH WITH THE 'WILD SIDE' AT THESE AREA WILDLIFE ENCOUNTERS
1. Butterfield Alpaca Ranch. Butterfield Alpaca Ranch raises both Hucaya and Suri alpaca breeds. Come get up close to the alpacas (and llamas) and learn all about them, feel their soft fleece and see a demonstration of how their fiber is turned into products. In-person tours are scheduled for 10 a.m. July 24, 31 and Aug. 28. Located 5 miles east of Alma, Nebraska. $15 for ages 15 and older; fee can be applied as a credit in the mobile store at the end of the visit; butterfieldalpacaranch.com.
2. Wildlife Safari. At the Lee G. Simmons Conservation Park & Wildlife Safari in Ashland, Nebraska, you'll think you're on safari when you see majestic animals like bison and elk in a natural setting. Beyond the drive-through exhibits, there are opportunities to see eagles and other smaller creatures up close. Located at Exit 426 off I-80. $8 for adults, $6 for ages 3-11, $7 for seniors; wildlifesafaripark.com.
3. A night at the zoo. Did you know you can spend the night in Omaha's Henry Doorly Zoo & Aquarium? Pitch a tent near the new sea lion exhibit or stay in one of the zoo's family safari tents near the lion habitat. Indoor adventures are available in the aquarium and desert dome. Sleeping Bag Safaris are available year-round. Children must be at least 4 years old and reservations must be made at least three weeks in advance. Costs vary; omahazoo.com/sleeping-bag-safaris.
4. Schramm Education Center. Bring the family and check out aquariums that feature Nebraska's natural aquatic habitats — cool water streams, rivers, reservoirs and farm ponds. Six smaller tanks focus on some of Nebraska's smaller, lesser-known fish species. There's also 17 live animal tanks that feature Nebraska's reptile and amphibian species. Additionally, the educational nature center areas include a reading nook, maker's space, bird watching area and a preschool play area. Kids will have fun with interactive activities including a digital topographical map, interactive wayfinding maps and touch screens focusing on the species of the area. Located at Exit 432 off I-80, then 5 miles south on Hwy 31. $10 for adults, $7 for ages 4-12; outdoornebraska.gov/schrammeducationcenter.
5. Heron Haven. At about a mile long, Heron Haven is perfect for little legs. Animals are plentiful on the 17-acre, spring-fed wetland, depending on the hour of the day. Youngsters will enjoy seeing turtles, frogs, deer, mink, foxes, opossums, raccoons, rabbits, squirrels, 182 different species of birds and more. The trails are gravel and wheelchair-accessible. Located at 11809 Old Maple Road, Omaha. Free; heronhaven.org.
LET YOUR IMAGINATIONS RUN WILD AT THESE AREA CREATION STATIONS
1. Joslyn Art Museum. Nebraska's largest art museum was a gift to the people of Omaha from Sarah Joslyn in memory of her husband, George. The museum's 1931 Art Deco building and 1994 Scott Pavilion addition house nearly 20 galleries of art from antiquity to the present. Other museum highlights include a fountain court, sculpture garden, café, gift shop and Art Works, an interactive space for art exploration. Located at 2200 Dodge St. Free general admission; joslyn.org.
2. Do Space. Omaha's technology library aims to empower everyone with access to technology and innovative learning experiences. You'll find access to the latest software; more than 100 computers, tablets and laptops; printing and 3D printing services; and ultra-fast internet. Do Space offers a variety of programs and events at no cost. Through computer workstations, the Active Learning Lab, 3D Lab and Littles Lab, community members from toddlers to senior citizens can take their learning to the next level. Located at 7205 Dodge St. Free; dospace.org.
3. Kaneko. Visit Kaneko to explore the creative process, including how new ideas are formed in the arts, sciences and philosophy. Saturday mornings are designated family time where parents can bring kids to enjoy the exhibits, as well as the KANEKO-UNO Creative Library, which has a dedicated space for kids. KIDSpace at the library offers children's books about creativity in a relaxed environment. Located at 1111 Jones St. thekaneko.org.
4. PACE. The Hoff Family Arts & Culture Center, home of PACE (Pottawattamie Arts, Culture and Entertainment) in Council Bluffs, has all kinds of activities for kids this summer, including summer camps, a children's theater, live music and ceramics classes, as well as more to be announced. Located at 1001 S. Sixth St. in Council Bluffs. paceartsiowa.org.
5. Spielbound. Stop in to the board game café and explore the library of 2,500 board games to play, ranging from classics like Monopoly, to new favorites like Settlers of Catan, to obscure European strategy games. Playing games requires either a membership or a one-day pass. A wide selection of food and drink are also available for purchase. Located at 3229 Harney St. $5 for one-day pass, individual and family memberships available; spielbound.com.
SATISFY THOSE SWEET TOOTH CRAVINGS
1. Graley's Creamery. Enjoy an ice cream flight. If you're out on a hot summer weeknight, this should be your destination. The ice cream flight, small dishes featuring flavors such as ooey gooey butter cake and key lime pie, is just right for a family treat. They are offered Monday through Thursday. Located at 147 N. Washington St. in Papillion. graleyscreamery.com.
2. Licorice International. Take a road trip for candy. Licorice International, which started on Long Island and now is based in Lincoln, has nearly 160 varieties of licorice from 12 countries. It has a thriving online business and also operates two stores in Lincoln. Its Haymarket location also has fine chocolates, gourmet foods and candy dishes. Closed on Sundays. Located at 725 Prescott Ave., 230 N. Seventh St. in Lincoln. licoriceinternational.com.
3. Master's Hand. Find the world's best cinnamon rolls. They're in the pastry case at Master's Hand, a cute gift shop, bakery and tea room in Tekamah, about 55 miles north of Omaha. The shop won its "world's best" designation in 2020 from, of course, worldsbestcinnamonroll.com. It also has other desserts — the butterscotch pie is worth the price of gas from just about anywhere. Closed Sundays. Located at 3599 County Road F in Tekamah, Nebraska. mastershandcandles.com.
4. Pastry Shops. Pack a picnic, and don't forget the pastries. Omaha has a number of artisan bake shops that can help you fill a big basket. A couple of social media favorites: Le Petit Paris, 567 N. 155th Plaza, where "cruffins," a combination of croissant and muffins with fruit or cream fillings, have been a sensation of late; and Brownie Bar Omaha, 1217 Leavenworth St., which has a variety of brownies, frostings and fruit toppings. lepetitparisfrenchbakery.com; browniebaromahacom.
5. Angus Burgers & Shakes. Share a milkshake (or two) at Angus Burgers & Shakes, a Nebraska-owned company with two locations. The restaurant describes its milkshakes as "non-typical." One of them is The King, with vanilla ice cream, peanut butter, banana and chocolate syrup. The time to try it? It's now or never, of course. Located at 421 W. Talmadge St. in Kearney; and 10177 S. 168th Ave. in Omaha. angusburgersandshakes.com.