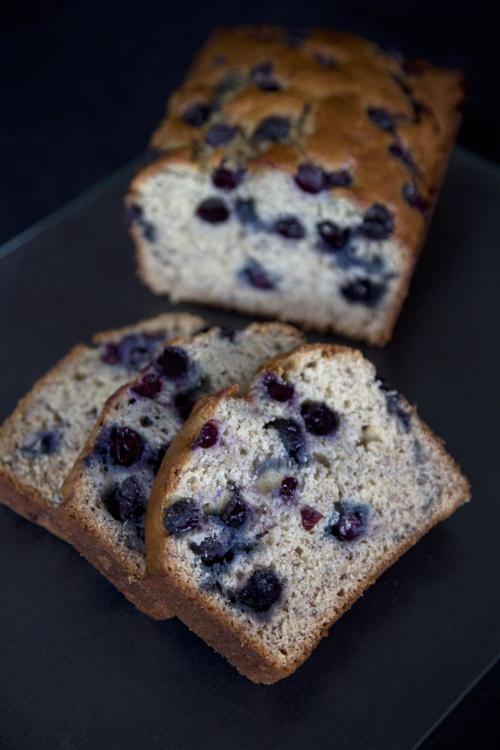 Banana bread is a favorite at our house. The usual request is to add mini chocolate chips or white chocolate chips. Looking for a slightly healthier option for breakfast, I happened upon Blueberry Banana Bread.
A generous amount of fresh blueberries, along with yogurt for added moisture, make this a go-to quick bread recipe.
Tossing the blueberries in a little flour before adding them to the batter keeps them from sinking to the bottom of your loaf.
You can also make this recipe with frozen blueberries but don't thaw them. They're likely to turn the batter purple as they melt into the mix.
This recipe is easily customized. For fun, experiment with lemon zest, orange zest or sliced almonds to find your new favorite.
Blueberry Banana Bread
• 2 cups all purpose flour + 1 tablespoon to coat the blueberries
• 1 cup mashed ripe bananas
• 1/3 cup vanilla or plain yogurt
• 1 teaspoon vanilla extract
• 1½ cups fresh blueberries plus more for the top of the bread (can substitute frozen)
1. Preheat oven to 350 F.
2. In a medium bowl, combine the 2 cups flour, baking soda and salt.
3. Place sugar and butter in a large bowl, beat with a mixer at medium speed until mixture is fluffy and well-blended (about 1 minute).
4. Add mashed banana, eggs, yogurt and vanilla; beat until blended. Add flour mixture; beat at low speed just until moist.
5. Place the blueberries in a bowl with 1 tablespoon flour and toss to coat.
6. Gently fold blueberries into the batter. Spoon batter into an 8½-by-4½-inch loaf pan coated with cooking spray. Press additional blueberries into the top of the batter for decoration.
7. Bake for 60-70 minutes or until a wooden pick inserted in center comes out clean. Remove pan from oven and place on wire rack for about 10 minutes. When bread is cool, remove from pan.
This article originally appeared in the January 2021 issue of the Momaha Magazine.