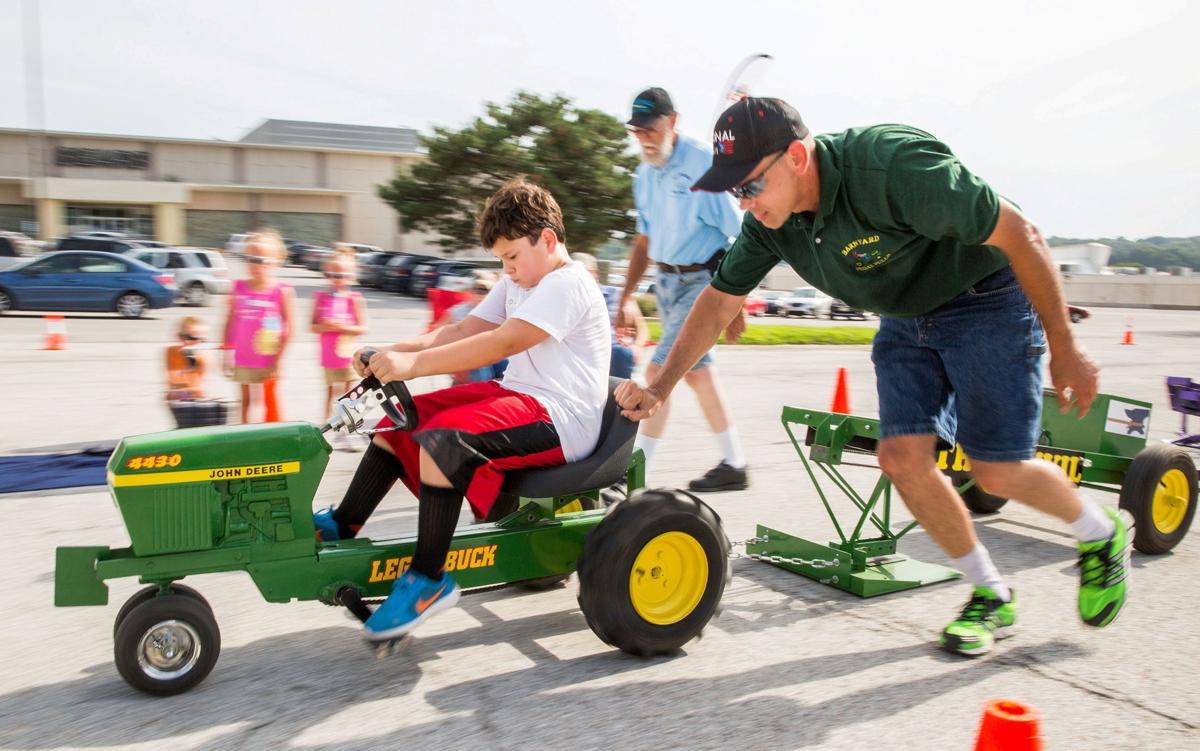 Looking for something fun and safe to do in the Omaha area this weekend? Check out these family-friendly suggestions, which take place today through Sunday.
1. Check out the Douglas County Fair. The Douglas County Fair will take place Friday through Sunday at Sycamore Farms, 1150 River Road Drive in Waterloo. The fair, which started more than 140 years ago, is free to attend and will feature live music, vendors, food trucks, a petting zoo, a tractor show, hands-on STEM activities, a farmer's market, face painting and balloon tying, a Ferris wheel and more. Hours are Friday from noon to 7 p.m., Saturday from 9 a.m. to 7 p.m. and Sunday from 9 a.m. to 4 p.m. More.
2. Live on the Lake at Zorinsky. Head to Zorinsky Lake Friday from 6 to 9 p.m. for a free family-friendly summer concert featuring Omaha band High Heel. The event will also feature food trucks and Omaha Parks & Recreation giveaways. The concerts will be held at the end of the drive off the entrance at 156th and F Streets. The summer concert series will take place every Friday through July 30. More.
3. Listen to street percussion. Head over to the Hy-Vee Amphitheater in Shadow Lake Towne Center, 7775 Olson Drive in Papillion, Friday from 11 a.m. to noon for a free kids concert. Omaha Street Percussion, a collection of drummers coming together to create a visually appealing, highly energetic form of drumming, will perform using only unorthodox forms of percussion. More.
4. Check out vintage vehicles at Joslyn Art Museum. The Meadowlark Model A Ford Club will have a display of vintage cars at Joslyn Art Museum's parking garden Saturday from 10 a.m. to 4 p.m. Club members will display a variety of Model As and share some stories. Come by to take a close look at these beauties, snap a photo with your favorite and enjoy some stories and "car talk" with the owners. This is a free outdoor event. Physical distancing is strongly encouraged and masks are required for non-vaccinated persons entering the museum. More.
5. Cool off at a hydrant party. Kids can have a blast at several hydrant parties this weekend. The Council Bluffs Fire Department will host a hydrant party from 1:30 to 2:30 p.m. Thursday at 25th Avenue and Pavich Drive. The City of Omaha will host hydrant parties at three locations Friday: from noon to 1 p.m. at North 33rd and Burt Streets; from 1:30 to 2:30 p.m. at Adams Park CC, 3230 John A. Creighton Boulevard; and from 3 to 4 p.m. at North 34th and King Streets.
6. Check out a night market. Enjoy a fun family night Friday at the Night Market at Turner Park. The event will feature an eclectic mash-up of trendy vendors, delicious food and beverages, interactive games and live music. Hours are 6 to 10 p.m. Turner Park is located at 31st Avenue and Farnam Street. More.
7. Watch a Water Circus. Come to Westroads Mall, 10000 California St., today through Sunday for Cirque Italia's Water Circus, a family-friendly show featuring lights, laughs and memories that will last a lifetime. Look for the white and blue big top tent located in the parking lot near Dick's Sporting Goods. Shows will take place Thursday at 7:30 p.m., Friday at 7:30 p.m., Saturday at 1:30, 4:30 and 7:30 p.m. and Sunday at 1:30 and 4:30 p.m. Tickets start at $10 for kids. Use code FACEFREE to receive one free child ticket with every full price adult ticket purchased in level two or three. More.
8. Check out Lily Fest. On Saturday, head to Hillsdale Lily Garden, 61258 Highway 275 in Glenwood, Iowa, for their Lily Fest and concert. The garden will open at 9 a.m. with vendors on site until 2 p.m. Concerts will take place from 2 to 9 p.m., with profits going to the Tanner Foss project. Hillsdale Lily Garden includes 162 varieties of lilies on its 1.25 acres. More.
9. Pick some sweet corn. The third annual Sweet Corn Festival will take place Saturday from 9 a.m. to 5 p.m. at Nelson Produce Farm, 10505 N. 234th St. in Valley, Nebraska. Hop on a hayrack and take a trip to one of their sweet corn fields to fill a gunny sack for only $20, as well as all-you-can-eat sweet corn back at the farm. There will be lots of family-friendly activities, including pony rides, a barrel train and their new Kountry Mud Kitchen. Tickets are $7 per person. Kids 2 and younger are free. More.
10. Listen to a storytime. The Omaha Public Library will host several storytimes this weekend. Curious George will make an appearance during Zoom storytimes on Thursday, Friday and Saturday. See the full schedule here.
11. Eat some ice cream. What's summer without ice cream? Visit one of these Omaha-area ice cream shops to curb your cold treat craving. 
12. Meet some zoo animals. From 10 to 11 a.m. Thursday, head over to Regency Shopping Center, 120 Regency Parkway, for Kids Funfare featuring the Omaha Henry Doorly Zoo & Aquarium. The event is free and is located in the Center Courtyard outside of Pottery Barn Kids. More.
13. Enjoy a movie at Ditmars Orchard. Outdoor summer movies are back at Ditmars Orchard, 19475 225th St. in Council Bluffs. This Friday's free movie is "Sonic the Hedgehog." Orchard activities will end at 6 p.m. but the cafe, Sweet Shoppe and Bar, will stay open through the end of the movie. A variety of snacks and drinks will be available for purchase. No outside food or drink is allowed. People are encouraged to bring their own blankets, chairs and bug spray. The movie starts at dusk (9:30 p.m.). More.
14. Participate in the Nebraska Passport Program. The purpose of the program is to help travelers discover Nebraska's hidden gems. Now through Sept. 30, people can visit one of the passport stops and receive a stamp (either in a booklet or a digital stamp on the Nebraska Passport app). At the end of the summer, participants can turn in their stamps and receive prizes. There is no fee to participate, and there is no purchase necessary to receive passport stamps at the stops. More.
15. Celebrate summer reading at the Omaha Public Library. The library's annual Summer Reading Program is happening now and runs through July 31. Register for the program at omahalibrary.org or at any of OPL's 12 locations. Kids, teens and adults can earn prizes by reading and/or listening to books for 10 hours. Audio CDs, eBooks and Playaways count for the program as well. Log the time for books you read/listen to online to receive/be eligible to win prizes. Kids and teens who sign up will receive a free book from the library. More.
16. Check out a farmers market. Love to shop local for fresh produce, flowers and other goodies? Then check out a farmers market. Several area farmers markets are now open for the season. More.
17. Build something. Come to the Strategic Air Command and Aerospace Museum to check out their temporary exhibit, "Build It!" The one-of-a-kind exhibit, which goes through Aug. 21, connects different types of engineering with local careers. Visitors of all ages have the chance to invent, design, analyze, build and test their skills. Tickets are $14 for adults, $11 for senior citizens, $12 for active/retired/veteran military (with valid military ID) and $7 for kids ages 4-12. Kids 3 and younger are free. More.
19. Go on a hike. The weather is warming up and it's the perfect time to get out and explore one of the many family-friendly hiking destinations around the Omaha metro area. See a list of 10 fun hiking places.
20. Go ice skating with your kids. Ralston Arena offers public ice skating for $5, with free ice skate rental. The Motto McLean Ice Arena (inside Hitchcock Park at 45th and Q Streets) offers Family Skate time from 4 to 6:15 p.m. Sunday. Reservations are required at both locations. 
21. Make some crafts together. There aren't a lot of crafting programs happening right now, but that doesn't mean you can't make your own crafts at home. Get the kids together and choose from one of these fun, kid-friendly crafts the entire family can create together. 
Be sure to visit the website for each event to see what COVID-19 restrictions are in place. Some require patrons to purchase tickets in advance or wear masks.