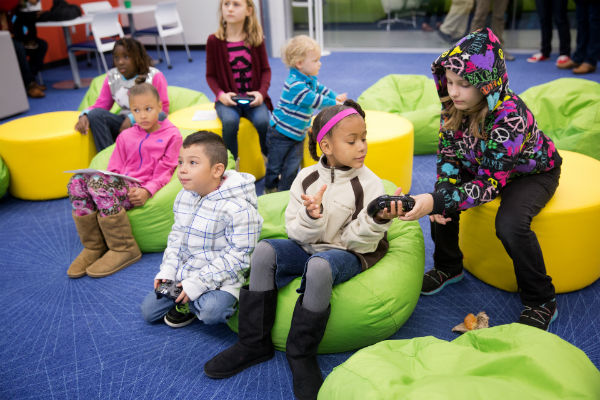 Looking for something fun to do in Omaha this weekend? Check out these family-friendly suggestions:
1. Science on a Sphere at Do Space. The science exhibit for all ages is open weekdays from 3 to 9 p.m. and weekends from 9 a.m. to 9 p.m. The exhibit is free and open to the public. Science on a Sphere is an exhibit by the National Oceanic and Atmospheric Administration that illustrates Earth System science to visitors. It's located on the second floor at Do Space, located at 7205 Dodge St. Demonstrations by UNO, MCC and other science experts will be held throughout the exhibit. More.
2. Open House at St. Bernard Catholic School. Come to St. Bernard School's open house Thursday from 6:30 to 8 p.m. and learn what a Catholic learning environment can offer your child. St. Bernard has pre-K to 8th grade and on-site child care. The school also offers tuition discounts. All faiths welcome. RSVPs appreciated. The school is located at 3604 N. 65th St. in Omaha. More.
3. Celebrate the Chinese New Year at Omaha Public Libraries. Chinese New Year Day is on Feb. 8, but the celebration lasts all month at OPL. All events are free and open to the public. This Friday and Saturday at 10:30 a.m., enjoy a family storytime at W. Clarke Swanson Branch, 9101 W. Dodge Rd. The library will integrate stories and songs about the Chinese New Year into their weekend storytime programs. On Saturday at 11 a.m., the W. Clarke Swanson Branch will offer a family craft for all ages. More. 
4. Sticker, Stencil and Slime Party. Come to the La Vista Public Library Friday at 10 a.m. and listen to a story, play with edible slime (Jell-O), make a foam door hanger with stickers and sequins and create a picture using stencils and rubber stamps. The library is located at 9110 Giles Road in La Vista. All ages welcome. Registration is not required. More.
5. UNO-Mav Kids Rock Climbing Night. Kids ages 6 through 12 will get introduced to the exciting and challenging activity of rock climbing Friday from 6 to 7:30 p.m. at the UNO-HPER Building, 6001 Dodge St. Activities will include rock climbing, an arts and crafts table and snacks! Cost is $15 for UNO students and Campus Recreation members, and $20 for non-members. Must pre-register. More.
6. First Friday Family Date Night at the Omaha Children's Museum. Stay late and play until 8 p.m. during the museum's First Friday Family Date Night series.The fun is included with regular museum admission or membership. Friday's theme is Candy Land Night. Kids can meet Princess Peppermint, play a life-size version of the game and more! Additional activities include Creative Arts: Candy Land Art, Science Center: Make a Lifesaver car, Imagination Playground: Play the lollipop lane bend game and Super Powers: Superhero swirl pop crafts (while supplies last). The museum is located at 500 South 20th St. in Omaha. More.
7. Owl Prowl Night Hike at Hitchcock Nature Center. This evening experience will include a focus on the owls of Iowa, owl calling and more. The hike will begin Friday at 7 p.m. at Hitchcock Nature Center, 27792 Ski Hill Loop in Honey Creek, Iowa. Admission is $4 per person. The fun is designed for all ages. More.
8. Free Home Depot kid's workshop. Come to the Home Depot Saturday from 9 a.m. to noon and learn how to build a "Valentines Mailbox." After the mailbox is built, kids are free to personalize their project with paint. All kids get to keep their craft, receive a free certificate of achievement, a workshop apron and a commemorative pin while supplies last. Children must be present at the store to participate in the workshop and receive the kit, apron and pin. Registration required. More.
9. Guided Snowshoe Hike at Hitchcock Nature Center. Join the Pottawattamie Conservation staff for a snowshoeing adventure through the Loess Hills at Hitchcock Nature Center. There will be two guided snowshoe hikes Saturday – at 10 a.m. and 1 p.m. Admission is $5 per person ages 12 and older, which includes a guided hike, refreshments and use of snowshoes during the guided hike. Pre-registration is required for this program by Friday, Feb. 5. Call 712-242-1197 to pre-register. Participants should meet at the Loess Hills Lodge, weather permitting. The Hitchcock Nature Center is located at 27792 Ski Hill Loop in Honey Creek, Iowa. More.
10. "Water" exhibition at KANEKO. Exploring and understanding water in a multitude of forms is the theme of KANEKO's Spring 2016. Admission to KANEKO galleries are free and open to the public. Public gallery hours are Tuesday through Friday, 2 to 7 p.m., and Saturday, 11 a.m. to 4 p.m. KANEKO is located at 1111 Jones St. in Omaha. More.
11. The Sweetheart Expo. The Sweetheart Expo will feature more than 40 vendors selling their goods. There will be raffles and more. First 100 will get a goody bag. The Sweetheart Expo is a free event and will take place Saturday from 9 a.m. to 6 p.m. at the Comfort Inn, located at 7007 Grover St. in Omaha. More.
12. Family Night Extravaganza. The Strategic Air & Space Museum will start its new "Family Night Extravaganza" series Saturday from 5 to 8 p.m. Come experience behind-the-scenes with access to museum aircraft during an airplane crawl. Younger visitors will get a chance to purchase rubber-band gliders and participate in a young aviators contest. A designated picnic area will be set up for families to enjoy their dinner. Guests may bring a picnic or order a box meal for $9 from the museum. General admission applies (adults are $12, senior citizens and active/retired military are $11 and children ages 4 through 12 are $6). Guests are invited to come to the museum as early as they want and stay through the evening. More.
13. FITGirl Winter Wellness Expo. A mother/daughter empowerment experience for moms, mentors, guardians and their daughters, ages 8 through 16. Tickets are $20 in advance for mom and daughter. Tickets for each additional daughter/guest are $5. Tickets include access to all sessions, gift bags, prizes and giveaways. Lunch will be available from 11 a.m. to 2 p.m. for purchase. More.
14. Birds & Binoculars at Mahoney State Park. Bird lovers of all ages are invited to gather at the park's administration office Saturday from 10 a.m. to noon for bird viewing and identification in preparation for the Audubon Society's "Great Backyard Bird Count." Both adults and children can participate in recycling everyday materials into backyard bird feeders and learn how to make winter bird feed to keep your birds happy all year. A park entry permit is required (daily $5 or annual for $26). Mahoney State Park is located at 28500 West Park Hwy in Ashland, Nebraska. More. 
15. Family Fitness Super Bowl Party. Come to Montclair Community Center, 2304 S 135th Ave. in Omaha, Saturday from noon to 2 p.m. for mini training camp activities, crafts and a healthy snack to get ready for the big game! This all ages family event is free. More.
16. Super Bowl event at Saddlebrook Community Center. Come celebrate the Super Bowl a day early with Saddlebrook Community Center and the library with a kick competition and other games. The free event will take place Saturday from 1 to 3 p.m. at the Saddlebrook Community Center, 14850 Laurel Ave. in Omaha. More.  
17. Winter Carnival at Motto McLean Ice Arena. The Figure Skating Club of Omaha's annual Winter Carnival will be held Saturday from 5 to 7 p.m. at Motto McLean Ice Arena, 5015 South 45th St. They will have skating, games, prizes, dinner and treats. Cost of admission is $8 per person. Skate rental is additional. Children ages 2 and younger are free. More.
18. Science & Art Exhibit at Strategic Air & Space Museum. Come to the museum Saturday to see how a nano meter of water can be fun, how Origami uses geometry, why a worm is considered art, and how music is created from a micro-chip. The traveling exhibit will be available every day at the museum until April 10. The Strategic Air & Space Museum is located at 28210 West Park Highway in Ashland, Nebraska. More.
19. Go ice fishing. Ice fishing is now open on DeSoto Lake through the end of February. An entrance permit is required for all vehicles on days other than fee free days. The regular daily entrance fee for private vehicles is $3. It is up to individual anglers to determine the safety of the ice. A general guideline is 4 inches of clear and solid ice as a minimum for foot travel and ice fishing. More.
20. Cowboy Up! at The Durham Museum. Alongside "From Nebraska to the World: Buffalo Bill's Wild West Show" is an experience designed especially for kids. It is an interactive western-themed experience for the museum's youngest visitors, exploring the world of cowboys, horses and all things "wild west." The exhibit opens Saturday and will run through March 27. Cost is $11 for adults, $8 for seniors and $7 for children (ages 3-12). The exhibit is free for museum members. More.
21. Centennial Film Festival. The Centennial Film Festival will be held each weekend in January and February of 2016 in the Homestead National Monument of America Education Center, located at 8523 W. State Hwy 4 in Beatrice, Nebraska. This year will feature popular movies filmed at National Park Service sites across America. This weekend's feature is "Butch Cassidy & the Sundance Kid." More.
22. Weekend Wildlife Films at DeSoto National Wildlife Refuge. On Saturday and Sunday, DeSoto National Wildlife Refuge, located at 1434 316th Lane in Missouri Valley, Iowa, will show a free wildlife film – "My Life as a Turkey." Based on a true story, this beautiful, charming, funny, sad and thought-provoking film explores when a man and animal unwittingly become more closely linked than nature normally allows. The 60-minute film is for the entire family. The movie starts at 1:30 p.m. both days. More.
23. Go ice skating with your kids. The Ralston Arena offers public ice skating for $5, with free ice skate rental. More. Motto McLean Ice Arena (inside Hitchcock Park at 45th and Q Streets) offers Family Skate time Sunday from 4 to 6:15 p.m. More.
24. See an indoor movie with your kids. Marcus Theaters will host a "Kids Dream Winter Film Series" Friday, Saturday and Sunday at 10 a.m. Admission is $3. Concession specials include $2.75 popcorn and $2.75 fountain drinks. Participating Omaha locations include Majestic Cinema (144th & Maple), Twin Creek in Bellevue and Village Pointe. The series will run every Friday, Saturday and Sunday through March 20. To receive two free tickets, visit one of the participating agents at American Family Insurance or click here. This weekend's film is "Minions." More. Aksarben Cinema, at 2110 S. 67th St., has $5 movies all day every Tuesday, plus $2 hot dogs, popcorn and pop (and $2 Bud Light beers for the parents).
25. Do some crafts. Several area stores are hosting craft time for children this weekend. At Michaels, the KIDS CLUB will be creating a "Cupid's Arrow Valentine" craft Saturday from 10 a.m. to noon. The cost for that is $2. Kids can create a "Lots of Love Suncatcher" craft at Lakeshore Learning Store from 11 a.m. to 3 p.m. Stop by Mangelsen's Saturday between 11 a.m. and 2 p.m. where kids can create a Mardi Gras mask – for free.
26. Omaha Children's Museum Super Powers exhibit. The Omaha Children's Museum's newest exhibit, "Super Powers," is open. The exhibit runs through April 17, 2016. More. 
27. Social Play Group. Snyder Charleson Therapy Services, located at 8031 West Center Road, Suite 300, is hosting social play groups every Monday and Thursday. The play group sessions are 60 minutes long and take place at 10 a.m., 11:30 a.m. and 1 p.m. All groups are run by speech-language pathologists and occupational therapists. Group time will focus on sensory integration, communication and social skills through structured play-based activities. Social play groups are targeted toward children 2 to 6 years old. Groups will consist of two to four children depending on their age, skill level and areas of need. To schedule an appointment, call 402-763-4408 or email pediatrics@snydercharleson.com.