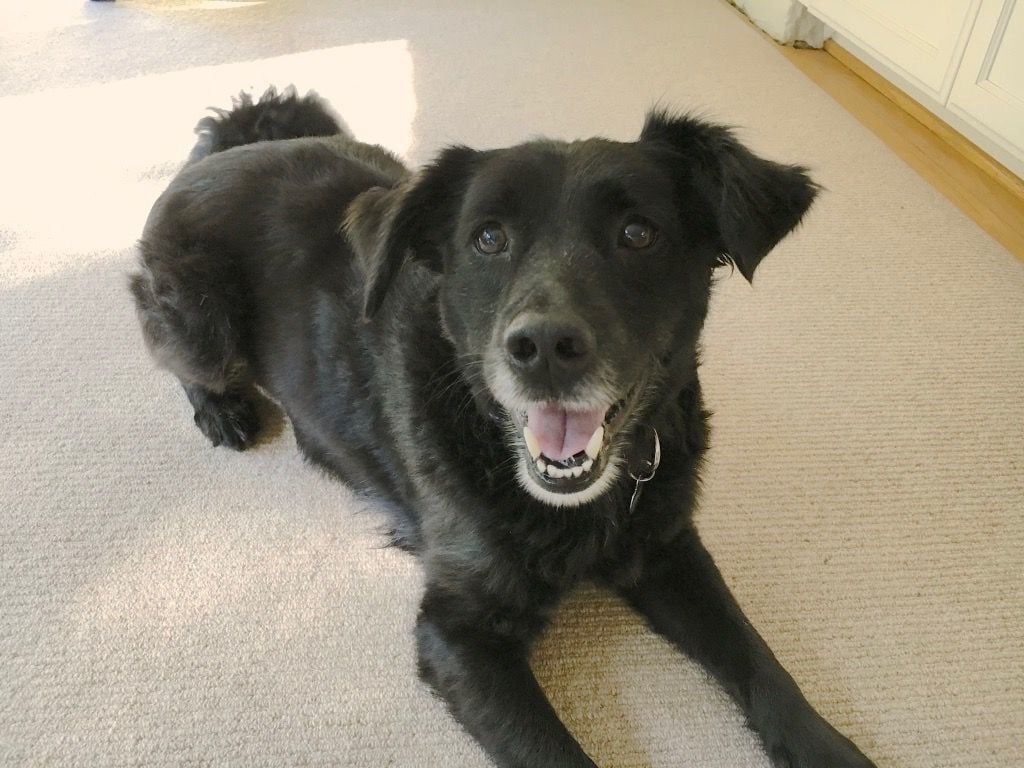 Dog Gone Problems is a weekly advice column by David Codr, a dog behaviorist in Omaha. David answers dog behavior questions sent in by our readers. You can reach him at dogbehaviorquestions@gmail.com.
I am the owner of a beautiful 1-year-old female black lab. She is playful, rambunctious, affectionate and anxious. She needs constant attention or else she starts to bark at me.
When I do try to give her the attention, she "yells" at me. She will also bite my hands and forearms in almost an anxious manner. It isn't painful, but it sure is not pleasant. She will do the same thing when I get home from classes every day. 
She is crate trained because she cannot be trusted to roam the house. She chews and rips everything in sight. She has even ripped her mats in her kennel, and for that reason, she does not have one anymore.
I love her dearly, but I am getting frustrated with her acting up like this. I walk her daily and sometimes run with her to help relieve some of that built-up puppy energy. I am struggling to find alternate ways to calm her down and help her feel less anxious. Do you have any advice on what I can do to help her?
On average, a dog sleeps close to 17 hours a day. We don't notice this because they don't sleep in one long period like humans do. Instead, they have a long sleep at night when we do, supplemented by lots of short naps throughout the day.
When they are sleeping, they are recharging their batteries. Once awake, they are ready to go again. For this reason, exercise is best accomplished in shorter, more intense sessions sprinkled throughout the day.
If you have a mature lab puppy, it's a safe bet that the one walk a day you mention is far less than she needs. When a dog doesn't get enough sleep, they can often turn to chewing to relieve some of that pent-up energy.
Many of the behaviors you mentioned that your dog does — chewing, anxiety, crying, nipping, etc. — are textbook examples of a dog who needs more exercise. Your average dog needs at least 60 minutes of exercise every single day. Higher-energy breeds and puppies can need more.
So my first suggestion is to find some ways to exercise your dog that you can accomplish multiple times a day. Walking is nice, but there are other activities that are more efficient. Check out this video for some creative ways to exercise your dog.
After a few days of getting your dog more exercise, you should notice some of these unwanted behaviors abating. Once that is the case, you can start working on your dog's anxiety — the nipping and "yelling" — by using some operant conditioning.
To do this, arrange to practice the activities your dog doesn't do well. Let's start with biting at your hand when you go to pet her. Make sure she is sufficiently exercised with a good 10 minutes afterward to calm down.
Sit down in your normal chair and ask for a sit one time. If she doesn't sit, pull out your phone, watch some TV or check an email on your phone. What you are saying is, "If you can't sit for me, I will find other things to do."
When she sits, reach to pet her. The instant she starts to show any excitement — wiggling, getting up, yelling, reaching for your hand or arms — stop and return your arm to your side. Do not correct her, chastise her or offer any punishment.
You will likely reach and stop reaching many times. This is normal. If you stop the instant she starts to get excited, you will start to see she settles down faster and stays calm when you start to reach. But don't wait for her energy level to get high enough to be easily noticeable. This is the common mistake people often make. The more excited you let her get, the longer and harder it will be for her to calm down.
With enough repetitions, she will learn that excited behavior causes you to stop interacting with her. It will take time, which is why I suggest setting up practice sessions. Whenever you have extra time, use it to practice petting without biting. Try to do this a few times a day for a week. If you do, combined with proper exercise, you should be able to stop many of her unwanted behaviors for good.
Good luck and remember — everything you do trains your dog. Only sometimes you mean it.
Pet Parade: The World-Herald newsroom's best pet pictures
We asked World-Herald newsroom employees to share their cutest pet pictures.