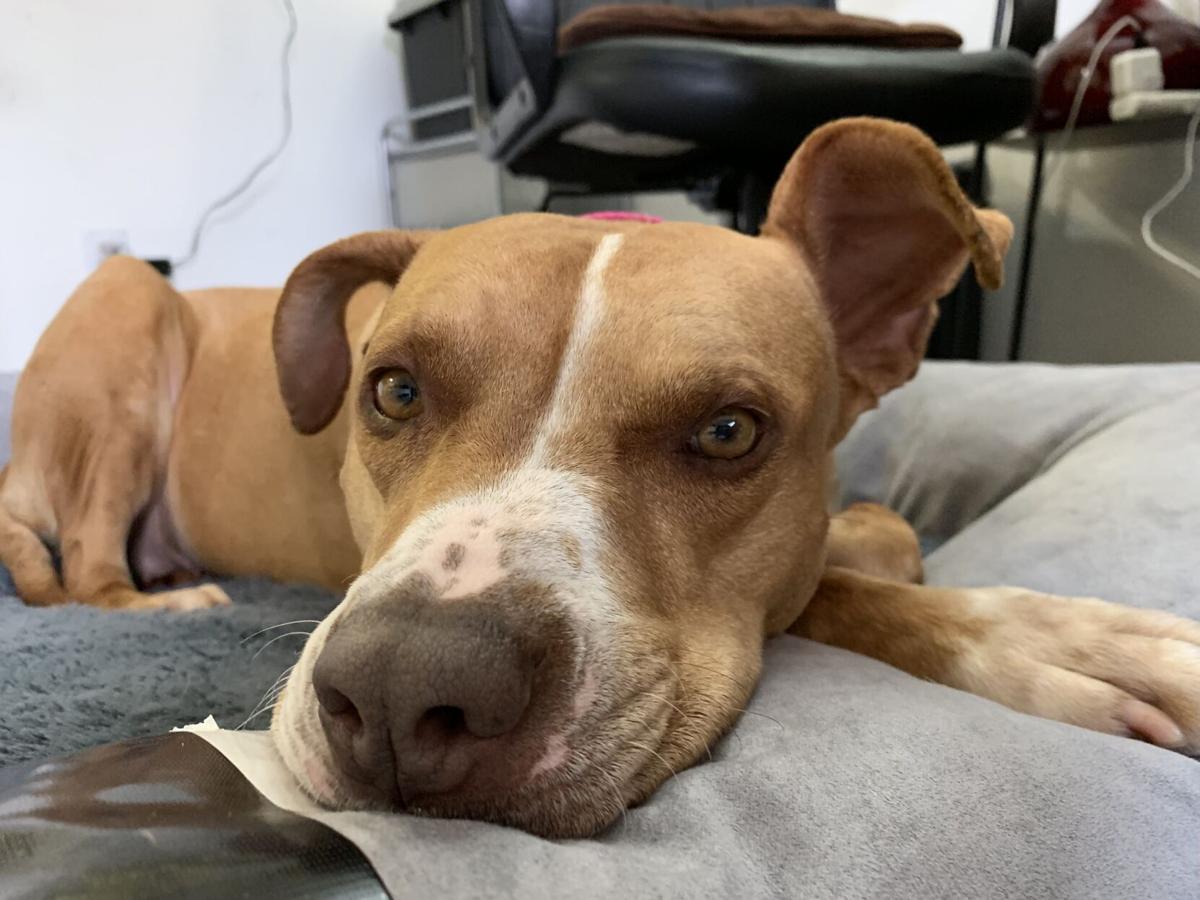 Dog Gone Problems is a weekly advice column by David Codr, a dog behaviorist in Omaha. David answers dog behavior questions sent in by our readers. You can reach him at dogbehaviorquestions@gmail.com.
I have a 5- or 6-year-old pit bull who has been my dog since he was about 2 years old but has lived with my parents for the past couple years while I was away. During this time, my mom warmed up very slow to him due to his breed, and even tried to re-home him.
Before he went to my parents, I trained him well and took him everywhere with me — even off-leash dog parks and the local dog beach. People always told me he was the happiest most friendly dog they'd ever seen. But since staying with my parents and being at home 24/7, he's changed into an overly protective and reactive dog instead of the sweet well-adjusted one he used to be. Maybe me leaving him for so long has made him a little overly possessive of me and my attention, but we're making progress with that.
This only helps reinforce my mom's fears, so she now won't even allow me to take him for walks — much less everything we used to do. I've tried transferring his license into my name and offering to complete a dog obedience class, but she's too worried that he'll attack someone or another dog to let me take him outside the house.
Do you have any advice on any way I can change his now-instinctive protectiveness from home so she will loosen up and let me have my best bud back? Or do you maybe have advice on how to convince her that he needs socialization and exercise to overcome his current behavior problems? Thanks a ton!
My initial reaction was to say you should point out to your mother that the dog was not behaving this way until he was in her care. Most dog behavior problems are caused by humans, so I would say changing from the environment you had set up to your mothers had a significant impact on your dog's behavior.
However, anytime you have a dog who is acting aggressive, it is important you look at all considering factors. If the dog is aggressive to people near you when you walk him, then that is something you should avoid until you have worked on the problem.
So while your mother is likely somewhat to blame, she is also correct that your walking him may not be the best activity until you fix the problem.
This is really a situation I think would be best served by having a dog behavior expert or experienced positive-reinforcement-based trainer come into your home and evaluate the situation. There are so many subtle things that might need to be addressed — both from the dog and things your mother may be doing — and I am unable to identify them without seeing the dog in person.
I don't know if your dog is acting possessive of you or is being territorial. There are different methods and things to work on depending on what is triggering the aggressive behavior, which is another reason in-person help is needed. Since I can't offer advice on addressing the aggressive behavior itself, I can offer some advice that can help promote a healthy leader-follower dynamic.
Does your dog have any rules or structure? Many people think of rules as being mean and therefore fail to provide them. In some cases, I have found that this leads the dog to believe his or her leadership is needed, which causes the dog to start to assert itself in a protective role.
I define a rule as things the dog wants to do and has the ability to do, but does not do without an invitation or permission. A few common examples would be not being allowed to be on the furniture (or at least not allowed without an invitation) and not being allowed in the kitchen when people are preparing food or within seven feet of anyone who is eating.
Enforcing rules allows us to demonstrate that we are able to control the environment and have things under control. It also helps the dog practice listening to us. If your dog doesn't have any rules to follow, he isn't practicing listening to you or following your directives.
I would also recommend that you start incorporating the Premack principle, which says that a less desirable behavior leads to a more desirable behavior. An example of this would be to tell your dog to sit before opening the door to the kennel or to the backyard. If the dog sits, you would open the kennel or backyard door to give it the reward of that behavior. If he doesn't sit, he doesn't get the rewarding behavior of having the door opened.
You can incorporate the Premack principle into many things — telling the dog to sit before you attach the leash, sit before you open the car door, etc. Just make sure the behavior is something the dog knows how to do. It's not appropriate to tell a dog he has to sit before you open the door to let him outside if he doesn't know how to sit on cue.
I would absolutely incorporate the Premack principle to petting. If the dog nudges you or paws at you for attention, tell him to sit or lay down. If the dog sits or lays down within two seconds of you giving the cue (only say the cue once), then pet him. If he does not comply within two seconds, go back to what you were doing and wait a few minutes before trying again. Eventually, the dog will start to offer the behavior in advance if you are consistent.
The more you can help the dog practice deferring to you or your mother before getting what he wants, the more you can help create a healthy leader-follower dynamic.
I'd also recommend you start practicing daily training session with your dog for three minutes or less. Training a dog to do tricks and cues helps him practice listening to you, following your lead and being rewarded for doing so. This can drain some energy and also engender respect for you as a leader.
I hope you will enlist the help of a local dog behaviorist or positive trainer in person. If you can't find anyone locally, search for someone who does virtual sessions. Since the start of the pandemic, I have done a number of FaceTime sessions for clients all over the country, so I know there are good options out there.
Good luck and remember — everything you do trains your dog. Only sometimes you mean it.
---
Meet the 10 (very good) dogs who have been at the Nebraska Humane Society the longest: