Dog Gone Problems is a weekly advice column by David Codr, a dog behaviorist in Omaha. David answers dog behavior questions sent in by our readers. You can reach him at dogbehaviorquestions@gmail.com.
Thanks for your time and expertise. My dogs are Moose and Mayson. Both are rescues with very different personalities. Mayson is 4 years old and we've had him most of his life. Moose became a member of the family about 36 hours ago.
I've never seen a dog eat as quickly as Moose does. (A slow-feeder dog bowl is en route.) Mayson, on the other hand, has always grazed/eaten on his own unpredictable and inconsistent schedule (unless it's something extra delicious, like puppy food). Mayson's eating habits weren't a problem until Moose arrived.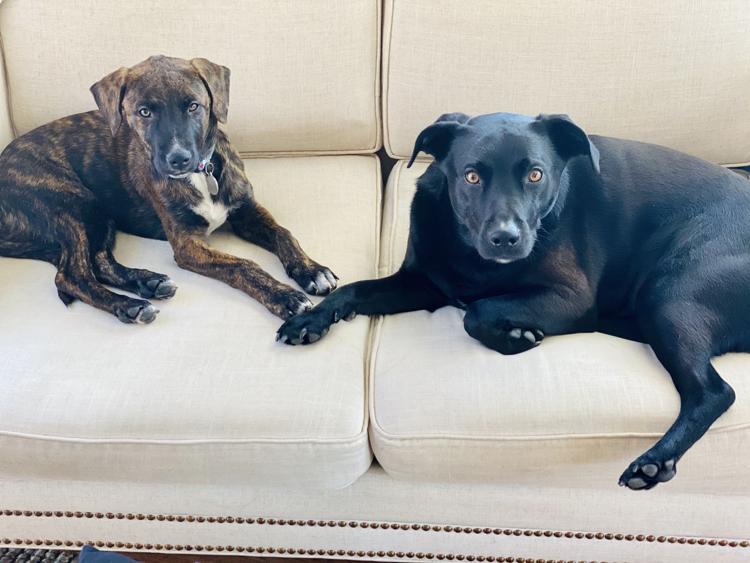 We've been feeding them in separate rooms and at separate times, but Mayson won't eat much (if at all) and Moose seems never satisfied. Moose eats puppy food and Mayson eats regular dog food. Soon enough, they'll be eating the same food.
I'm hoping Mayson will eventually get hungry enough to respond to a new schedule, but I feel like we could really use some tips. And I do worry about how little he's eaten. Many thanks for any suggestions you might have!
Eating is one of the most important activities for dogs. In the wild, they eat in order of their rank or social status, and since they never know when the next meal is, they don't pass up on them.
Many people adopt a free-feeding scenario, leaving food out all the time thinking it's a nice thing to do for the dog — an act of kindness if you will. In actuality, it reduces the dog's motivation to eat. You can get away with free feeding one dog, but it's considerably harder when multiple dogs are in the home. Competition can kick in and this can lead to problems.
I'd recommend you transition Mayson into a structured feeding situation, offering the ability to eat two to three times a day. Feeding at the same time can be comforting for dogs.
Start out by eating something yourself in front of the dogs first. This can help them practice some self restraint, which will help with control. All you have to do is eat five or more bites of something.
Next, tell the dogs to sit outside the room you feed them in — ideally right outside the doorway. Once they are sitting, take one step backwards (so you are facing the dogs) and then pause for a second. If the dogs stay in place, take another step back before pausing. Repeat this process until you are where the dogs' will eat where their or where their food is kept.
If the dogs start to move forward as you back up, march directly at them until they are out of the room or you are at the threshold to the room. You will likely need to step back and forth multiple times before the dogs get it and stay out of the room as you back up.
Once you are at the food, reach for the scoop while you observe the dogs. If they get up and start to move into the room, stop what you are doing and march directly at them. Stop once they exit the room or march until you are at the threshold and they are outside the room. When the bowl is full, leave it on the counter and fill the second bowl. You may need to start and stop this process many times as well. Keep at it until both bowls are full.
The next step is to start to lower the bowl into the location it resides on the floor. This will likely cause the dogs to start to come forward. You can either put the bowls down quickly or march at the dogs holding the bowls. This will also likely take several starts and stops. Eventually you should able to get the bowls on the ground with the dogs staying out of the room.
I'm guessing Moose will try to come in more than Mayson. This is because Mayson is used to the food being there all the time, so he has no motivation to eat when you tell him to. But as the senior dog, try to feed him first. If Moose tries to come in, march at him but let Mayson pass. Give Mayson a few encouraging pats of the bowl, but if he doesn't eat after a minute or moves away, pick up his bowl, dump it empty and then replace it to the floor.
Once the bowl is empty, direct or escort Mayson out of the kitchen while keeping Moose out. Once Mayson is out, invite Moose in and keep Mayson out if he tries to come in. Only one dog should be allowed in the feeding area at a time.
If Moose leaves any food in the bowl, dump it empty and leave both bowls on the ground. This is an important step many people miss.
Mayson will likely skip the first few meals. If possible, try to increase his exercise when this happens, as it will spike his appetite. Do not cheat and give him toppings or snacks to entice him. Hunger will become your ally here if you let it.
I'm betting it will take a few days, but Mayson should be eating by the second or third day. It will probably be the most challenging for the first day or two, but if you do it right, they will learn to stay out until invited. This will help motivate Mayson to eat when told and help Moose practice some self control, which will help in other areas, too.
Last tip, consider getting Moose a Snuffle Mat. You can find them on Amazon, Chewy and at other pet stores.
Good luck and remember — everything you do trains your dog. Only sometimes you mean it.
---
Meet the 10 (very good) dogs who have been at the Nebraska Humane Society the longest:
Meet the 10 (very good) dogs who have been at the Nebraska Humane Society the longest
These are the very good dogs who have been at the Nebraska Humane Society the longest. All are up for adoption as of Aug. 3. For more information on the adoption process and to see all dogs available for adoption, visit nehumanesociety.org/adopt. 
All adoptions are being done via appointment only. The application can be found inside each animal's bio on the Humane Society's website.
Omaha World-Herald: Momaha
Receive advertised offers, event promotions and discounts for you and your family. Created with parents in mind!