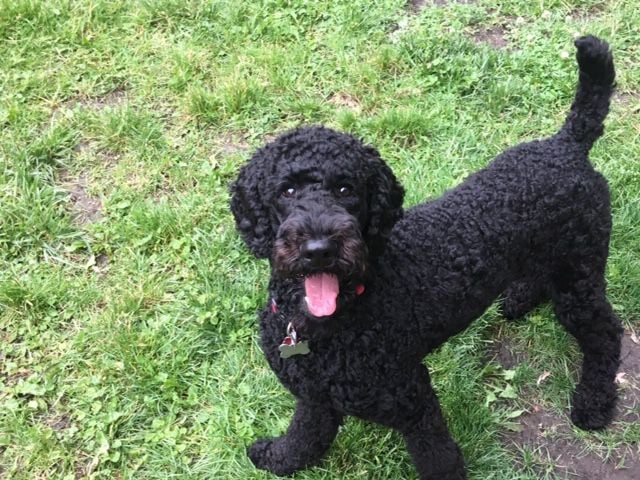 Dog Gone Problems is a weekly advice column by David Codr, a dog behaviorist in Omaha. David answers dog behavior questions sent in by our readers. You can reach him at dogbehaviorquestions@gmail.com.
My 6-month-old male standard poodle has begun barking and lunging at people we pass during our walks. This is a new behavior in the past few weeks.
I am starting to suspect he is afraid of bare legs moving quickly. During the cold months he wasn't doing this, but as warmer weather came we began seeing the behavior. He seems really reactive to some people and has little or no reaction to others.
I thought it was the speed at which they were moving, as fast movers seemed to get a bigger reaction, but I'm also starting to see a correlation with whether a person's legs are covered or not.
So how do I help my pup to get over his fear of people in shorts? Thanks in advance!
Although it's possible, I doubt your dog is fearful of legs. It's more likely he's reacting to movement and is trying to disagree or get it to stop.
It's also possible he reacted to the movement once by nipping someone wearing shorts and the person moved away or stopped, causing him to come to the conclusion that he can nip shorts-wearing people and get good results. Now it's become a habit.
If you were a client, the first two things I'd ask are how much exercise the puppy is getting and what rules he has in place. Under-exercised dogs are often more reactive, which can get them into trouble. Additionally, dogs without rules often get the impression they need to do something to contribute to the pack, and that often causes them to believe their job is to protect their human or they should be the rule enforcer.
Obviously, this can cause confusion and frustration for both you and the puppy.
I'd suggest you watch these two videos on exercise and the importance of rules before using what I'm about to suggest next. Unless the dog sees and respects you as a leader, listening to you will be optional to the puppy. Additionally, learning to pet with a purpose will help.
Once you've watched those videos, we can talk about counter-conditioning as a way to help your dog develop a positive association with people wearing shorts.
To do this, find a place where you can observe people passing. Make sure this place is far enough away so your dog can sit and take a treat as people pass by. The most important thing with this approach is that your dog doesn't react while you practice.
The next time someone in shorts approaches, pop a high-value treat into your puppy's mouth after he looks at them. Keep repeating this process until your dog is looking at you as soon as someone in shorts comes near.
Once your dog is completely relaxed and looking at you right away, you can take one step closer to the path people are passing by and repeat the process with people wearing shorts. When your dog starts getting distracted or is losing interest in the treats, you are getting close to his limit. Be sure to stop before your dog reacts. 
Start your next practice session a step or two farther away than where you stopped last time. 
Keep practicing and reducing the distance until you are right next to the path. With enough practice, your puppy will start to associate approaching shorts-wearing people as an indicator that he's about to get some yummy treats. Instead of nipping at them, will be pleased about their arrival.
Good luck and remember — everything you do trains your dog. Only sometimes you mean it.
Pet Parade: The World-Herald newsroom's best pet pictures
We asked World-Herald newsroom employees to share their cutest pet pictures.