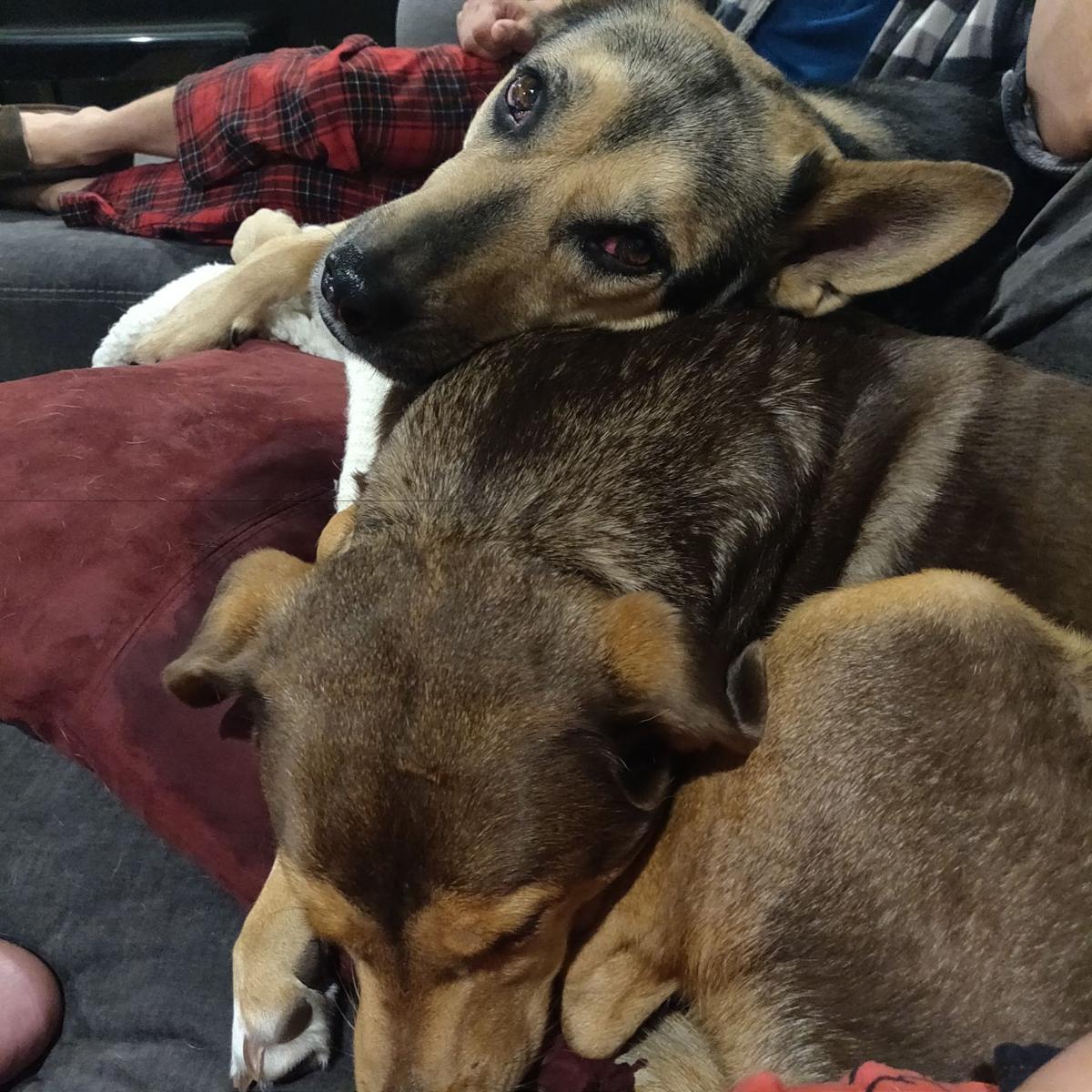 Dog Gone Problems is a weekly advice column by David Codr, a dog behaviorist in Omaha. David answers dog behavior questions sent in by our readers. You can reach him at dogbehaviorquestions@gmail.com.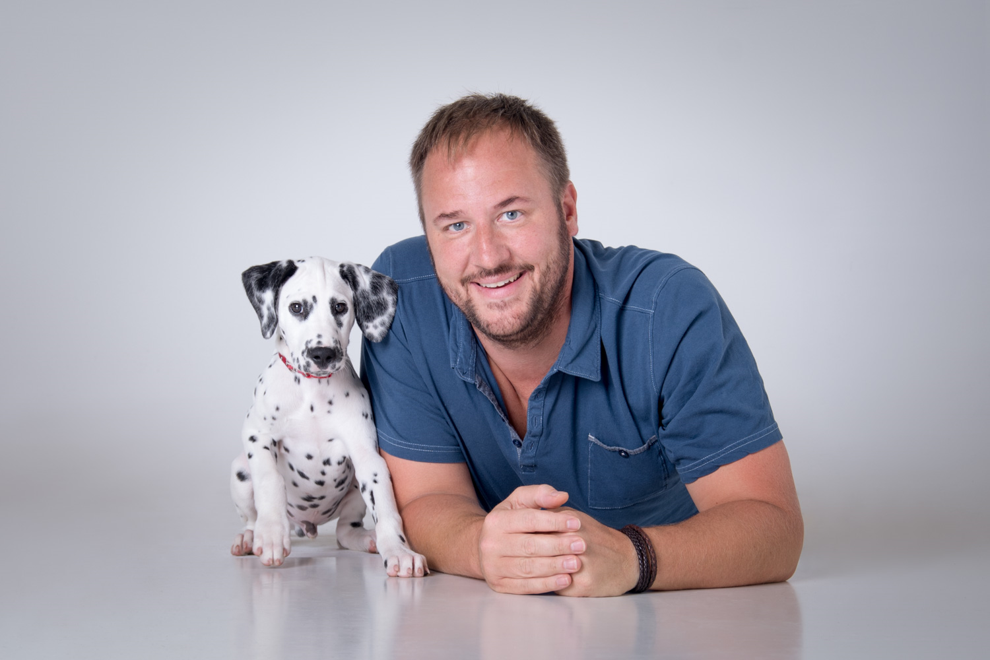 We have two dogs, a male German shepherd mix named Dodger, and a female pit mix named Hazel. We have had Dodger since 2014 when he was a puppy, and got Hazel in 2016. We have had four beautiful years together with lots of camping, lake swimming, hiking, snow frolicking and so on. They were inseparable! Always snuggling and romping around. Hazel helped bring Dodger out of his shell and they got along great with all of our friends' dogs.
But for some reason, fights started this past summer. Not just play fighting, but the scary kind. We've had some minor injuries to both owners and the dogs. We knew we needed to act, so we hired a local trainer to come to the house and work with us. The focus was mainly on basic retraining. We were scheduled for a 16-week course that eventually was to cover behavior modification, however we are on week 10 and no such training has occurred.
We've taken so many precautions in the house — no more free roaming while at work, separate room for feeding, no toys while in the same room and avoiding close spaces. Shoot, the only time they were together during training was during walks.
This past Monday, my husband had locked the bedroom door (so he thought) and went to the kitchen. He was making coffee and preparing the dogs' food bowls. Hazel was with him. Dodger was in the bedroom with me and I got up to shower. It turns out the door didn't latch properly so the lock didn't work and Dodger was able to nudge the door open. There was instantly a fight.
My husband believes we are past the point of no return, but I can't believe that! I'm desperately looking for a solution to our problem, but I have nowhere else to turn. The idea of re-homing breaks my heart. I feel like such a failure. Any thoughts about how we can keep our family together?
While dog trainers are great at training dogs, dog psychology and behavior are different. Many dog trainers lack the knowledge and experience to do dog behavior modification. A dog behaviorist would be a better option.
The good news is since Dodger and Hazel used to be pals, I'd say your chances of returning to a harmonious home are good with the right approach. I'm seeing many clients who are reporting their dog is acting differently right now. There are usually two primary reasons for this. The first is that the humans are stressed out due to the pandemic. Dogs pick up on that and it can affect and stress them out, too. Secondly, we are home all the time.
A large breed dog needs 12 to 15 hours of a sleep every day. And just like children, dogs have difficulty settling down if something interesting is going on around them. With us living, working and relaxing from home these days, many dogs are under slept.
I'd recommend the dogs get at least two 30 to 60 minute breaks every day. One between breakfast and lunch, and one between lunch and dinner. Giving the dogs a chance to rest and relax is often overlooked, but is an important part of a rehabilitation plan.
To get Dodger and Hazel back together, you need to start building up positive associations with each other. Right now, they fight and then are separated, so the freshest memory they have of one another is the fight.
Set your dogs up for success by exercising them before you practice any of these tips. If you are pressed for time, click here to watch a video explaining a quick and easy way to exercise your dogs. Just make sure they get a good 10 minutes to rest and recover before practicing the next steps.
Before we begin, I want to make a note regarding this approach. That is the dogs cannot react at all for either exercise. If they do, even if it's just staring, the practice won't help. Many people get greedy and move too fast, but slow and steady is the name of the game when you are rehabilitating dog aggression.
The first option is to take them on a day walk together. Dogs process things by literally moving forward, and the walk acts as a bit of a distraction. So this is a great way to practice a positive experience together. On the walk, everyone should be in a line — shoulder to shoulder — so that neither dog is in front of the other. If they are reactive or staring at one another, increase distance until they are no longer staring or reacting. You may need to be on opposite sides of the street to start. This is OK.
Once you find the closest you can get without the dogs reacting, take note of the distance. You will continue to walk at that distance for a few walks. Once the dogs and you are both completely relaxed, you can start narrowing the distance, but do this very gradually. No more than a foot closer (if that) each walk. It will take time, but eventually you will be able to walk the dogs next to you with minimal distance apart. These daily walks will help the dogs practice being together in a calm and relaxed state of mind.
Once you can get them walking close together, you can start doing some work together inside the house, like giving them chewing bones or bully sticks (provided there is no resource guarding in either dog). This video shows me detailing this exact same technique with a pair of dogs who had the same problem you have.
The idea is similar — helping them do something communally but with distance to start so there is no staring, growling or barking. I like to use tethers for this to ensure everyone is completely safe, but you can also use an X-Pen as long as it's secure and they can't knock it down or jump over the side.
It will take a good month or even a few, but eventually Dodger and Hazel should be feeling relaxed with one another again. At that point, you can start looking for other activities for them to do together or possibly hang or play in the yard together.
If you run into snags, stop and reassess what went wrong. Since dog aggression can be a challenge, don't hesitate to reach out for help if things don't improve. Good luck and remember — everything you do trains your dog. Only sometimes you mean it.
---
Meet the 10 (very good) dogs who have been at the Nebraska Humane Society the longest:
Meet the 10 (very good) dogs who have been at the Nebraska Humane Society the longest
These are the very good dogs who have been at the Nebraska Humane Society the longest. All are up for adoption as of Aug. 3. For more information on the adoption process and to see all dogs available for adoption, visit nehumanesociety.org/adopt. 
All adoptions are being done via appointment only. The application can be found inside each animal's bio on the Humane Society's website.