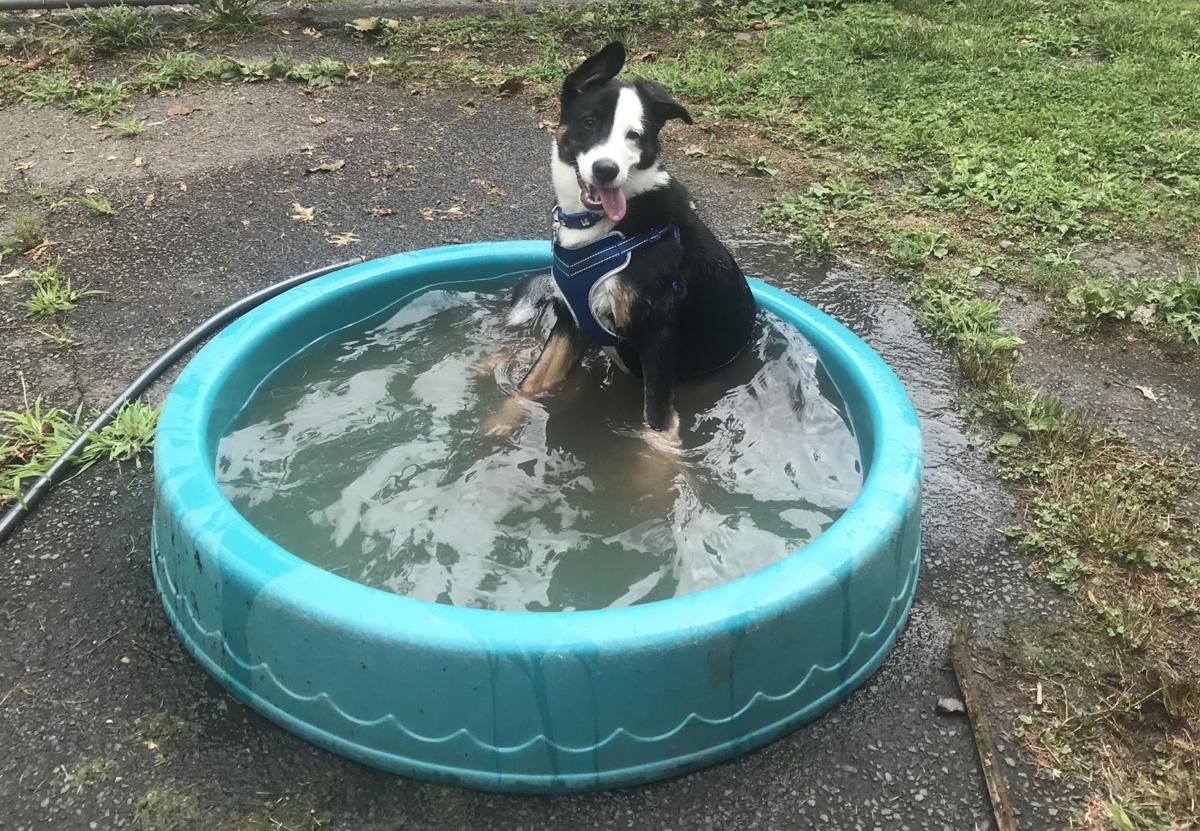 Dog Gone Problems is a weekly advice column by David Codr, a dog behaviorist in Omaha. David answers dog behavior questions sent in by our readers. You can reach him at dogbehaviorquestions@gmail.com.
I have a puppy named Beatty, who is a 5-month-old Aussie mix. We are starting to believe he has reactive behavior problems and are seeking professional help. Our biggest concern is his reaction towards children. He lunges, barks aggressively and growls, leaving the child and parents frightened. He also tends to bark and lunge as people, cars and cyclists walk or ride by our home when outside. I've been carrying chicken with me on our walks and trying to give the quiet command and rewarding. However, once a child or stroller goes by, he loses it.
Another incident happened yesterday when we took him to the boardwalk. He just couldn't handle it and barked and growled at everyone. Not even the chicken worked. There was A LOT of people around, so maybe this was just too much for him?
We adopted him very young (6 weeks old) and don't have children, so I'm not positive where this behavior stemmed from. We have socialized him a lot when he was younger, bringing him around many friends' houses with other dogs and children, and he is super friendly. It's only when he's on a leash that he goes crazy. I look forward to hearing from you.
It sounds like he's saying he's overwhelmed, fearful or doesn't like children or large crowds. You mentioned he reacted at the boardwalk, which is likely too advanced of a situation for him right now. He may feel trapped, which can absolutely amplify the behavior. So avoid super busy areas or places filled with the trigger(s).
While it's great you are trying to use positive reinforcement, I don't think giving the quiet command is the right approach. If you were fearful and the people you were with told you to be quiet, that wouldn't stop your behavior. In fact, I'm guessing that would actually provoke a stronger response if whatever was making you scared got closer.
So the first thing to do is change how you think. In reality, dog growling, barking, baring teeth and air biting are signals many fearful dogs use to get those things to move away. Instead of giving the quiet command, observe your dog when you approach things he barks at. If he offers any of these behaviors, he's likely trying to avoid getting closer to the person or thing, which we call triggers:
• Staring at the trigger or intentionally looking away from it
• Breathing heavily or holding its breath
• Tail tucker or straight up and stiff (or moving very quickly when up)
• Ears pinned far back or far forward
• Hackles — the hair along his spine — up
• Licking his lips, yawning or sniffing/pawning at the ground
If you see these, immediately increase the distance between your dog and the trigger. Additionally, make sure you aren't using any aversive training tools like a shock, pinch or prong collar. Don't jerk the leash, hold it tight or short or verbally chastise your puppy. Instead, when you hear barks, I'd like you to think of your pup as saying, "Don't let those scary things get close to me!"
While moving away should stop the barking and lunging, you are going to need to create positive situations where the dog is exposed to those triggers but at enough of a distance where he doesn't feel threatened. If you do it right, your dog won't be barking or growling.
I've found a great place to start is doing what I call click for looks. By rewarding the dog for simply looking at the trigger, you can start to build in positive feelings. Once that is the case, you can move slightly closer and repeat again.
It takes time and lots of practice, but in time you should be able to get close to the trigger without a response. Then you can start having kids offer treats, etc. If you have difficulty with the exercise, you should reach out to a positive-reinforcement-based dog trainer or dog behaviorist in your area.
I would guess this behavior stems from a lack of confidence. It is illegal in several states to adopt a puppy under 8-weeks-old because the first two months are so important for development. The pup coming to you so young could absolutely be a contributing factor — if not the entire reason. I'd recommend you get him enrolled in a puppy socialization class, as he is still young and impressionable. A puppy's true personality starts to set at 9 months, so there is time to take action before this becomes a permanent behavior.
Good luck and remember — everything you do trains your dog. Only sometimes you mean it.
---
Meet the 10 (very good) dogs who have been at the Nebraska Humane Society the longest:
Meet the 10 (very good) dogs who have been at the Nebraska Humane Society the longest
These are the very good dogs who have been at the Nebraska Humane Society the longest. All are up for adoption as of Aug. 3. For more information on the adoption process and to see all dogs available for adoption, visit nehumanesociety.org/adopt. 
All adoptions are being done via appointment only. The application can be found inside each animal's bio on the Humane Society's website.