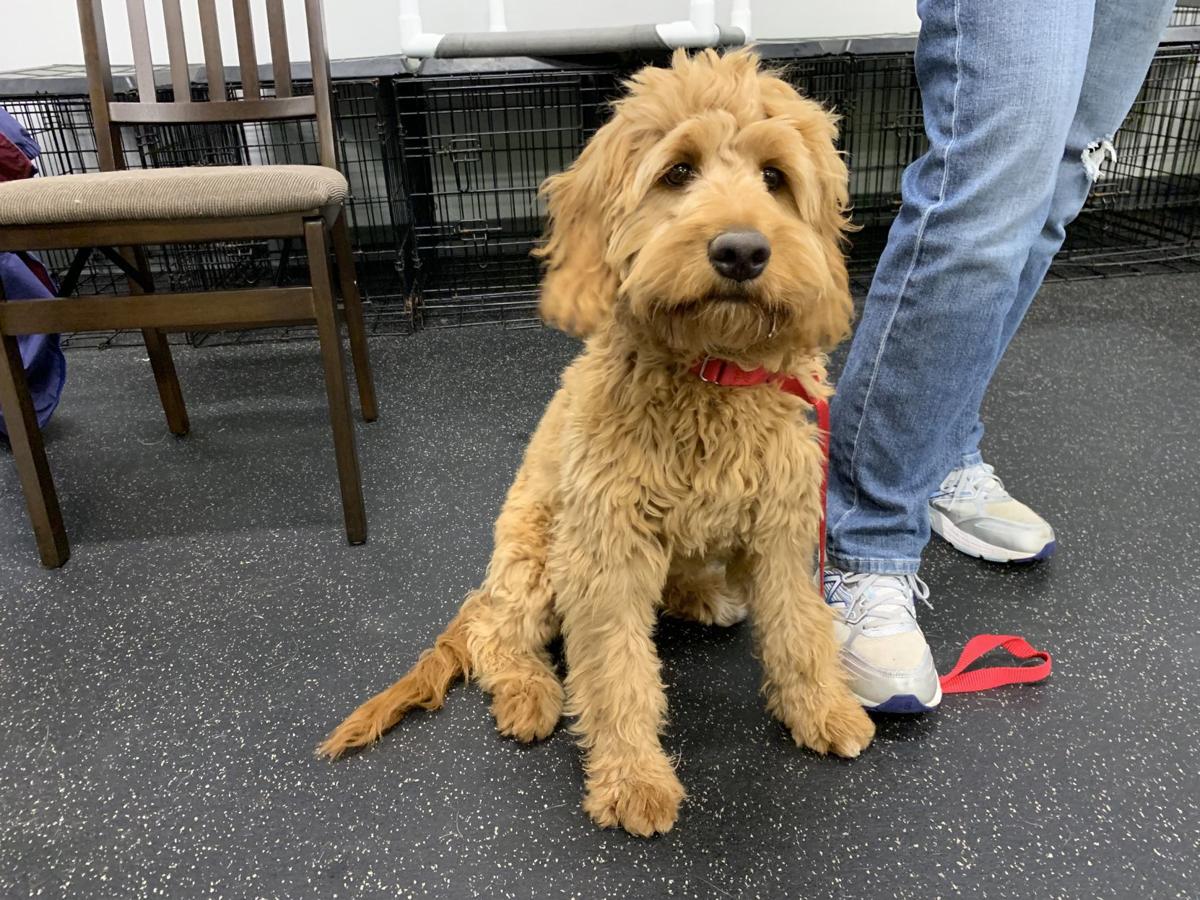 Dog Gone Problems is a weekly advice column by David Codr, a dog behaviorist in Omaha. David answers dog behavior questions sent in by our readers. You can reach him at dogbehaviorquestions@gmail.com.
I was doing some research regarding my new golden doodle puppy, Milo. He is currently between 9 and 10 weeks old. I've had him for two weeks now, and he was re-homed to me from a family who was unprepared for a new pup and only him about a week. I am single so it's just been me and him these past two weeks. So pretty much 24/7 — a juxtaposition from his previous environment.
I have to admit I've fallen hard. He is not my first pup, but my first with this breed. While he seems like a normal pup in all respects, my only cause for concern is his aloofness. Milo just seems to not really be digging me in the "love" department. He tends to jump off the couch when I sit down or attempt to interact. His cuddling and affection is almost non-existent. He moves when I pet him, barely wags his tail when he sees me and barely approaches me for any type of "soft" interaction like cuddling or napping. He will sometimes lay by my feet or legs while sleeping in bed, but that's about it.
On the up side, he does follow me around rather consistently. He constantly wants to nip and play, and he comes to me for food and when he is called. He is slowly responding to training with the "treats" approach. I'm trying to chalk it all up to just puppy energy overload and my apparent needy self, but wasn't sure if it was specific to breed, age, dog or even me. I am wondering if you have any resources you could direct me to? Literally everything I have read has told me a Goldendoodle should practically be sitting on my face, and research has proven to be circular.
While I want the snuggles and want to hold onto faith it will come in due time, making sure he is well adjusted is my top priority.
I'll start off by saying how much I appreciate your question. Not only are you concerned (with good reason), but you are also keeping an open mind and not trying to force the issue. And thank you for rescuing Milo. It's never good to hear of someone re-homing a puppy who is so young, but it's better than having a puppy in the wrong home.
Often, it can take three days to a week for a dog to relax in a new home. But for an 8- to 10-week-old puppy to find himself in two homes in two weeks is a lot. It's quite possible your pup may still be adjusting.
It's awesome you are giving your pup space, but if you want an adult dog who likes to cuddle, they need to do that as a puppy. So once you finish the instructions below, cuddle that guy as much as you can. Also, make sure you get him into a good puppy school, as that will help him develop good social skills and confidence, which will help him for the rest of his life.
Here are some tips that should help him learn to like you petting him. You will need some high-value, meat-based training treats for them. I like using chicken liver. It has a strong smell, which is the most important factor when it comes for food in dogs. Make sure you can squeeze the treats into a flat pancake of sorts. Note: You will be giving a lot of treats for this.
Sit on the floor and wait for Milo to come over. Pinch a treat flat between your thumb and forefinger. Hold it out and let Milo chew it in three to four nibbles. If he is leaning his body over towards you, keep repeating this step until his legs are under him and he is not leaning. The lean indicates he is unsure, so it's important to keep repeating this step until there is no lean. Once he is standing in a relaxed pose, offer him another. Raise your left hand up and move it partially towards Milo while he nibbles. If he stops, freeze your left arm and wait for him to start nibbling again. If he doesn't, go back to the previous step and practice a few more times before trying to move your left arm again.
Once he is able to nibble the treat with your left arm moving back and forth, start moving it closer to his side, shoulder or hip. This may take a few treat repetitions before you can actually make contact with him. Once you do, keep the contact a light touch for one second then move your arm away again. Keep moving your arm this way while he is chewing the treat and stop moving the arm when the treat is gone. As you practice, you can touch a little more, but go slow. As soon as the treat is gone, the touching stops.
Eventually, you will be able to pet him while he chews the treat in your other hand. Keep the pets nice and gentle. After five to 20 treats, you should be able to pet him as he chews on the treats. Once he settles in for this (often sitting or laying down), you can pet a little after the treat is gone. But only for a second at first, then get out another treat. With practice, you will be able to pet him for longer periods between treats.
Grab a seat on the floor and offer Milo a treat when he is near by. Hold the treat out and drop it on the floor when he comes over. When he moves to get it, let him see you drop another treat on the floor a step closer to you. Repeat this until he is next to you. Then place the treat on your knee or leg. After he licks it up, put another treat there.
After he gets a few treats this way, add a second one on your person, but a little closer to you. The idea is to get him to step on you and climb up into your lap to get the treat. With some practice, he should be climbing into your lap to get the treat. When he does, repeat the first step by holding that treat for him to chew while you pet him on your lap.
Start feeding Milo his kibble by hand. It will help if you sit on the floor for this. If he hesitates at first, hold the kibble in your hand out to your side. Front facing can be tough for dogs. Once he is comfortable eating from your hand, use a single finger to touch his hip as he eats the food from your other hand. Once he gets comfortable with a finger, use two fingers and then three. Eventually, pet in slow circles on his hip and then start moving up his body rubbing his ribs, shoulder, sides, etc.
If you follow these steps, it shouldn't take long before Milo is coming over to ask for attention and doesn't move away when you pet him. Good luck and remember — everything you do trains your dog. Only sometimes you mean it.
---
Meet the 10 (very good) dogs who have been at the Nebraska Humane Society the longest:
Meet the 10 (very good) dogs who have been at the Nebraska Humane Society the longest
These are the very good dogs who have been at the Nebraska Humane Society the longest. All are up for adoption as of Aug. 3. For more information on the adoption process and to see all dogs available for adoption, visit nehumanesociety.org/adopt. 
All adoptions are being done via appointment only. The application can be found inside each animal's bio on the Humane Society's website.