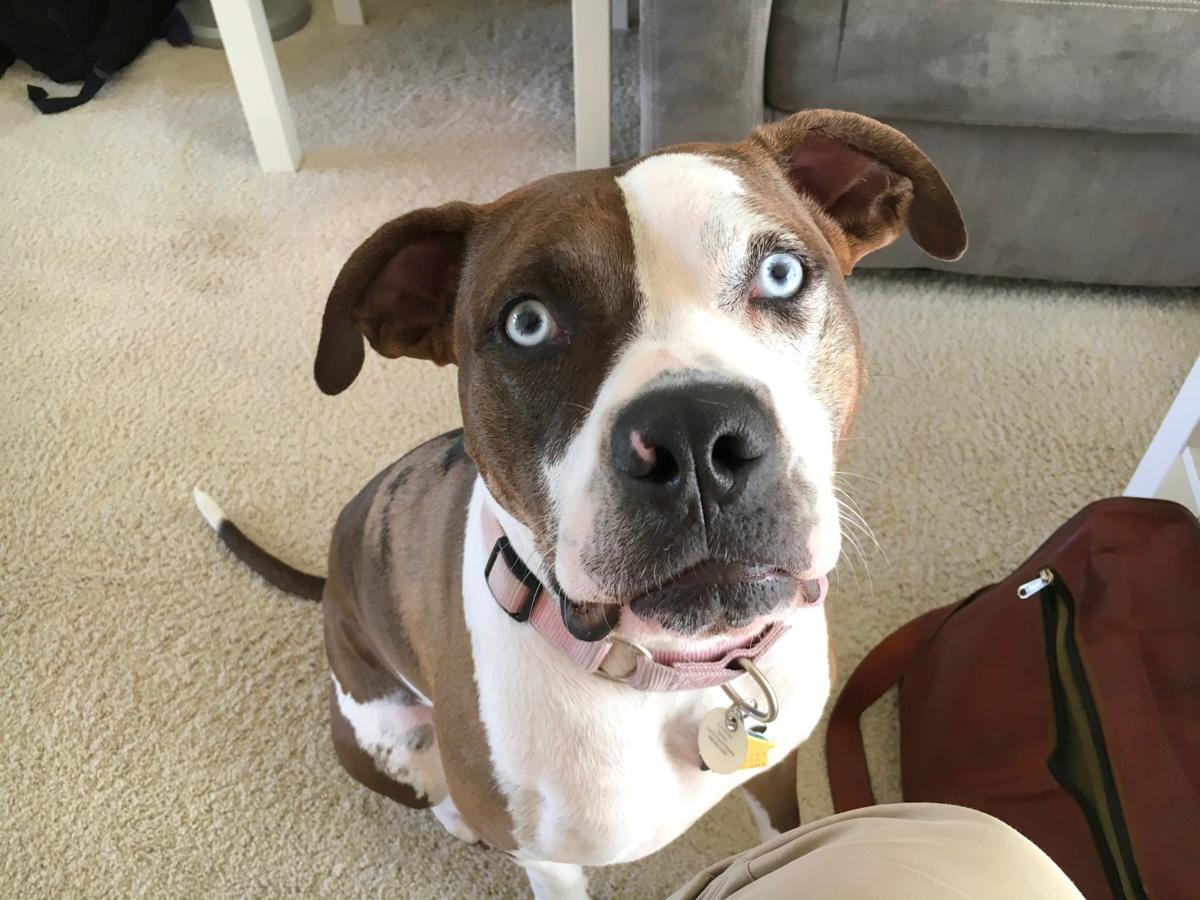 Dog Gone Problems is a weekly advice column by David Codr, a dog behaviorist in Omaha. David answers dog behavior questions sent in by our readers. You can reach him at dogbehaviorquestions@gmail.com.
I have a 1-year-old Catahoula named Chance. He really likes to chew on things he shouldn't be chewing on. He has plenty of toys and treats — like bones, etc. — that he can chew on during the day. We also have a decent sized backyard for him to run around and play in. But he still chews on our pillow cases, comforter and decorations that my girlfriend's family has put up.
I've talked to her about putting him in a kennel while we are not home, but she doesn't like that idea. This is the last idea we have before we have to give him up. We both love him a lot, and neither of us want to give him up. Is there anything we can do to make him stop chewing on things he isn't supposed to?
I'm glad you reached out for help, as this is absolutely a problem that can be fixed. It will take a little time and effort, but your dog is worth it. No dog should be surrendered for a chewing problem.
After all, chewing is a natural behavior for dogs. They do it when they are bored, stressed, anxious or just for fun. Many people assume the dog should know what is OK to chew and what is not. But that is an unrealistic outlook. While some dogs don't develop a chewing problem, it's our responsibility as dog guardians to teach them what is and is not appropriate to chew.
If neither you or your girlfriend have taught your dog what is off limits, then it's not really his fault. A great way to show your dog what is off limits is to first teach him the leave it exercise. Once you have taught the "leave it" command, you need to start introducing off-limit things at home while you are there to supervise and correct. I know this chewing problem happens when you are gone, but think of this as practice.
Toss a pillow or whatever the dog likes to chew onto the floor. If you dog moves towards it, give the leave it command. When he complies, reward him. Pick up the item and toss it again so you can repeat. Once the dog no longer moves towards the item, put it up and give your dog some pets, play time or go for a walk. The idea is "I get to have fun after learning to leave things alone."
Repeat this with all the items you don't want the dog to chew. Once you practice so the dog no longer shows interest in individual items, put a few on the floor together and repeat. Eventually, you should be able to have a floor full of off-limit items and have your dog walk around and over them on his own.
In the mean time, it's important you limit his access to the things you don't want chewed up. We call this maintenance.
On that subject, your idea about using a kennel is a good one. Dogs are practicing everything they do. The more they do something, the more likely they are to continue until something changes. This absolutely relates to chewing.
Ask your girlfriend to think of your use of the kennel as analogous to a new parent who confines a baby to a crib or young child to a certain room. Parents do this because the child is too young to understand that some activities and things could harm them. But as the child matures and learns what is and is not appropriate, parents test the child by leaving him or her out in limited situations to see how they handles the newfound freedom. While your dog is in training, he should not be left unsupervised. If you do and the dog chews something, that is your fault. 
Now, a kennel can quickly become a negative thing if you don't teach the dog that the kennel is a good and positive place. This video covers basic kennel training and this video covers a more advanced kennel lesson.
Exercise is also a big factor when it comes to dogs with a chewing problem. If a young dog's only form of exercise is some time in the backyard, chewing isn't at all uncommon. Your average dog needs at least an hour of exercise every day. Younger dogs and high-energy breeds may need even more. This video covers some creative forms of exercise that are quick and easy.
If you increase daily exercise to multiple times a day, kennel your dog, remove any tempting off-limits item and practice the "leave it" exercise, you should be able to proudly have a dog who doesn't chew.
Good luck and remember — everything you do trains your dog. Only sometimes you mean it.
Pet Parade: The World-Herald newsroom's best pet pictures
We asked World-Herald newsroom employees to share their cutest pet pictures. 
Omaha World-Herald: Momaha
Receive advertised offers, event promotions and discounts for you and your family. Created with parents in mind!