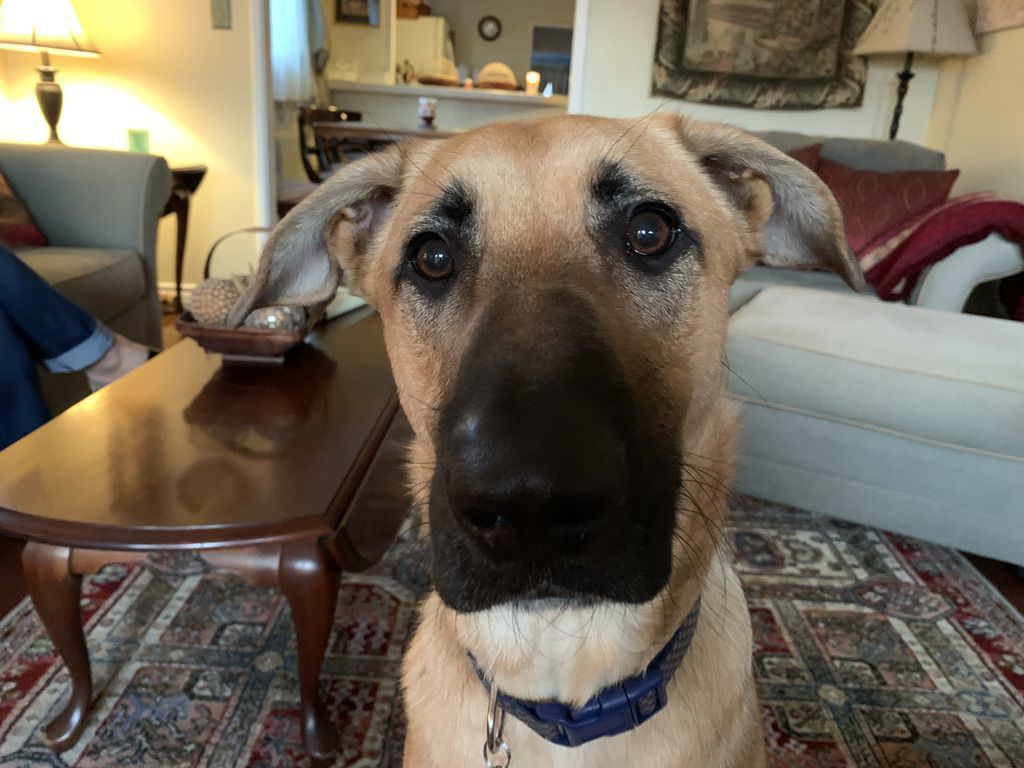 Dog Gone Problems is a weekly advice column by David Codr, a dog behaviorist in Omaha. David answers dog behavior questions sent in by our readers. You can reach him at dogbehaviorquestions@gmail.com.
I have multiple dogs — some inside and some outside. My main issue is with Dozer. When I am feeding, he will obsessively stare at the other animals. I can stand there and turn his head over and over, yet he will always turn back and stare. He also will not touch his food. He tends to always push the little guys out the way. When outside, he tends to act similarly towards the larger pits.
What does it mean when he's doing it? I've trained animals all my life, but can't figure out why he stares. What does it mean? He's not the "alpha" or the dominant dog of the property. Even the Shih Tzu whups him. So what does the staring mean?
Well, first off, let's talk about "alpha." Although many people and dog trainers reference it, there is no such thing as an alpha in the dog world. The term comes from a discredited study conducted 100 years ago. The author of the study actually recanted his findings but, sadly, many people still think dogs have an alpha structure. They don't.
Dogs share leadership — with one dog being the leader in one situation or category, like hunting. But that leadership doesn't transfer to other categories, such as security for the entire pack, etc. So instead of having one "alpha," dogs have a number of "betas" who share the leadership tasks. The other dogs are simply followers.
Many people think they need to let the dogs sort things out on their own, but this often tells the dogs "you are on your own." Anything a dog does in your presence without you disagreeing on is considered as having your approval.
I was concerned when you mentioned "even the Shih Tzu whups him." That tells me you observe challenging behavior and are not interrupting with a disagreement. That could absolutely be linked to who your dog wants to watch them at meal time (the most important activity for dogs, by the way). Dozer is literally looking over his shoulder out of concern; he doesn't have confidence you will take charge of the situation.
I would recommend you transition to a structured feeding schedule. This is where each dog eats by themselves and you keep the other dogs a minimum of seven feet away when one dog is eating.
This video details how to set up a structured feeding ritual for your pack of dogs. Since eating is one of the most important activities for dogs, this will be big for you and your pack.
Additionally, I'd advise you to avoid physically moving the dog. This is guaranteed to activate the dog's opposition reflex, and it also communicates to the dog that you aren't paying attention to his needs.
I hope you will start to intercede when the dogs are doing anything you don't want. This should be done without any punishment — as that will likely make things worse. Simply get up and go over and stand between the dogs who are challenging one another. You can also move to block them or back them away from a dog who has a high-value item. That says, "I'm not cool with you trying to get the other dog's stuff," and will demonstrate to all the dogs that you have their back.
They will likely challenge you for a bit to see how serious you are about it, but if you stay the course and don't back down or give up, they will adapt to this change. That will lead to more confidence in all the dogs, and should stop Dozer from looking over his shoulder and staring at the other dogs.
Good luck and remember — everything you do trains your dog. Only sometimes you mean it.
---
Meet the 10 (very good) dogs who have been at the Nebraska Humane Society the longest:
Meet the 10 (very good) dogs who have been at the Nebraska Humane Society the longest
These are the very good dogs who have been at the Nebraska Humane Society the longest. All are up for adoption as of Aug. 3. For more information on the adoption process and to see all dogs available for adoption, visit nehumanesociety.org/adopt. 
All adoptions are being done via appointment only. The application can be found inside each animal's bio on the Humane Society's website.