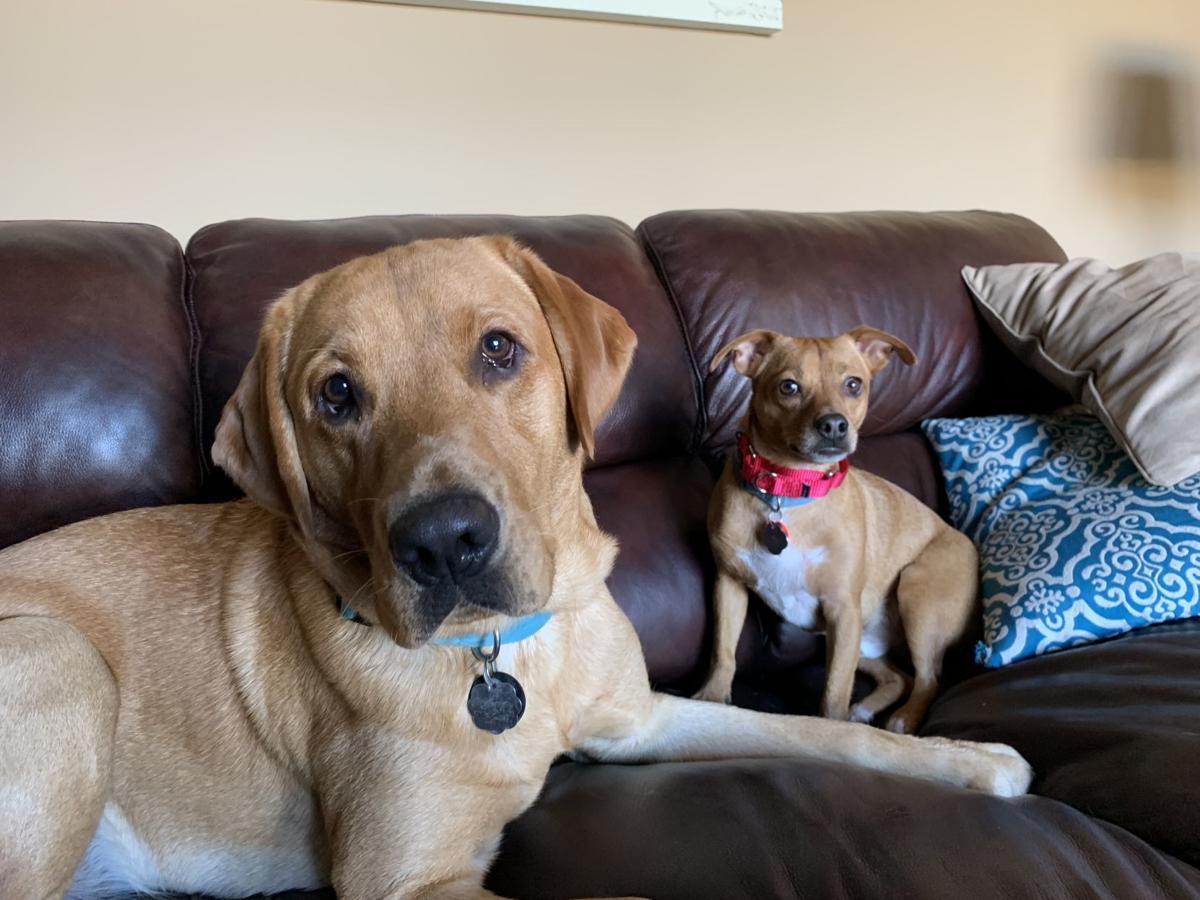 Dog Gone Problems is a weekly advice column by David Codr, a dog behaviorist in Omaha. David answers dog behavior questions sent in by our readers. You can reach him at dogbehaviorquestions@gmail.com.
We got a 2-year-old Basenji/Border Collie male dog on a trial basis in August who was given up because the owner already had eight dogs.
The story we were given is the owner found him as a 6- to 8-week-old puppy on a country road and took him home and named him Teddy Bear because he cuddled with her.
In September, we adopted an 8-week-old female Akita puppy and we named her Sophie. They got along and played outside when we first got home, but when they came inside and Teddy was getting a drink of water, Sophie went to get a drink, too, and Teddy attacked her.
We were on guard and watched Teddy like a hawk, but mostly kept them separated. The next day I was getting their food ready and decided to do it in a neutral area, but Sophie must have gotten too close to me and he attacked her again. Teddy seems to prefer females, as he follows me everywhere.
On day three we headed out for three-day mini vacation we had already planned last year. It went OK; we went on a long walk and Teddy seemed fine with Sophie. When we returned from our walk, we sat on the deck and Teddy would growl and show his teeth, but when we corrected him he would stop. We were always on guard. The next day we went on another long walk and they got along. When we were sitting on the deck again, before we knew it he attacked her again. 
We do not want to give either one up. Is there hope that, with work, Teddy could get along with Sophie? We haven't introduced him to our son's 8- or 9-year-old male Australian Shepherd or our daughter's 3-year-old female terrier mix. We've grown to love him in the short time we've had him, but are we putting the puppy at risk. Is it possible Teddy could hurt or kill her?
To answer your last question first — yes, Teddy could kill her. He has already shown the ability to hurt her. This puppy is counting on you to keep her safe and, although you have been watching, things have still happened.
If you cannot guarantee the puppy is safe, you need to re-home the puppy. I always try to keep dogs together, but on some occasions, the safe thing to do is find a new home — as gut-wrenching as that sounds.
Puppies can be challenging for most dogs under the best of circumstances, but you have a situation where you have brought two new dogs into the home right on top of one another.
Rescuing a dog is great, but these dogs often have issues you need to flesh out. This can take several months and should be your primary focus. Until that dog is comfortable and behaving how you wish, you should not be adding a second dog into the situation.
As for their interactions together, you should not be correcting Teddy for growling or baring his teeth. As humans, our first instinct is to interpret that as aggression. It is not.
Baring the teeth and growling is a dog's way of saying "I disagree." If you were corrected or punished when you disagreed with something that scared or frightened you, or that you didn't like, you would learn to deal with it in other ways. Dogs do the same thing.
Sadly, many dogs who are corrected or punished for growling simply stop doing it. Sounds good, right? It's not. These dogs now simply bite without warning first.
If you do keep the puppy, you need to limit her time around Teddy — at least for now. When they are together, there should be no high-value items like food, chew items or water, since this has triggered aggressive and protective behavior from Teddy in the past.
I'd recommend setting up a puppy play pen where the puppy can sleep, eat and be left safely when you can't supervise the dogs together. I'd also make sure Teddy has multiple times a day where he is alone or alone with one of you. He needs some "me time" to feel good and not have the puppy lurking.
You also need to enroll the puppy is a puppy socialization class, where she can develop good social skills playing with puppies of similar size and maturity. This will help greatly.
Make sure Teddy is getting at least one hour of exercise every day. This is best done in short, more intense exercise sessions happening every two to four hours. This video includes tips for creative ways of exercising a dog.
Lastly, this post includes a number of tips that can help Teddy learn to like the new puppy.
I'm hopeful that these changes will give you and the dogs some breathing room to get acclimated to the new living situation. If things don't improve in a month after making these changes, you should sit down and reflect on whether or not re-homing the puppy is what is best for everyone involved.
Good luck and remember — everything you do trains your dog. Only sometimes you mean it.
Pet Parade: The World-Herald newsroom's best pet pictures
We asked World-Herald newsroom employees to share their cutest pet pictures.