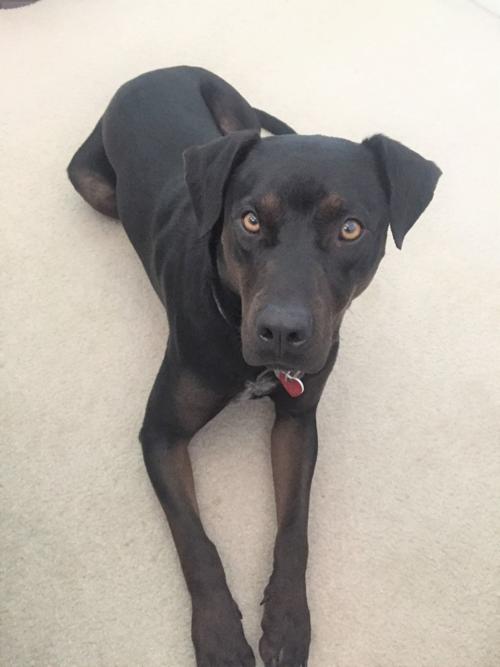 Dog Gone Problems is a weekly advice column by David Codr, a dog behaviorist in Omaha. David answers dog behavior questions sent in by our readers. You can reach him at dogbehaviorquestions@gmail.com.
I'd like to ask you a couple of questions about our dog's anxiety. Her name is Tala. She is a rescue dog who came from a pretty traumatic environment before we took her. She was rescued from a drug house by a rescue group. We've had her for about 18 months now and she has very severe anxiety when it comes to going outside. Inside the house she is well-behaved, calm and peaceful.
Our problems begin when she needs to go outside to do her business. She leaves the apartment and begins shaking in the elevator going down to the lobby. As soon as we go out the door, she begins to hug the building, speeds out to do her business and races back to the door. If there is any hint of a loud, unexpected noise while we're outside, she'll immediately make a break for the door.
When we moved into our new apartment back in January, she was fine. She would go for very long walks with no problem. Somehow, that changed to the state she's in now where she won't walk anymore. She shakes and squats down on the ground until you end up dragging her to get her to move. Obviously, we don't want to do that. It's basically like having two different dogs depending on if you're inside or outside.
We've tried everything we can think of. We hired a trainer who, while being very nice and obviously caring about our dog, couldn't really come up with any solutions. We love our dog very much and will accept her no matter what, but we're sad she's not able to enjoy the most basic dog thing there is — going for a walk. We live in an awesome neighborhood with water all around and plenty of walking to do. We really want her to be able to enjoy that. Any suggestions you have are most definitely welcome.
It's unfortunate your dog came from a checkered background, but she lucked out to have finally found a good guardian looking out for her well being. You have a few things going on, so let's unpack them individually.
When rehabilitating a dog from a bad situation, one of the first things we try to do is limit them to the things that trigger an emotional response. I know this is easier said than done, but each time the dog reacts negatively, she's essentially practicing that fearful behavior.
So when you do take her out, try to schedule it for times when it's less busy outside. A dog's digestive tract for food averages eight hours. Sometimes adjusting your feeding schedule can help your dog need to go at less busy times. Many of my clients report that keeping a log of feeding times and eliminations can help determine how long a dog's digestive process is, allowing you to modify feeding times accordingly.
If possible, taking her for a drive to a less busy area to go potty can help. Remember, this is a short-term adjustment just to help reduce or eliminate her to exposure to sounds outside that spook her.
I'd also schedule as many positive outdoor adventures as you can away from the busy areas that she has problems with. You want to build up a cache of positive outdoor experiences, and driving to a park or area that is quiet for regular walks and play time can do wonders. Try to do this daily if possible or at least multiple times a week.
Additionally, increasing exercise before taking her out in your neighborhood can be a great way to help her succeed. This reduces the energy she can devote to the fears; just make sure you don't overdo it.
There are also several exercise options that can be done inside. Playing fetch or running around inside before heading out can help reduce her anxiety. This video will give you some good ideas. Just make sure she has 10 minutes to calm down and catch her breath before heading out.
You can also greatly reduce or eliminate her reaction to loud noises by doing some counter-conditioning. Make a list of the sounds that she is reactive to. You can probably purchase sound files of many of these sounds online. If there are any that are unique or you can't find online, record them on your phone and practice this counter-conditioning exercise at a progressively louder volume (going at your dog's pace) until that sound is no longer a trigger for her fearful behavior. Work on one to two sounds a time. Once you can play them on full blast with no reaction, move on to the next one.
I would also teach your dog to focus on you. This is a great way to redirect a dog's attention. The way I teach this exercise can actually stop the production of cortisol in her blood.
If you start building up positive outdoor experiences, work on counter-conditioning, limit her exposure to the things that trigger her and increase her exercise before heading outside, you should be able to help her get past most of this fearful behavior.
Good luck and remember — everything you do trains your dog. Only sometimes you mean it.
Pet Parade: The World-Herald newsroom's best pet pictures
We asked World-Herald newsroom employees to share their cutest pet pictures.