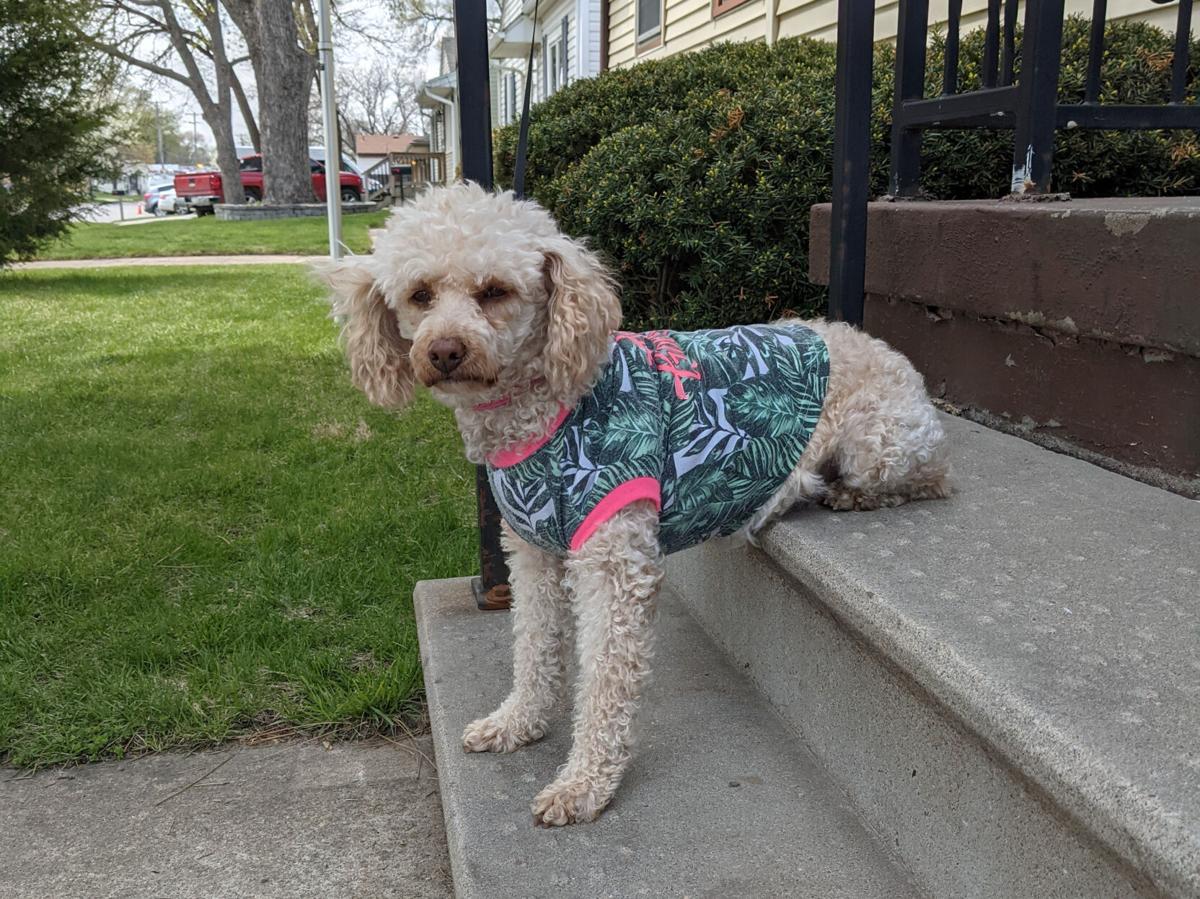 Dog Gone Problems is a weekly advice column by David Codr, a dog behaviorist in Omaha. David answers dog behavior questions sent in by our readers. You can reach him at dogbehaviorquestions@gmail.com.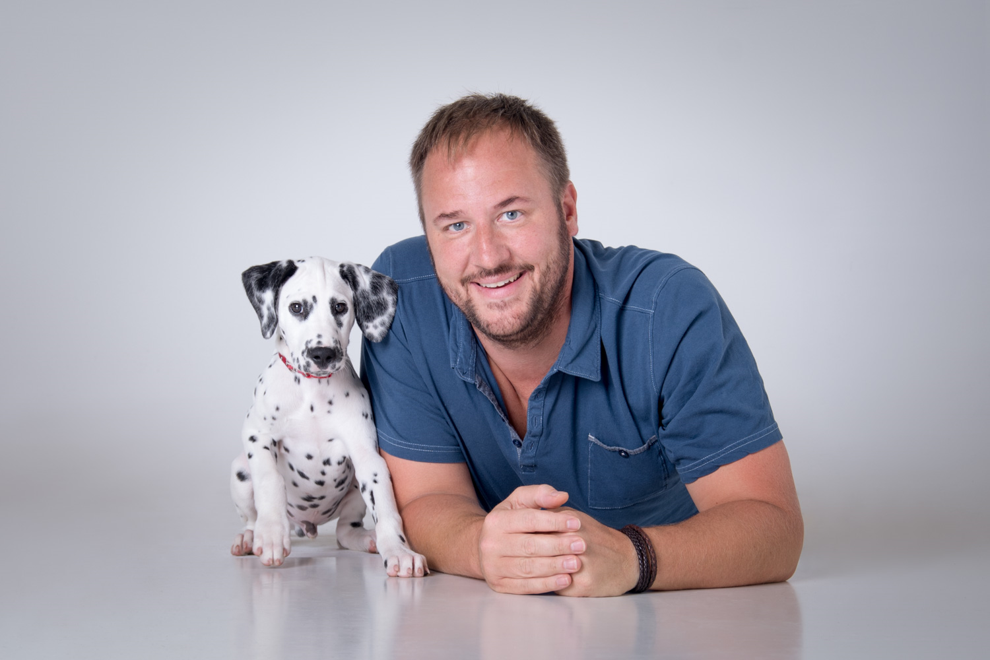 We adopted Sandy, a 6-year-old apricot poodle, at the very end of last December from Little White Dog Rescue. She had been used for breeding. She's very sweet-natured, but seems to have attached herself to me, avoiding the hubby.
The first few days we had her, she was all over both of us — hopping from him to me and back again. Suddenly, she doesn't want to have anything to do with him. She's growled at him and even nipped him a couple of times. We suspect she has been abused at some point in time, probably by a male. The hubby is a big guy — almost 6 feet, 3 inches tall with a somewhat gruff-sounding voice. Our previous dogs would play with him without a problem.
He has always loved poodles, so when I found her, he said to go for it. We've tried giving him the treats to give to her; picking her up and quietly stroking/scratching; just talking to her; him taking her for a walk but she balks. We're striking out on all approaches. If she wants or needs something, she comes to me exclusively.
She gets so anxious when I take her in the car, she literally throws up. I now keep a large towel on the back seat for those occasions. The vet gave us a liquid to use in a syringe. She fought us so hard and what little went in was spit back out.
I picked up some chewable 'doggie downers' at the pet store. She won't even take them from me now. The vet switched it to some small capsules. Only dog I've ever met that refuses peanut butter. I put it in a small chunk of cheese. The first few went down, but now she manages to eat the cheese and leave the pill.
We're both retired and budget is very tight. He's now talking about getting rid of her because of the growling and nipping, etc. I'm supposed to walk every day — it helps with my fibromyalgia — and Sandy is what gets me out and going. I'm at my wits end as to what to do that won't cost us a fortune. Can you help? Please and thank you!
Thank you for rescuing. It sounds like she deserves a good life. Let's see if we can come up with some tips to help Sandy get on with your husband.
The first thing is for you and your husband to make sure you have her consent to pet or pick her up. Sometimes we do these things when dogs don't want us to. This video will explain how dogs give consent and what to look for.
Next, let's talk about meal time. Eating is one of the most important activities for dogs. Make sure you do not leave food out in the bowl. Many people free feed — meaning they leave food in the bowl all the time — which robs the dog of motivation.
I'd also like your husband to take the kibble and rub it through his hands a few times, then put it in a separate bag for you to use when feeding Sandy. When it's time to eat, put the hand-rubbed food in the bowl, call her over and make it clear it's time to eat. If she refuses to come over after a minute or two of calling, dump the food back into the separate bag and put the empty bowl back on the floor so she sees it's empty.
If she comes and eats some and then walks away, dump any left over back into the bag and put the bowl back on the floor. Do this for one week or until she is eating when you put food down for her.
Once she is adjusted to a more structured feeding regimen, I'd like your husband to be the sole feeder for the next two weeks for every single meal. Start out with some warmed up chicken or meat mixed in with her kibble, which should be offered by hand. Have him sit on the floor for this and offer the food out in a hand that is off to his right or left side. Remember that front-facing is confrontational to dogs. It may take a day or two before she eats from him this way, but it's important he keeps offering two to three times a day.
Make sure you do not cheat if she refuses to eat from his hand; that will work against you. We want her to have to rely on him as the sole provider of food for two weeks. This will make him much more important to her.
I'd also like him to take her out for daily walks. Since you need these, too, I recommend a hybrid. Take Sandy out for a walk and leave your hubby behind. When you are nearing the halfway point to your walk, you should call or text your hubby to drive to where you are. He'll give you the keys and you give him the leash. This way the dog sees walking with him as a better option, as she doesn't have to get into the car. Second, in order to get home, she has to walk with him. Do this daily for two to three weeks.
Another activity you can do together is the first part of the engage/disengage game (skip the disengage part). Do this with 15 to 25 treats or pieces of kibble two to three times a day. This will help Sandy equate looking at your husband as a positive thing that gets her treats.
I'd also like you to get a lick mat that sticks to the floor or a bully stick for your husband to give Sandy each night. For the bully stick, drill a hole through the back of it and then use a zip tie and dumbbell to attach the bully to something near your husband. She can only enjoy these by being near your husband. If she shows no interest, put them up when you go to bed and try again the next day.
I'd also like you to get some really high-value treats that Sandy likes (chicken liver is my go-to) and have a container with them near where your husband sits. Any time Sandy comes over, he should offer her a treat. If she won't take it from his hand, it's OK to drop it at his feet. But if he drops it, don't point it out any further. Sometimes that makes a dog less likely to come get it.
I'd also suggest you practice calling Sandy over to your husband's chair when he is not there for 15 to 20 treats, three times a day. After Sandy practices walking over to that chair over and over, getting a treat from you each time, the more likely she will be to walk over when he is there later.
I'd also recommend your husband play a little hard to get. If she comes to him, he should pet her or offer a treat (unless she gives him cut off signals), but he should avoid calling for her. I'd also like you to start asking Sandy to sit before you pet her. Only ask once and if she refuses, go back to what you were doing. This should apply for when she nudges or paws at you for attention or if you want to pet her. Conditioning a dog to sit to ask for pets is polite and can help establish a healthy leader-follower dynamic.
By themselves, one of these won't do much, but done together for a few weeks, Sandy should start seeing your husband differently. With good timing, good treats and some dedication, it shouldn't take Sandy long to learn that your husband is a good guy she should be honored to hang out with.
Good luck and remember — everything you do trains your dog. Only sometimes you mean it.
---
Meet the 10 (very good) dogs who have been at the Nebraska Humane Society the longest
These are the very good dogs who have been at the Nebraska Humane Society the longest. All are up for adoption as of Aug. 3. For more information on the adoption process and to see all dogs available for adoption, visit nehumanesociety.org/adopt. 
All adoptions are being done via appointment only. The application can be found inside each animal's bio on the Humane Society's website.