Dog Gone Problems is a weekly advice column by David Codr, a dog behaviorist in Omaha. David answers dog behavior questions sent in by our readers. You can reach him at dogbehaviorquestions@gmail.com.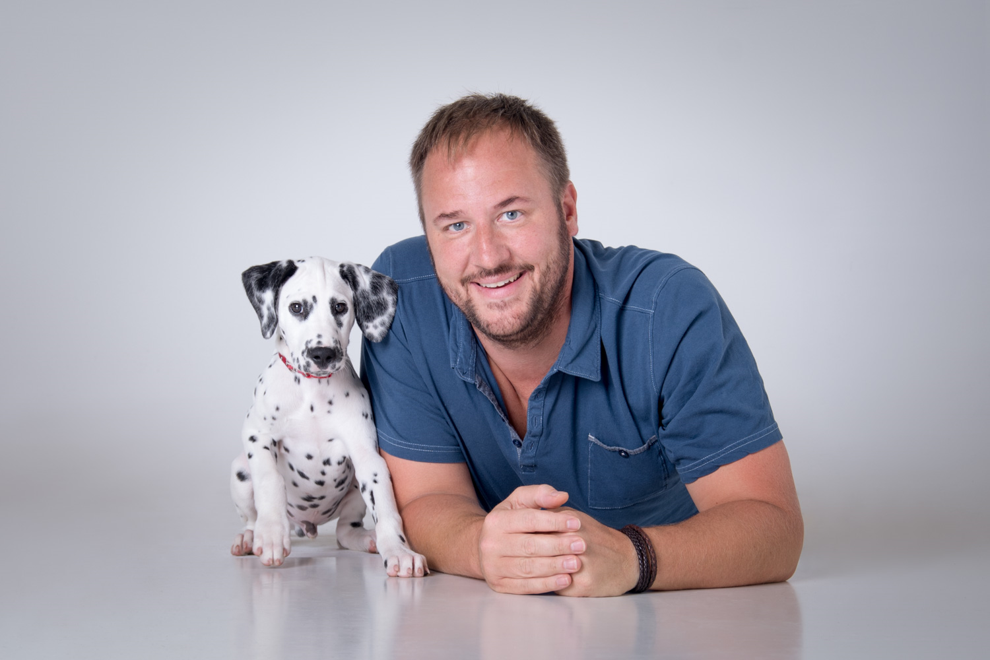 We adopted our rescue dog, Ellie, a year and a half ago. She's probably 10 years old and is a Basset/Beagle mix (we're told) who is extremely sweet, gentle and snuggly. She gets along with most other animals and, although she sometimes seems a little scared by some (the fur at the base of her tail will stand up), she usually takes a submissive/non-confrontational posture with other dogs.
We love to travel, and after tons of dog-sitting for many friends over the years, we were looking forward to having lots of free dog sitters for her. However, she reliably urinates on every rug in homes she visits, whether we're with her or not. Often, it's repeatedly day after day or over and over again on repeat visits. As a consequence, we hesitate to leave her with people, and even to take her with us on road trips where we might stay in a room with a rug. She is otherwise relatively good about peeing outside, although she does occasionally pee inside if we neglect to let her out often enough.
Is there anything we can do to prevent her from soiling the rugs of all of our friends? We would rather have her stay in a home than board her when we leave town — especially given all the boarding fees we've saved our friends. We would try anything to make that possible. We've even contemplated trying her in a diaper, although not sure that'll fix the issue.
Would love to hear your thoughts! Or if no bandwidth for that, would also really appreciate a recommendation for a good behaviorist in the Atlanta area. Thanks so much in advance!
I can tell you that boarding her will probably make matters worse, as most dog daycares do not take dogs out to potty so they end up going on the floor in the room. This is fine with dogs who are fully potty trained, but in your case, it's something you need to avoid.
The first thing I ask my dog behavior clients who have potty problems is, "What is your dog's command cue to go potty?" Most people struggle for a minute or two, and then say a version of "go potty" with little enthusiasm.
If we don't create a solid foundation for potty training, including the cue and reward, some dogs end up confused. It's possible this is the case here. Age is another factor, and when a behavior has become practiced, it's harder to fix or modify. She could be marking as a signal to other dogs who live in that home. Lastly, this could be a result of separation anxiety, which is a panic attack some dogs have when left alone due to a lack of practice.
Regardless of the reason, the worst thing to do is punish the dog. That will cause her to avoid you when it's time to go, thinking the act upsets you. If it's due to separation anxiety, any punishment will amplify the stress.
If the urination incidents at friends' houses occur when they leave her alone, it's more likely to be separation anxiety. If this is the case, being in your home is comforting enough for her to handle your absence, but a new location without you may be too much.
Since treating separation anxiety is complicated and not knowing why she is having accidents at friends' houses, I'm going to offer some basic maintenance tips for your situation.
Make sure to say your marker word when Ellie finishes eliminating outside. Then give her a treat. Make sure to say the word in a consistent tone after she finishes and only say it once. I know this is remedial, but communicating to Ellie that urine and feces are valuable to you when deposited outside can do wonders for most dogs with this problem.
Start taking trips to your friend's home before you go out of town. Think of this as practicing being there. Keep her in your sight the whole time to ensure she doesn't do her business on their rug. If you see her sniffing in circles or any other indication she may need to go, take her out, say your marker if she does and make sure to reward her (or have your friend do that part).
Also be sure observe the dogs and how they interact. If Ellie avoids the other dogs, it may not be the best place for her to stay — even if the guardians owe you for dog sitting. It may or may not be related, but if she isn't comfortable, it won't help.
My last piece of advice is something you suggested — a doggy diaper. This may be the easiest solution to your problem without having a positive dog trainer or behaviorist in the area come to help.
The trick is to put the diaper on for short periods at your home at first. Make sure she doesn't mess with it. If she does, practice wearing it after walks or other activities that take off some energy so she doesn't tug at it. You can also give it to her when she is preoccupied with a bone or lick matt. You want to gradually increase the time she wears it without her trying to take it off. After enough time, it'll feel normal.
You want her to be completely relaxed with the diaper in your home before wearing it at a friend's house. Make sure to have her come to your friend's home wearing it so it's normal at that location, too. Just be sure to have the friends change it daily so small amounts don't irritate her skin due to long exposure.
Good luck and remember — everything you do trains your dog. Only sometimes you mean it.