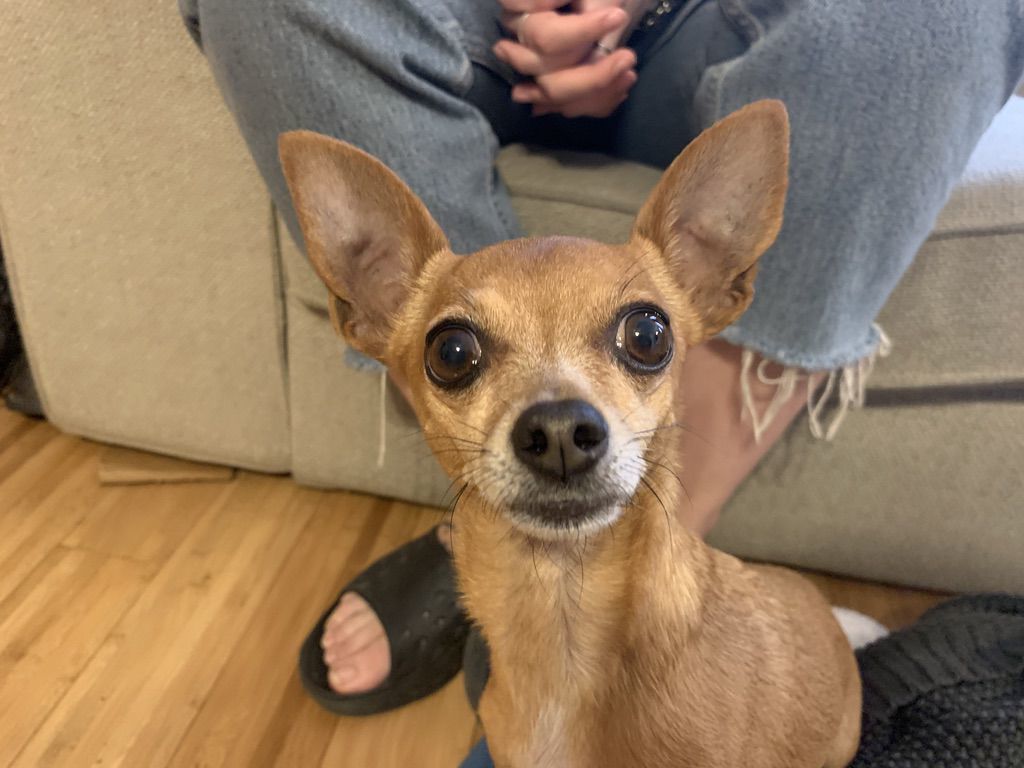 Dog Gone Problems is a weekly advice column by David Codr, a dog behaviorist in Omaha. David answers dog behavior questions sent in by our readers. You can reach him at dogbehaviorquestions@gmail.com.
I have a 4-year-old chihuahua and a 5-month-old chihuahua and Yorkie mixed puppy. They get along really well and I've never had issues feeding them before. If anything, the puppy would try to eat the other dog's food, but I always sit down in the middle to make sure they both eat their food.
Recently, my puppy won't eat her food but will try to eat from my other dog's bowl. Again, she's done that before but always ate all her food first. Now, she sort of eats. She will grab a small portion, take it somewhere else and eat it. Sometimes she won't even do that.
Last night, both dogs ate from the puppy's plate. I didn't let the adult eat a lot because he had somewhat eaten his own food but that was the only way for both to eat everything. Basically, they seem to want to eat from the same bowl. I'm not sure exactly when it started happening, but this is very unusual and I don't know how to fix it. I hope you can help! Thank you!
Although some dogs can eat out of the same bowl, it can cause issues with some dogs — as food is pretty important in the dog world. Food is considered a "primary reinforcer," and dogs who share food can develop food-guarding issues.
Another factor to consider is that puppies need special food that has a higher calorie content. I reached out to Suki Meyers at the Green Spot in Omaha for more information. She said the number on factor in selecting the proper food for your puppy's needs is breed.
"For example, large breed puppies need to be on a large breed puppy food," Meyers said. "It (will have) the correct nutrition they need to grow based on the percentage of phosphorus and calcium to control the bone growth for larger breed puppies."
While an adult dog can eat a puppy's food, it's probably not a good idea for them to eat puppy food all the time.
"The calorie count for puppy food is higher, which can lead to obesity and overweight adult dogs if they eat too much puppy food," Meyers said.
It's not uncommon for puppies to want to emulate what they see other dogs do, but due to the food difference and potential for food guarding issue to develop down the road, I'd start feeding the dogs one at a time. This is something I call structured feeding.
Put the food down for the adult dog and let it eat while the puppy is at least six feet away. Teaching the puppy to stay out of the food-eating area not only stops the feeding from the same bowl, it will help the puppy practice some self control, which can help in many different areas.
I'd also recommend you practice handling your puppy while she eats. This is a great way to ensure she doesn't develop a food-guarding issue. This video includes tips on handling a puppy while she eats.
Your puppy will likely put up a fight for a day or two, but if you are consistent, she will learn that she needs to wait for her turn to eat. And, since the adult's food bowl will be empty, there won't be any sharing possible.
Good luck and remember — everything you do trains your dog. Only sometimes you mean it.
---
Meet the 10 (very good) dogs who have been at the Nebraska Humane Society the longest
These are the very good dogs who have been at the Nebraska Humane Society the longest. All are up for adoption as of Aug. 3. For more information on the adoption process and to see all dogs available for adoption, visit nehumanesociety.org/adopt. 
All adoptions are being done via appointment only. The application can be found inside each animal's bio on the Humane Society's website.