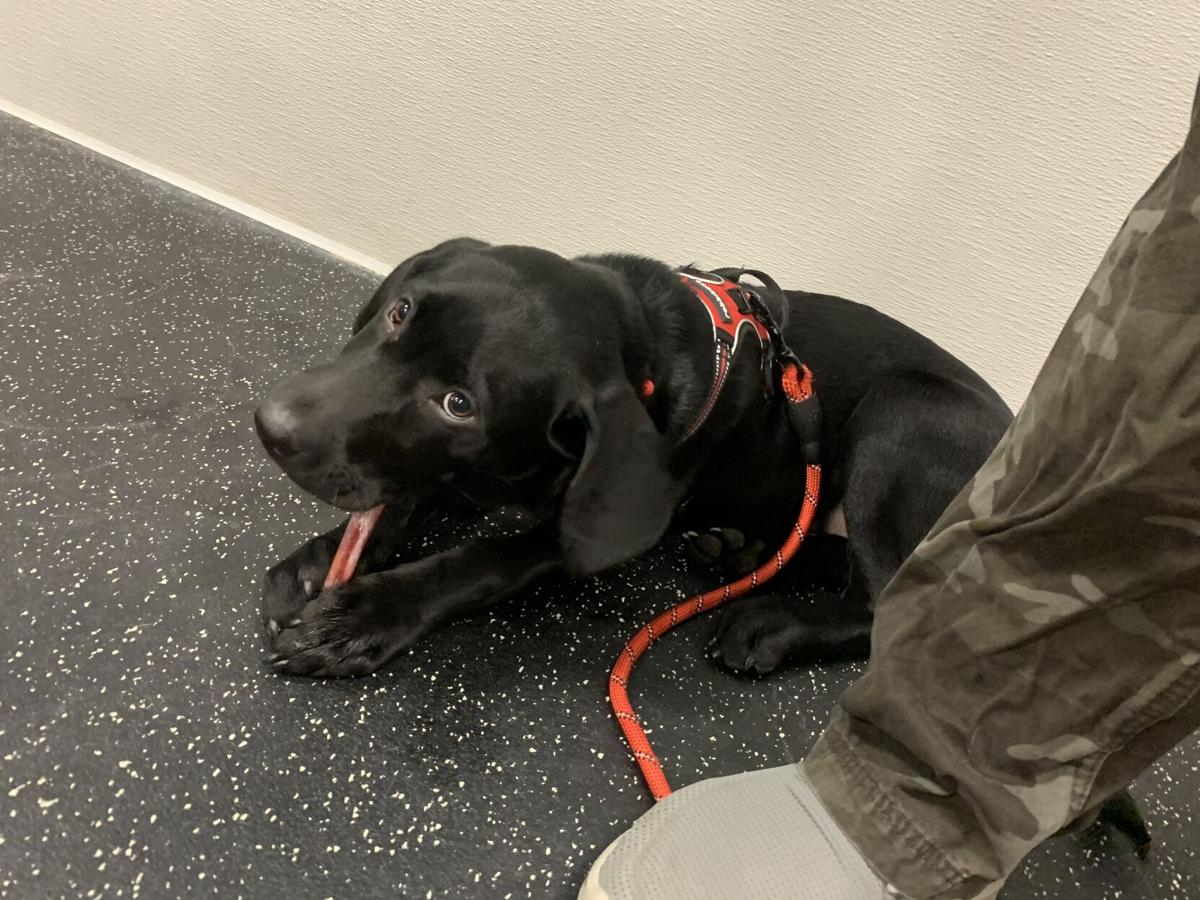 Dog Gone Problems is a weekly advice column by David Codr, a dog behaviorist in Omaha. David answers dog behavior questions sent in by our readers. You can reach him at dogbehaviorquestions@gmail.com.
I have a 9-month-old Labrador puppy who never listens to me and always has the zoomies. Please help!
Labs can be amazing dogs, but many of our puppy parents find them to be one of the most frustrating breeds between 6 and 14 months old due to being so high energy.
The best way to counter this is to make sure they are getting regular physical and mental exercise every few hours. Most people exclusively focus on physical exercise and often try to accomplish it in one session, but because of puppy sleeping patterns, exercise needs to be in shorter more frequent sessions (every two to three hours) throughout the day. I'd recommend you alternate between physical and mental stimulation throughout the day.
» Walks: Dogs burn more energy on a walk by sniffing than they do from walking. But humans tend to think that it's the walking they need, so any time the puppy puts his or her nose on the ground, people jerk the leash or pull the pup along. So on walks, make sure you are letting your puppy stop to sniff as much as he or she wants — provided it's safe to do so. Walks should be between 20 and 40 minutes long. If you have the means, enlisting the help of a dog walker once a day can really help out. Just make sure they know to let your puppy sniff as much as he or she wants and never use a pinch collar.
» Fetch: Try to keep fetch sessions shorter — 10 to 15 minutes if the dog is fetching consistently. If you have a large yard, you may want to pick up a "chuck it," which is a plastic arm that allows you to throw the ball farther and also pick it up without having to use your hand. 
» Puppy play dates: Setting up a puppy play date with a puppy who is similar in age and energy level is one of the best ways to drain the excess energy. Use social media to see if you have any friends or friends of friends who have puppies nearby that you can bring over or visit for a puppy play date. Don't let the puppies play too rough, or let the intensity level get too high. Any time a puppy gets close to half their energy range, grab them, give them a treat and give them a time out until they relax. Then let them play again.
» Kongs. Go for black if your puppy is a strong chewer, as these are more durable. Fill the Kong with peanut butter so your puppy has to lick it out. Just make sure your peanut butter is xylitol-free. After the first few times, you can start putting them in the freezer to make the peanut butter more difficult to get out.
» Lick mats: This is a great way to occupy a puppy and provide it with mental stimulation. Look for silicone versions with suction pads on the bottom, which prevent the dog from picking it up and moving around. Smear peanut butter on it and, after giving your puppy a few of them, start freezing them like you do a Kong.
» Scent games: For this, just hide treats around your home. A simple Google search of scent games will provide you with a number of different versions of this easy-to-set-up game.
» Edible chew items: Bully sticks, cow ears, cow kneecaps, Himalayan chews, marrow bones, tracheas, no hides (never give rawhides) and pigs ears are all great ways to distract your puppy and keep them occupied. Only give one of these a day.
» Snuffle mats for meals: A snuffle mat is similar to a floor mat that has long tassels. Dump your puppy's dry kibble on it and work it into the tassels. Since they use their nose to find the kibble, it's also physically draining. It's equal to going for a walk.
» Treat dispensing puzzles and games: Treat dispensing toys and puzzles can also be very physically draining.  I like using an Omega Paw Treat Ball but there are tons of them out there. I'd recommend you find 6 to 10 and start incorporating a snack a few times a day using a different puzzles each time. You can put regular kibble in these, too.
» Dog training: Do this at times when your puppy is not super excited. Try to incorporate a few two- to three-minute training sessions an hour or so after your pup's physical exercise options.
Good luck and remember — everything you do trains your dog. Only sometimes you mean it.
---
Meet the 10 (very good) dogs who have been at the Nebraska Humane Society the longest:
Meet the 10 (very good) dogs who have been at the Nebraska Humane Society the longest
These are the very good dogs who have been at the Nebraska Humane Society the longest. All are up for adoption as of Aug. 3. For more information on the adoption process and to see all dogs available for adoption, visit nehumanesociety.org/adopt. 
All adoptions are being done via appointment only. The application can be found inside each animal's bio on the Humane Society's website.