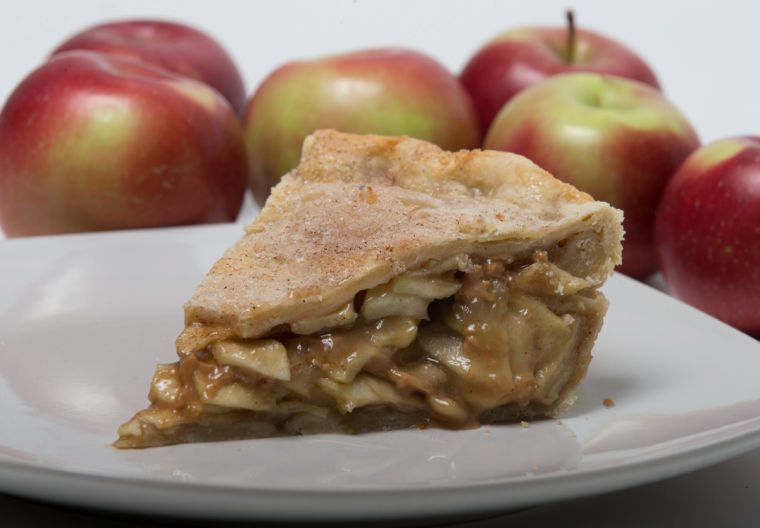 The World-Herald has found Omaha's best apple pie.
The winner: Val Fennell. Her recipe proves that sometimes, you just can't improve on a classic.
Below, meet all the bakers and the pies the Omaha World-Herald considered as they tasted their way through eight fantastic apple pies.
Val Fennell's Our Family's Apple Pie
Crust (makes 1 double crust):
• 3 cups unbleached all purpose flour
• ½ cup cold unsalted butter cut into small pieces
• ½ cup frozen butter flavored Crisco cut into small pieces
• 1 tablespoon apple cider vinegar
• About 2 pounds large Granny Smith apples, peeled, cored and sliced into ¼-inch slices
• 1 to 1½ pounds Royal Gala, Gala or Jonagold apples, peeled, cored and sliced into ¼-inch slices
• ¾ to 1 cup sugar depending on the tartness of your apples
• 2 teaspoons ground cinnamon, divided
• 2 tablespoons unbleached flour, divided
• 1/8 teaspoon fresh nutmeg
• Zest of one small to medium lemon
• 1 tablespoon low sugar Pectin
• 4 tablespoons cold butter in tablespoon size pieces
• 1 egg yolk or whole egg
• 2 tablespoons milk, half-and-half or cream
Combine the dry ingredients in the bowl of a stand mixing bowl or a medium bowl. Mix the dry ingredients for about 30 seconds just to combine. Then add the Crisco and butter and mix on medium speed until it looks like very coarse crumbs or small peas. Do not over mix. If combining by hand use a pastry blender with blades rather than wires.
Make a well in the center of the mixture.
Combine the wet ingredients and beat well. Pour into the well and with a fork mix until all of the dry ingredients are moistened. Do not over mix. If your dough seems a bit too wet sprinkle in a bit more flour but no more than one tablespoon. It will not be dry for sure.
Divide dough in half, then pat/shape into two disks, wrap snuggly in plastic food wrap and chill for about 20 to 30 minutes.
While the dough is chilling ready your apples:
Preheat oven to 425 degrees.
Peel and slice apples and place in a large bowl. Sprinkle the lemon juice over the apples and toss well. Cover with plastic wrap.
Remove the first disk of crust from the refrigerator and place on a lightly floured counter or Silpat mat. Lightly roll your dough in one direction, turning it to make it round and about 12 inches in diameter. Place the dough in a 9½-inch deep dish pie plate. With scissors, trim the crust to about ½ inch below the rim of the dish. Remove the next portion of dough from the refrigerator and repeat rolling.
Place 1 tablespoon flour into the bottom of the pie plate and gently spread around. Add 1 tablespoon sugar, ½ teaspoon cinnamon and a dash of nutmeg to the pie plate.
In a small bowl combine the remaining sugar, cinnamon and nutmeg and pectin.
Rinse the apple slices and drain well. Toss the cinnamon sugar mixture with the apples and place into the bottom crust, being sure that the apples are solidly in place. Add lemon zest over the top of the apples.
Evenly sprinkle the remaining flour over the top of the apple slices and slightly shake into the apple pile. Place butter slices over the top of the apple mixture.
Cover with the top crust. Trim to about 1½ inches below the edge then fold over the lower edge and crimp the edges together.
Make decorative vents in the top crust. If you have sanding or coarse sugar, dust or sprinkle the top crust lightly.
Bake for 15 minutes on a parchment lined baking pan, then reduce the oven temperature to 375 degrees until the juices bubble in the center of the pie and the apples test tender in the center as well.
Remove from the oven and let rest for at least 30 minutes before cutting/serving.
Combine with a fork until smooth, then gently brush onto the top crust of the unbaked pie. After egg wash, you may sprinkle with sanding sugar if you wish.
The egg wash makes the crust a golden, shiny finish.
Brad Price's 4-in-1 Apple Pie
• 2½ cups unbleached all-purpose flour (12½ ounces)
• 12 tablespoons cold unsalted butter (1½ sticks), cut into ¼-inch slices
• ½ cup cold solid vegetable shortening, cut into 4 pieces
• 3 to 3½ pounds apples, mixture of Granny Smith, Honeycrisp, Braeburn and Golden Delicious, about 6 large apples
• 3 tablespoons tapioca flour
• 2 tablespoons apple jelly
• 1 tablespoon apple cider
• 2 teaspoons freshly squeezed lime juice
• ¼ teaspoon freshly ground
For the crust, process 1½ cups flour, salt and sugar in food processor until combined, about 2 one-second pulses. Add butter and shortening and process until dough just starts to collect in uneven clumps, about 15 seconds (dough will resemble cottage cheese curds and there should be no uncoated flour). Scrape bowl with rubber spatula and redistribute dough evenly around processor blade. Add remaining cup flour and pulse until mixture is evenly distributed around bowl and mass of dough has been broken up, 4 to 6 quick pulses. Empty mixture into medium bowl.
Sprinkle vodka and water over mixture. With rubber spatula, use folding motion to mix, pressing down on dough until dough is slightly tacky and sticks together. Divide dough into two even balls and flatten each into 4-inch disk. Wrap each in plastic wrap and refrigerate at least 45 minutes or up to 2 days.
For the filling, peel and core the apples. Slice into ½-inch thick wedges. Toss apples with ¼ cupsugar. Place in a colander set over a large bowl and allow to drain for 1½ hours.
Transfer the drained liquid to a small saucepan, place over medium heat and reduce to 2 tablespoons. Set aside to cool. Toss the apples with the remaining sugar, tapioca flour, jelly, cider, lime juice, salt and Grains of Paradise.
Preheat oven to 425 degrees.
Remove one disk of dough from the refrigerator. Place the dough onto a lightly floured piece of waxed paper. Lightly sprinkle the top of the dough with flour and roll out into a 12-inch circle. Place into a 9½ to 10-inch pie pan. Gently press the dough into the sides of the pan.
Pour apples and any liquid into pan. Roll out the second pie dough like the first. Place this dough over the apples. Press together the edges of the dough around the rim of the pie and crimp. Brush the top crust with the reduced juice everywhere except around the edge of pie. Place the pie on a sheet pan and bake on the bottom rack of the oven for 30 minutes. Reduce heat to 375 degrees and bake another 20-25 minutes or until the apples are cooked through but not mushy. If necessary, cover pie with circle of aluminum foil to prevent over-browning. Remove to a rack and cool a minimum of 4 hours or until almost room temperature.
• 6-7 cups Granny Smith apples
• ½ cup packed brown sugar
• 1-2 tablespoons lemon juice
• ½ cup Kraft caramel bits
Preheat oven to 450 degrees.
For the pie crust, combine the flour, salt and sugar. Cut in shortening with a pastry blender until the mixture resembles cornmeal. Add ice water, 1 tablespoon at a time, to the flour mixture, tossing with a fork to form soft dough. Separate into 2 balls, wrap with clear plastic wrap and refrigerate.
For the filling, peel, core and thinly slice apples. Sprinkle with lemon juice to prevent browning.
Combine all dry ingredients in a large bowl. Add apple slices and mix thoroughly. Add vanilla
Melt butter in a large skillet and add apple mixture. Cook for 6-8 minutes to soften apples. Remove pan and cool completely. Once cooled, stir in Kraft caramel bits.
Roll out pie crusts to fit your pan. Put bottom crust in pan and add apple mixture. Cover with top crust, seal and flute edges. Vent top by cutting slits. Brush with beaten egg white and sprinkle with sugar. Cover edges with foil or pie crust shield.
Bake at 450 degrees for 15 minutes. Reduce heat to 350 degrees and bake for 45 minutes longer. Let pie cool for at least an hour. Serve with vanilla ice cream and caramel ice cream topping.
Kathy McConnell's Sour Cream Apple Pie
• 2 cups sliced apples, (I use Jonathon) basically 2 apples with skin removed
• 1/4 cup butter (soft, not melted)
Cream egg, sugar and sour cream. Add the flour and salt. Stir, then add sliced apples.
Pour into a purchased or unbaked homemade crust.
Bake at 400 degrees for 15 min., then at 350 degrees for 30 min.
Mix topping together and drop small amounts across the top of the pie and bake in 400 degree oven for 10 min. The topping melts together.
Carol Jeppesen's Cinnamon Apple Pie
• 4 to 5 Granny Smith apples (or something with some tartness)
• ¾ to 1 cup white sugar depending on tartness
• 2-3 ounces Red Hots (Cinnamon Imperials in cake decorations)
• 1 heaping tablespoon shortening
For the filling, peel apples and cut in slices. Cook all these ingredients in a 2-quart saucepan until apples are cooked through.
For the crust, cut butter and shortening in flour/sugar mixture until it is thoroughly mixed and looks crumbly. Add milk by the tablespoon until it forms a ball.
Roll out ½ of dough on a flour-covered pastry cloth until it is about 1/8-inch thick. Line a 9-inch pie pan. Roll out second ½ of dough for top half. Put apples in pastry. For top crust, cut strips and lay them crosswise on the apple filling.
Bake at 425 degrees until brown (usually 20 minutes). If you like a thicker crust, brush the top with a little milk and it will brown quicker.
Laura Neece-Baltaro's Limoncello Cider Apple Pie
• 2½ cups unbleached all-purpose flour (add more if dough is too sticky)
• ¼ cup vegetable (canola or safflower) oil
• 1 stick cold unsalted butter
• 4 tablespoons Limoncello liquor
• 3-6 tablespoons of ice cold water
• ¼-1/3 cup whole wheat flour
Mix flour and salt together in a bowl. Add vegetable oil and cut it gently into the flour with a fork or pastry blender. Cut butter into small cubes or thin pats and add it to the flour mixture. Using fork, hands or pastry blender, cut the butter into the flour mixture until it is unevenly crumbly. Do not over mix. Lumps will make it flaky. Sprinkle flour mixture with Limoncello and 3 tablespoons ice cold water. Blend briefly. Adjust water until the dough can be rolled out.
Divide dough almost equally. Place a 12-inch square of kitchen parchment or wax paper on the counter. Sprinkle parchment with 2-3 tablespoons of whole wheat flour. Place the larger half of the dough on the floured parchment. Turn ball of dough over in the flour to cover both sides so it will not stick to the rolling pin. Roll out to size you need for bottom crust plus an inch overhang, adding more whole wheat flour as needed to keep it from sticking. Grab parchment paper corners to pick up the dough and turn it over into the pie plate.
Roll out the upper crust in the same manner and set it aside.
• 8-9 cups Granny Smith apples, cored, peeled and thinly sliced. (about 8-9 apples)
• 7 tablespoons tapioca flour (put 1/3 cup tapioca pearls in clean coffee grinder and pulverize)
• 1 teaspoon Vietnamese cinnamon
• Juice of ½ lemon (about 1½-2 tablespoons of juice)
• 1 tablespoon Limoncello liquor
• ¼ cup boiled cider (make this by boiling down cider slowly until it is very thick and syrupy)
• 3 tablespoons unsalted butter cut into small cubes
Slice apples into a very large mixing bowl. In another smaller bowl combine sugar, tapioca flour, nutmeg, cinnamon, and salt. Mix well. Toss the sugar mixture gently with the sliced apples in the largest bowl. In the bowl the sugar was previously in, combine the boiled cider, Limoncello and lemon juice. Pour these liquids over the sugared, sliced apples. Toss gently.
Spoon filling into prepared bottom crust. Pile it up high. Toss butter cubes on top of apple mixture.
Place top crust over all and seal edges by folding up the bottom crust and pressing edges together. Cut decorative steam vent holes in center of top crust using a small knife.
Heat oven to 350 degrees. Place a cookie sheet on lowest oven rack. Position pie on middle rack above the drip pan.
After 45 minutes baking at 350 degrees, place an aluminum foil tent over the entire top crust. Return pie to oven for an additional hour. Filling should be bubbly and the top crust should be golden, not burned. If pie is not bubbly, bake it up to 15 minutes longer.
This pie slices and tastes best if it is allowed to cool completely. For those who like their pie warm, reheat briefly in the microwave.
Bill Hall's Juiced Apple Pie
• 6 Stayman winesap apples
• 1¼ cups granulated sugar
Pastry for a two-crust pie:
• 2 tablespoons all-purpose flour or 1½ tablespoons tapioca
Peal, core and slice the apples.
Combine the sugar, cinnamon, nutmeg, and salt and coat the apples with the mixture. Let stand for at least two hours. Drain and reserve both apple slices and the syrup that forms.
Preheat the oven to 450 degrees.
Roll out half the dough and line a nine inch pie plate with it. Arrange the apple slices over the bottom of the pastry, packing the slices closely and letting them pile up.
Roll out the remaining dough and cut two holes near the center, each hole about the size of a dime. Wet the rim of the bottom crust and put the top crust on. Trim and crimp the crust. Bake the pie 45 minutes.
Meanwhile, put the drained syrup in a saucepan and stir in the remaining ingredients. Bring to a boil.
When the pie is done, hold a funnel over one of the holes and then the other adding the syrup gradually. It must be added gradually or it will overflow. The pie will become firm when it cools. Serve warm or cool.
Note: The pie may be frozen if desired. If frozen, let it thaw five hours before warming it up.
Pastry for a two-crust pie:
• 2 cups sifted unbleached flour
• 1 cup solid white vegetable shortening
Sift the flour and salt into a mixing bowl and cut in the shortening, using a pastry blender or two knives, until the mixture resembles coarse cornmeal.
Add the ice water gradually, tossing the mixture with a two-pronged fork. Handle the dough as little as possible but shape it into a ball. Divide the dough in half and roll out one-half ant a time on a well-floured board.
• 1 cup shredded cheddar cheese
Peel and slice apples. Arrange in a 9-inch pastry lined pie pan. Sprinkle with sugar and cinnamon.
For crumb topping, cut butter into sugar and flour until crumbly. Add cheese. Sprinkle over apples.
Bake at 450 degrees for 10 minutes. Reduce heat and bake at 350 degrees for an additional 40 minutes or until apples are tender.