Chris Ross was stopped along a primitive road in the Mexican jungle. A man and his sons had waved down his vehicle to say thank you for what the Plattsmouth good Samaritan had done for their family.
For more than 35 years, Ross has traveled the Yucatán Peninsula, delivering packets of school supplies to Mayan children.
The man's sons had been recipients — just as he had been as a child. Speaking in Mayan, he told Ross, "I'd have to chop wood every day for a month to put that together for my kids to go to school. I'm overwhelmed by your generosity, and I just want to say thank you."
In January, Ross visited 29 villages, many without running water or electricity, with packets for 907 kids in kindergarten through sixth grade and 51 packets for kids in seventh through ninth grades. Because of the COVID-19 pandemic and the heat, he saw only about half the children he normally would, so teachers made sure the packets were delivered to schools.
"They're so happy when I come into town," Ross said of the villagers. "It makes me so happy to see how excited they are to see me."
Ross first visited Mexico in 1985. He was an adult chaperone for a college trip, and it was his first time out of the country. He knew nothing about the Mayans. But his wife, Terri, encouraged him, saying, "It would be a once-in-a-lifetime opportunity."
It wasn't. He has returned almost every year since.
"That was probably the worst advice she ever gave me," Ross said. "We stopped at a village, and I just fell in love with the kids. I didn't want to leave them. I felt there was something I could help them with."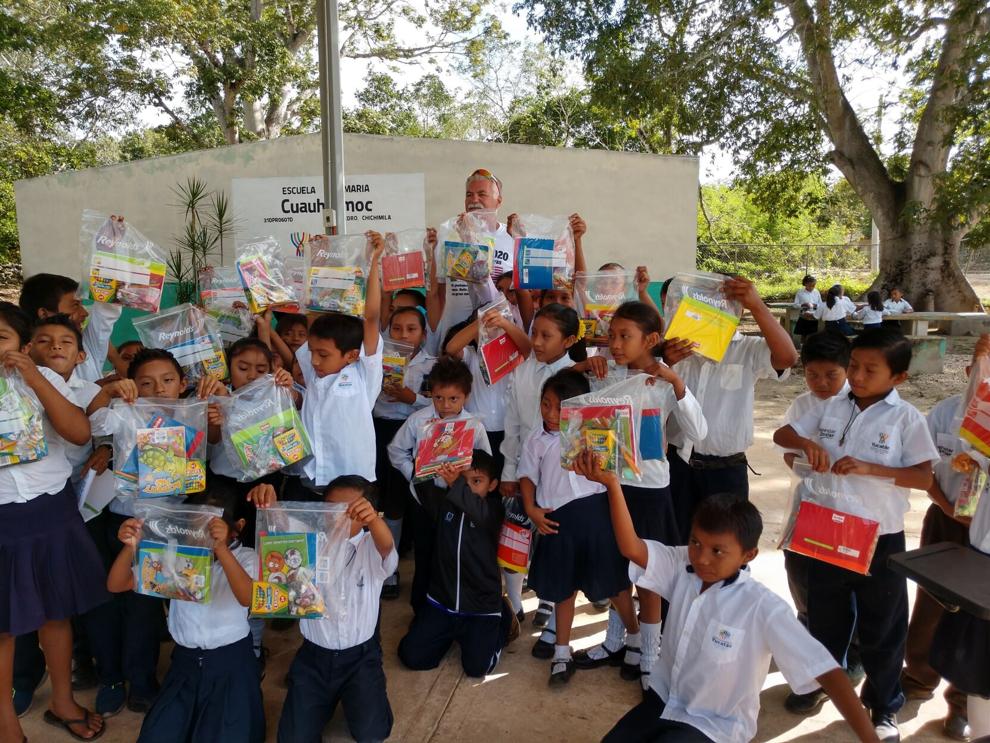 What started with one village and about 100 packets of school supplies quickly grew to 75 villages and 1,250 packets.
Ross' efforts increased enrollment in the schools. When he began, the enrollment rate was about 30%, he said.
"The mothers of other (unenrolled) kids would be there and they wanted their kids to have packets," Ross said. "And we just told them, 'If the kids aren't enrolled in school, they don't get a packet.'"
In less than two years, enrollment jumped to more than 90%, according to Ross, and the number of packets grew to 3,250.
Next on Ross' list was finding a way to extend education past sixth grade, when most village children stop their education to start families and work.
Ross was introduced to the Mexican Secretariat of Public Education through the United States Consulate in Mexico, which led to adding seventh-, eighth- and ninth-grade classrooms in 11 schools over 10 years. Today the Mexican government is starting to add high schools as well, Ross said.
In 2012, Ross decided it would be his last trip to Mexico. Raising funds — about $15,000 a year — was a tough endeavor.
But a work trip to Puerto Vallarta in 2013 brought Ross right back. He was recognized on the street by a former student in a village where Ross had delivered packets.
The young man told Ross that he had gone on to college in Mexico City. He was fluent in seven languages and was the manager of a restaurant in Puerto Vallarta, where he offered to share a meal with Ross.
"You don't realize how much of an impact that packet had on my life and all of our lives," he told Ross. "Whenever things were not going too well and I wanted to quit, I thought about that packet and it just kept giving me encouragement."
When Ross returned to Nebraska, he talked with Terri about returning to his mission work. Together, they decided Ross would resume delivering the packets but would limit his fundraising efforts to one event per year. That meant visiting 25 villages rather than 75 each time he traveled.
Because of the pandemic, 2020's fundraiser was held on Facebook. A free-will dinner is being considered for 2021 at a location to be determined.
Ross stressed that his mission is purely about education.
"It's not political; it's not religious," he said. "I just do it because I love the children and the people."
By Ross' tally, he and others have put together more than 42,000 packets of crayons, pencils, pens, notepads, toys, calculators and other items, and have raised more than $200,000 in support of Mayan schools.
"There's no way I could do this mission work without the many people who have supported me the past 36 years and are still supporting me," he said, including Terri and his two children, Kyle and Kelly.
While delivering packets is the main purpose of the trips, they've grown to be so much more.
"It's not what I've given them; it's what they've given me," he said. "The sincere friendships and contacts I've made are second to none. I've just been fortunate in my lifetime to be able to do something like this."
People who would like to donate to his efforts may send checks to Chris Ross, 3509 Fairway Drive, Plattsmouth, NE 68048. 
---
Our best Omaha staff photos of March 2021