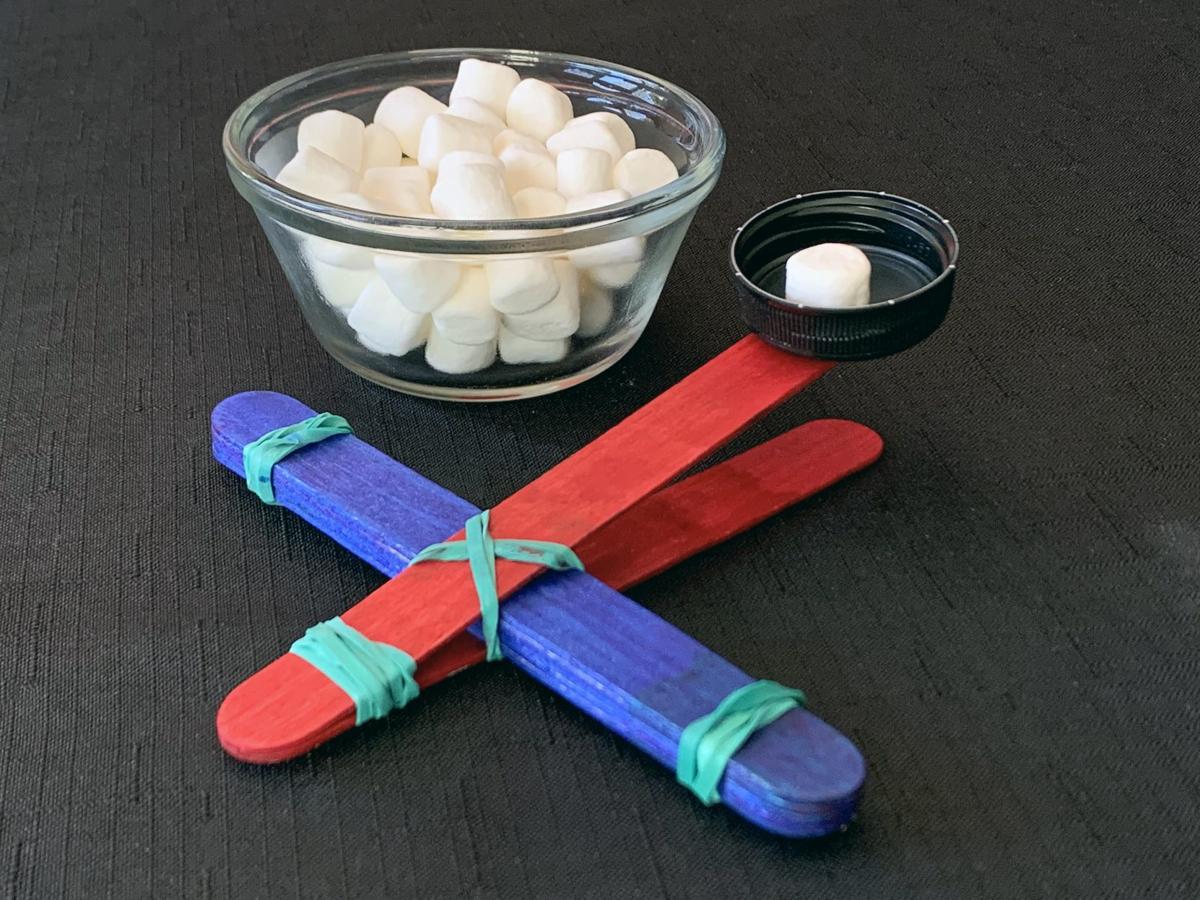 My family had a blast launching marshmallows and trying to catch them in our mouths. Who knew STEM and physics could be so much fun? Here's how to make your own wooden catapult. Just remember: Everyone gets a turn!
• Firing power (marshmallows, pompoms, pencil top erasers)
• Hot glue gun or other strong glue
1. Stack five craft sticks and secure at each end with a rubber band.
2. Take two remaining craft sticks and rubber band them on one end.
3. Pry apart the two craft sticks and slide the stack of five sticks as close to the rubber banded end as possible.
4. Wrap the last rubber band crisscross to hold the two parts together.
5. Glue bottle cap to the top craft stick and let dry.
6. Add firing power to bottle cap. Press down on the catapult's arm and let it fly.
A catapult is a simple machine. As the arm is pressed down in ours, tension builds and energy is stored. When the arm is released, the elastic energy (think slingshot) is converted to kinetic energy — the energy of motion. When an object is placed in the bottle cap, it will move at the same speed as the arm and lid. When the arm stops, the object continues to move forward due to Newton's first law, which states that an object in motion stays in motion until something creates an imbalance in the motion. Gravity is the imbalance that pulls the object toward the ground, giving it a trajectory or path.
Catapults have been around for ages. Have your kids dig up a little history and research when the first catapults were invented and used. Hint: check out the 17th century.
TURN IT INTO A SCIENCE EXPERIMENT
1. Incorporate math by measuring the distance traveled by an object or by recording the time the object spends in the air with a stopwatch.
2. Test different weighted items to see which ones fly farther. Start by asking a question to come up with a hypothesis. Which item will go farther? Why? Have your kids fire each material 10 times and record the distance each travels. What kinds of conclusions can be drawn from the information? Which item worked the best? Which item didn't work well at all?
3. Test out the number of craft sticks used in the stack to create the tension need to launch the catapult. How about seven or 10? What are the differences when tested?