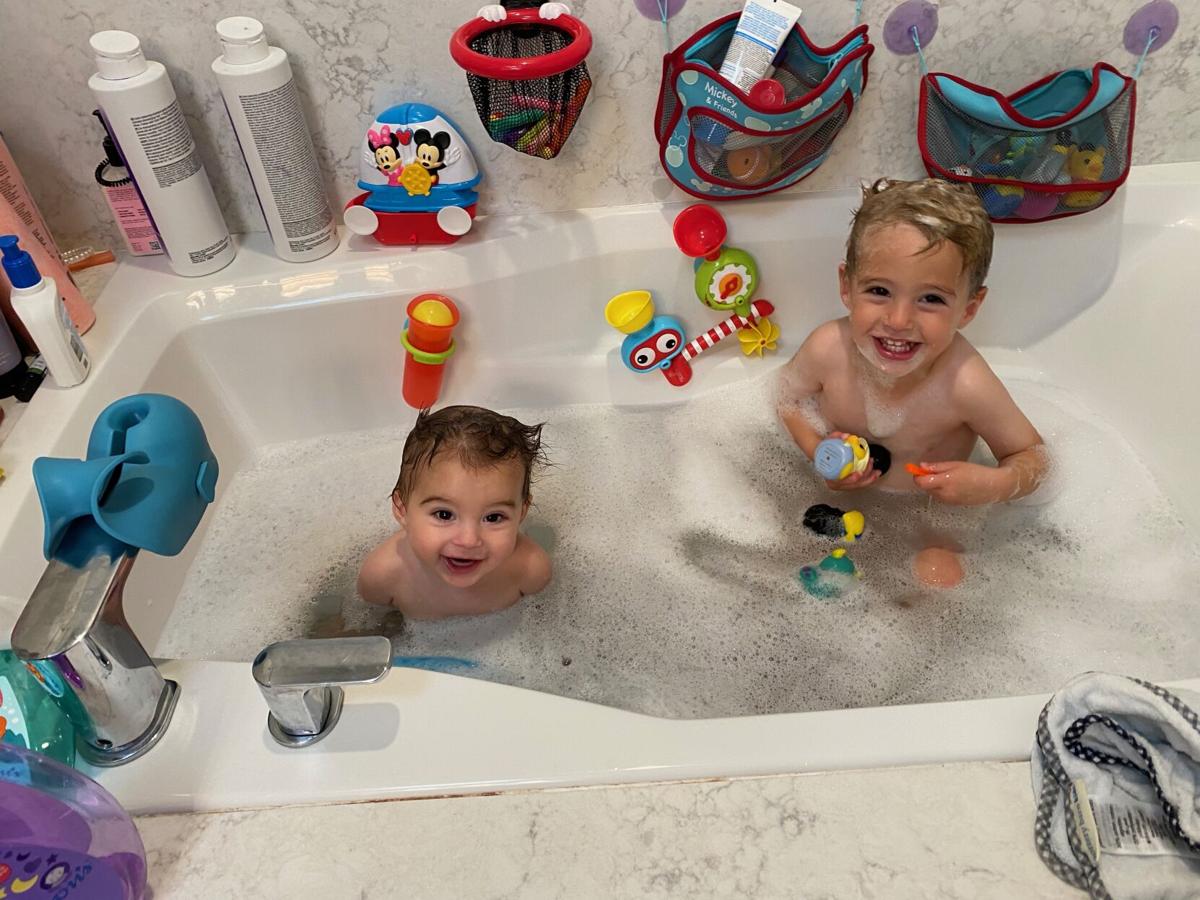 To say that parenting has been uniquely challenging over the past two years would be a vast understatement. Between a global pandemic and an extremely divided world, I've often worried about what the future looks like for my toddler and baby.
But what has become clearer to me than ever before is just how powerfully parents shape their children's beliefs and even actions. My stepdaughter has actually been the vessel for helping me understand this concept. She just started middle school this year, and she'll often come home and share downright outrageous things fellow students tell her. Where did they learn these beliefs from? Their parents.
It's disheartening to hear these distorted beliefs, but then I look at my little boys and realize there is hope, too. I have this remarkable ability to shape their views and actions in the world. It isn't just a power — it's a responsibility. Today is National Make a Difference Day, so I decided to write them a letter about how they can make differences — big and small. I plan on reading it to them every year on this day, so they'll never forget how positively they can impact their world.
Life will not always be easy for you. You will and probably already have encountered quite a few challenges, but you'll conquer them all.
Just like when you took your first steps, Dad and I will help you whenever you stumble and fall until you're able to do it all by yourself. And you will do it. I promise. You are lucky to be surrounded by loving, supportive family and many role models to emulate. This environment has undoubtedly set you up for success, and now comes the fun part.
It's so very important for you to make a difference in the world — no matter what life throws your way. I know this sounds a little overwhelming, but I'm writing this letter to you on National Make a Difference Day and I want you to understand the importance of this day. I want you to know you two crazy little boys can be part of that difference. You will truly make the world a better place. How cool is that?
I hope this letter serves as a yearly reminder to you of the ways to do it. I hope making a difference becomes a habit for you both. 
Be kind and stop the unkind. Approach every person and situation with genuine kindness in your heart. Sounds easy, right? It's not. Start small. When someone is mean to you in school, throw kind words right back at them. Then, go bigger. Go out of your way to talk to the one person no one else in your class talks to. Protect the people who get bullied. Stand up to the bullies or tell the people in charge. It won't be enough to just be nice to everyone. You need to try harder and actively work against the unkindness. I know you can do it.
Don't just donate things. While giving is so important — of course you should donate items and money whenever you can — it's not enough. I want you boys to do more. Find a cause that means something to you and immerse yourself in it. For me, that special cause was Girls on the Run, an organization that teaches girls confidence and life skills through running programs. Running changed my life, so I wanted to help give that gift to other young women. I didn't just donate to Girls on the Run, though. I was a coach for several years, helped market it from the ground up in New York and volunteered to be a "running buddy" for girls who didn't have one. What will your cause be?
Don't be afraid to be sad. In order to help others, you'll probably encounter things that make you sad. It's not easy to see people suffering. It's easier to look away. Don't do that. Whatever the situation, come to your dad and I, and we will help you process it. Don't feel helpless; there is always a way to brighten even those experiencing the darkest of moments.
There is no such thing as a small difference. Whenever you can make a difference, do it. Whether it's rounding up to the nearest dollar for a charity when you're paying for something or just thanking your teacher for all of the hard work she puts into educating you, just do it. Don't ever think that you shouldn't bother. Small differences add up to a big difference.
I feel so lucky to be your mom. You've already made a life-changing difference in my life. Now, go out and change the world!
Jamie Wiechman is a mother of two young, rambunctious boys and stepmother to a tween girl living in Omaha with her husband, Seth. She works in marketing, and in her spare time, she enjoys exploring new fitness adventures for moms and finding ways to make parenting more attainable and manageable for everyone.