In a playhouse in a backyard there played two hobbits. (OK, well, not hobbits, but two kids, and they are maybe a little hobbit-like.) Not a nasty, dirty, plastic playhouse filled with cobwebs, spiders and a weird smell.
It was a hobbit playhouse, and that means comfort.
No, this isn't the start of another story set in Middle Earth. This is about a little yellow playhouse with a big round blue door nestled between two maple trees in the backyard of a Beaver Lake family's home.
How exactly the playhouse came to fruition is a good story, though.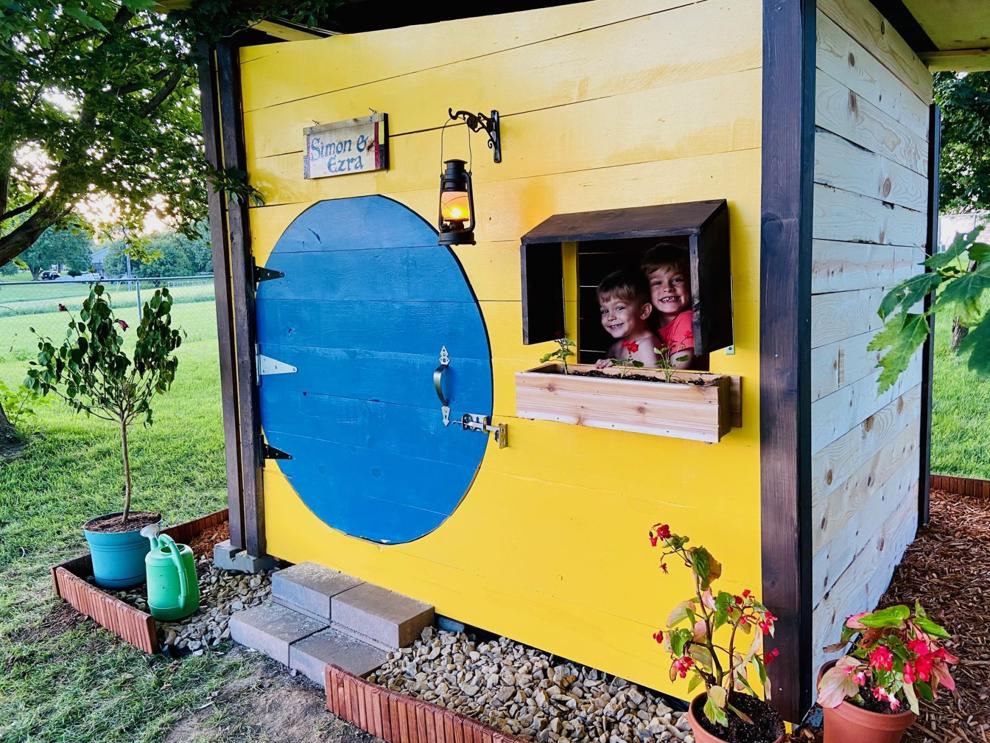 The Jordan family was a few weeks into the coronavirus pandemic shutdown, and their house had increasingly become a "war zone of accumulated toys, board game remnants and the occasional melted popsicle," thanks to Aaron and Audrey Jordan's children, Simon, 7, and Ezra, 3.
So the 38-year-old dad thought he would try his hand at a simple wooden toy storage bin using leftover materials from a raised garden bed project he'd just finished.
"I used that project to gain some basic knowledge about woodworking, sanding, staining, etc., and it turned out fairly well," Jordan said. "It was at that point that my wife, Audrey, said, 'Now that you have the time and the tools, you should build the boys a playhouse!' "
During his research, he found all kinds of plans and themes — pirates, the Wild West and more. But he couldn't find any plans for fans of J.R.R. Tolkien's Middle Earth epic. So he came up with his own.
"The Lord of the Rings" is Jordan's favorite story.
"I adore the entire world Tolkien created and, as a composer myself, I especially love the music scores of Howard Shore for the film adaptations," he said.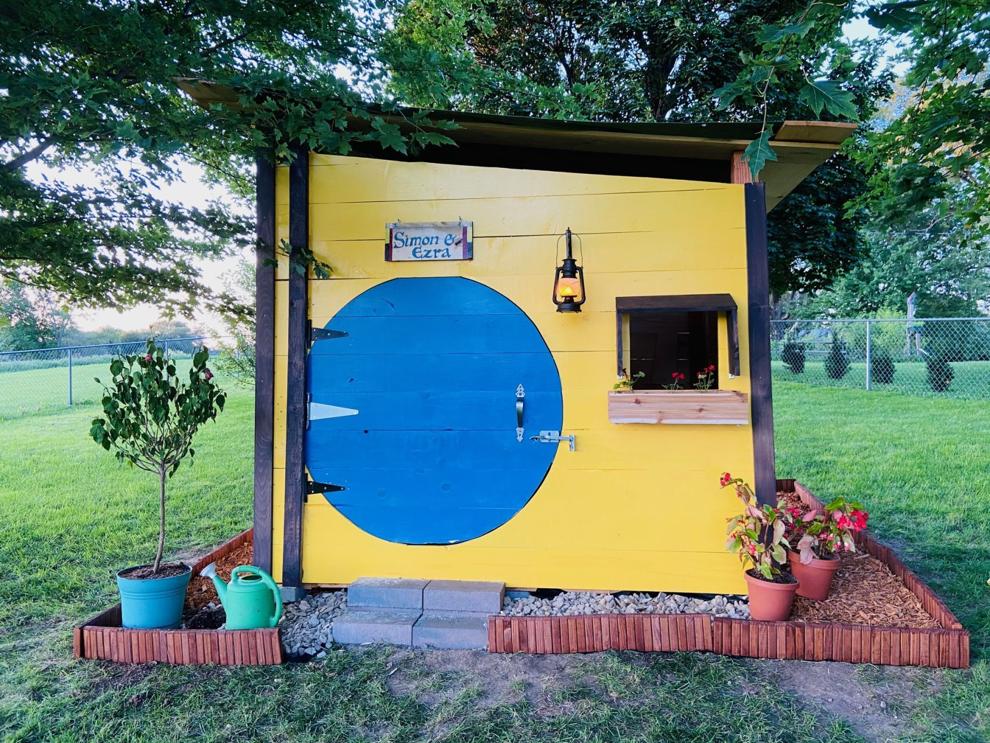 He has started slowly exposing his boys to Middle Earth as they show interest.
"This past winter, I was watching 'The Fellowship of the Ring,' and I looked over at my 7-year-old — who I didn't know was watching — and he had tears in his eyes," Jordan said. "He looked at me and said, 'Will they ever see each other again?' and I knew he was ready. I started reading 'The Hobbit' to him before bed, but I think it was still a bit beyond his interest."
Jordan knew he wanted the Hobbit-inspired playhouse to be large enough for his family of four to enjoy together, so he built it to be 8 feet wide and 6 feet deep using four-by-four posts and two-by-four planks on concrete deck footings.
He wanted the feel of a clubhouse that kids might build out of scrap boards and anything else they could find. Using rough-sawn pine board for the floor and walls and "sloppily nailed" reinforcements achieved that built-by-kids look. He also gave the playhouse a slanted roof with a weatherproof, UV-protection canvas tarp.
The interior has rechargeable battery-powered fans with LED lights attached to a beam on the ceiling to keep the playhouse cool in the summer. There's also a hand-me-down spindle bench where the kids (and their parents) can sit and read together on summer evenings.
In total, the project cost under $500. Jordan said he used a lot of materials he already had on hand, but also made lots (and lots and lots) of trips to Menards.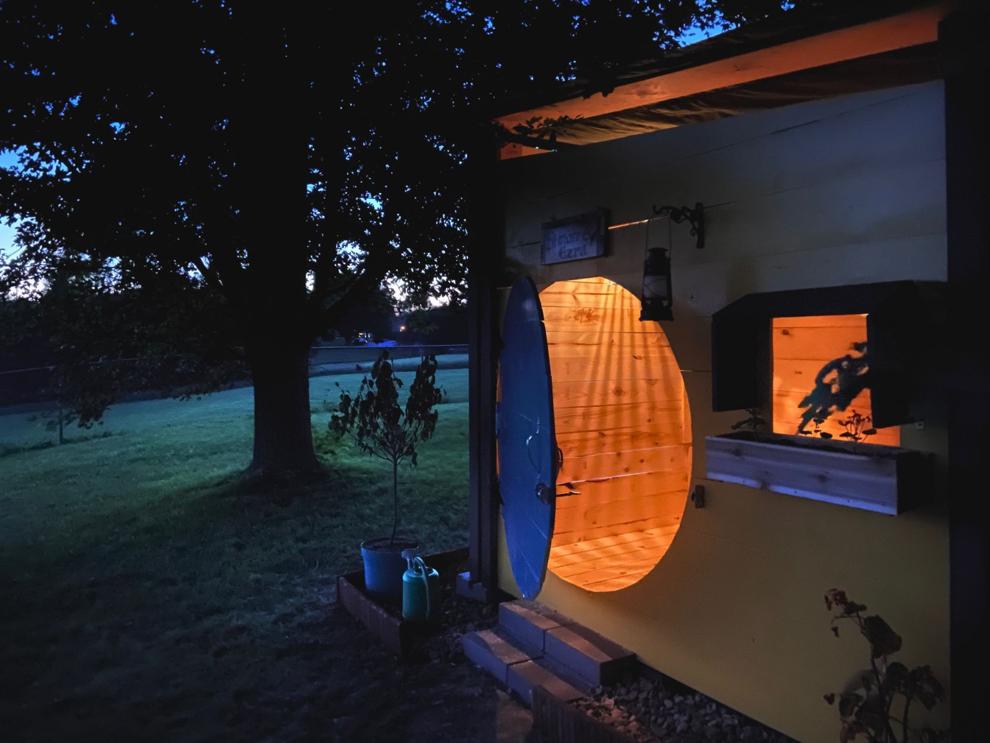 When he started the playhouse back in May, he didn't tell his kids what he was up to. All they knew was "dad was working on a special project."
Jordan did the hard work of leveling the footings — "digging, lifting, digging more, lifting more, checking the level, digging again." Once the foundation was built and the framing went up, delays set in. Rain, wind, heat advisories, a hurt back and a sick child put a hold on the "special project" for several weeks.
"We would all look out the window at it and say, 'I wonder what it's going to be?' " Jordan said.
When it was finally time for the finishing touches, the entire family was outside holding pieces in place, passing screws and nails and testing the structure's sturdiness. At this point, the boys started to realize the "special project" looked a lot like a playhouse.
And not just any playhouse. A Hobbit playhouse.
Jordan said they were as thrilled as he hoped they'd be.
"When we put the final touches on, my oldest, Simon, said to himself, 'This is the best day ever.' They still call it 'the special project,' " Jordan said.
The playhouse was finished the first week of August — on the very last day of summer break for the couple, who are both teachers with Omaha Public Schools.
"Every time I thought I was close to the building stage I'd say, 'I need to go to Menards again,' and (my wife) would just grin at me," he said. "I don't think she had any idea it would take as long as it took for me to see it all the way through."
The boys play in the Hobbit house every day. Jordan and his wife have plans to enjoy it more as the school year settles in and the season changes. Someday, they'll add a stone pathway to the clubhouse from their deck.
Jordan said he'd do it again in a heartbeat. His advice for parents looking to take on a similar project: Keep the purpose of the playhouse in mind.
"Many times, I would get frustrated because something wasn't turning out the way I thought it would, or I'd realize I made a mistake on something and get disappointed, and my wonderful wife would remind me, 'They're going to go crazy over this; it doesn't matter!' " he said. "And she was right. Have fun dreaming, and know that however it turns out, your kids are going to go bonkers."