Creamy, brothy, chunky, spicy, cold, hot and everything in between — there are about a million ways to enjoy a good cup of soup.
Thanks to January being National Soup Month, you have a reason to bring out the soup pot and whip up your favorite batch.
If you don't have a favorite, here are four delicious recipes to try.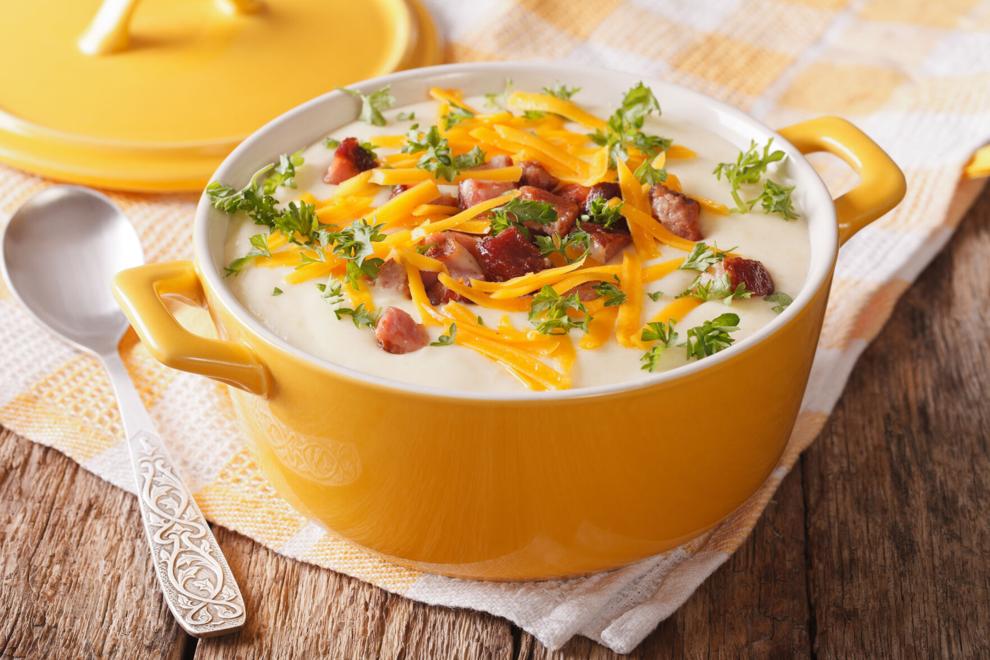 Cooking Classy Creamy Potato Soup
Submitted by Marjie Ducey
• 6 cups peeled and diced Russet potatoes (about 5 medium potatoes. Dice into ¾-inch cubes.)
• 1½ cups chopped yellow onion (1 medium)
• 1¼ cups peeled and diced carrots (3 medium)
• 1 cup diced celery (2 stalks)
• 2 (14.5 ounce) cans low-sodium chicken broth
• Salt and freshly ground black pepper
• ⅓ cup all-purpose flour
For serving: Crumbled bacon or chopped cooked ham, shredded cheddar cheese, chopped green onions or chives
1. Combine diced potatoes, carrots, celery and onions with chicken broth in a large stockpot. Season with salt and pepper to taste. Cover pot and bring to a boil over medium-high heat (it will take about 10 minutes to reach a boil). Once it reaches a boil reduce heat to medium and continue to cook about 15-20 minutes longer until potatoes are very soft when pierced with a fork.
2. Meanwhile, in a medium saucepan, melt butter over medium heat, add flour and cook for 1 minute while whisking constantly. While whisking, slowly add milk and cook, stirring constantly until mixture begins to lightly bubble and thicken. Season with salt and pepper to taste. Once potatoes are soft add thickened milk mixture to potato soup mixture and stir (potatoes should start breaking down into soup, if not cook a few minutes longer). Add sour cream and mix well.
3. Ladle soup into serving bowls, top each serving with bacon or ham, cheddar cheese and green onions (Note: the soup will thicken as it rests so if you happen to have left overs you can thin with a little water).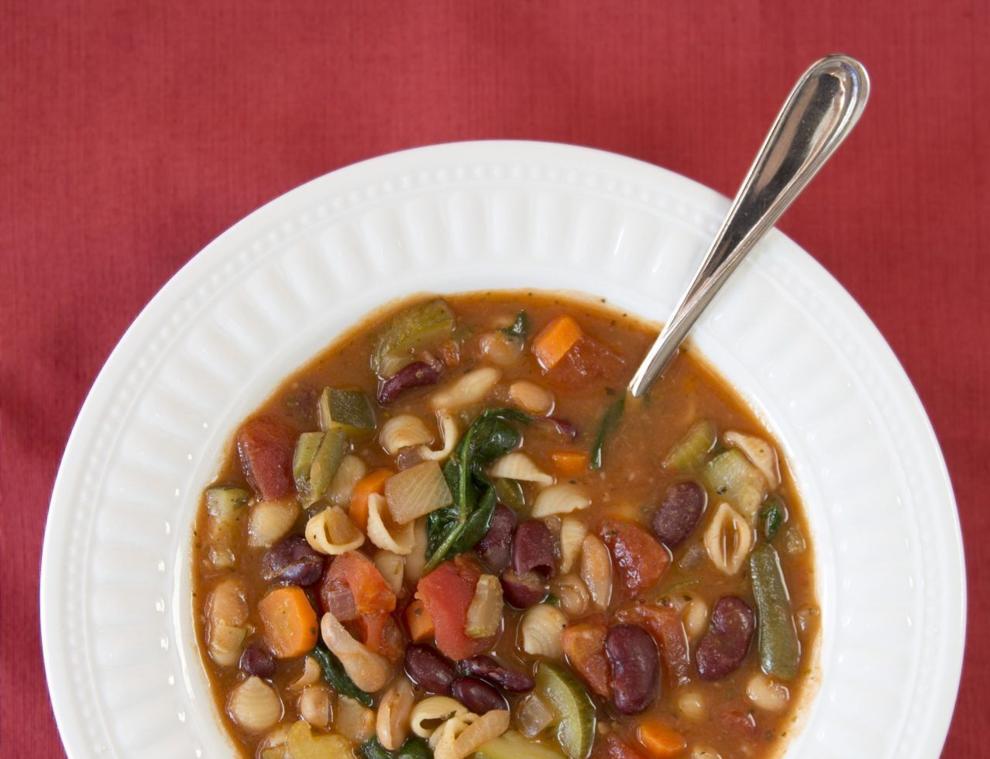 Minestrone
This soup is an easy way to get the family to eat their vegetables. This highly adaptable soup is hearty enough to serve as a main course.
• 2 tablespoons olive oil
• ½ cup carrots, peeled, quartered and sliced
• 1 zucchini, quartered and sliced
• 2 teaspoons minced garlic
• Salt and pepper to taste
• 14-ounce can diced tomatoes
• 2 teaspoons Italian seasoning
• 15-ounce can small white beans, drained and rinsed
• 15-ounce can kidney beans, drained and rinsed
• ½ cup frozen cut green beans
• ½ cup small shell pasta
• 2 cups baby spinach leaves
Optional: shaved Parmesan
1. Heat olive oil in a large pot over medium-high heat. Add onion, celery, carrots and zucchini.
2. Cook until vegetables are tender, 3-5 minutes. Add the garlic and cook for 30 seconds. Season vegetables with salt and pepper to taste.
3. Add the tomatoes, vegetable broth, tomato paste and Italian seasoning to the pot. Bring to a simmer.
4. Add the white beans, kidney beans, green beans and pasta to the pot. Simmer for 10-15 minutes or until pasta and vegetables are tender.
5. Season soup with salt and pepper, to taste.
6. Stir in the spinach leaves and cook for 2-3 minutes or until wilted.
7. Serve with a side of crusty bread and shaved Parmesan, if desired.
Note: Chop the vegetables as uniformly as possible for even cooking. You can swap out any of the vegetables to fit your individual preferences or use what's in season. Try potatoes, butternut squash, sweet potatoes, leeks or kale. For extra protein, add some cooked Italian sausage.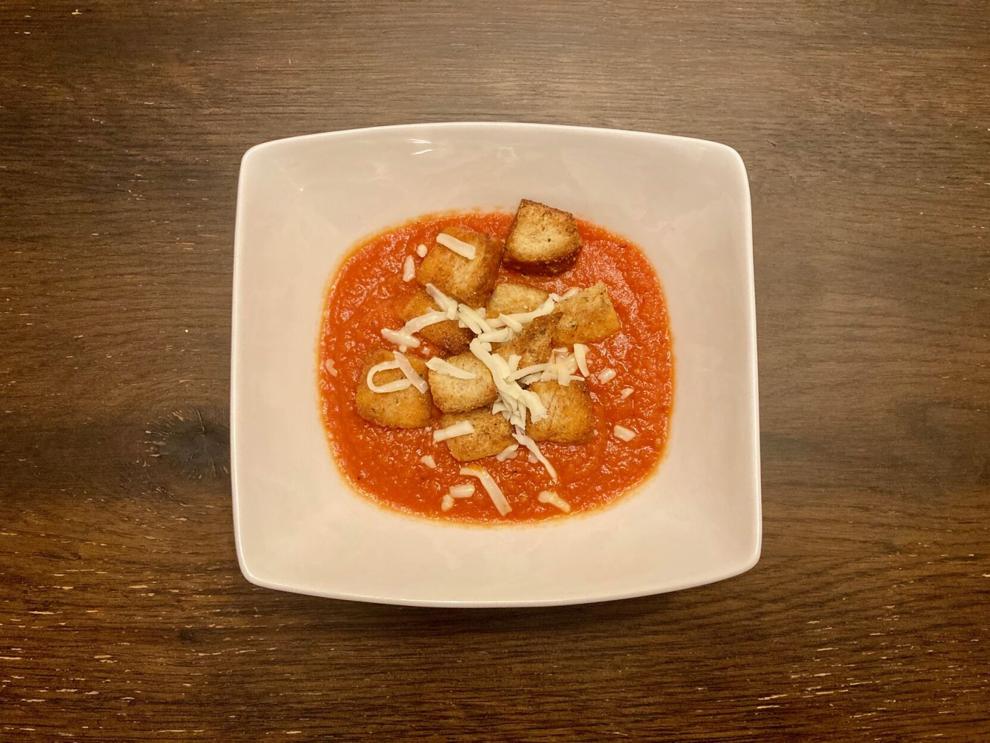 Roasted Tomato and Red Pepper Soup
Submitted by Ashlee Coffey
• 2 (28 ounce) cans of diced tomatoes (you can substitute 6 cups of chopped fresh tomatoes)
• 2 tablespoons olive oil
• 6 to 7 garlic cloves, peeled
• 2 large red bell peppers
• Red pepper flakes to taste, optional
• 2 teaspoons red wine vinegar
1. Preheat oven to 400 F. 
2. Place the tomatoes and onion on a large rimmed baking sheet (or divide into two smaller baking sheets if needed). Drizzle one tablespoon of olive oil and sprinkle salt over the tomatoes and onions, and spread out evenly.
3. Place garlic cloves on a piece of tin foil, drizzle with a tablespoon of olive oil and wrap tightly. Put the garlic on the baking sheet and roast everything for 20 to 22 minutes.
4. Roast the peppers. (You may need to wait for the tomatoes, onions and garlic to finish roasting.) Turn on your broiler. Put the peppers on a rimmed baking sheet and place them as close to the broiler as possible. Broil 3-5 minutes per side or until all sides are well charred.
5. Once the peppers are charred, put them in a large mixing bowl, cover with plastic wrap and let sit for 5 minutes. The steam trapped in the bowl will help loosen the skin. Then use a paper towel to peel off most of the blackened skin from the red pepper. (Careful! The peppers will still be very hot.) Leaving behind some charred skin will add some smoky flavor. 
6. Remove the core and seeds from the pepper and roughly chop. 
7. Add all ingredients to your blender — including the roasted vegetables as well as red wine vinegar, red pepper flakes and 2 teaspoons olive oil — working in batches so that the blender is only halfway full at a time. Blend until smooth. Taste and adjust seasoning as needed. It may help to add the blended soup into a pot and heat it on the stove. 
Note: It's good on its own, but you can serve the soup with crusty bread, rolls or even a grilled cheese sandwich. We like to have it with croutons and a sprinkle of Parmesan or Romano cheese.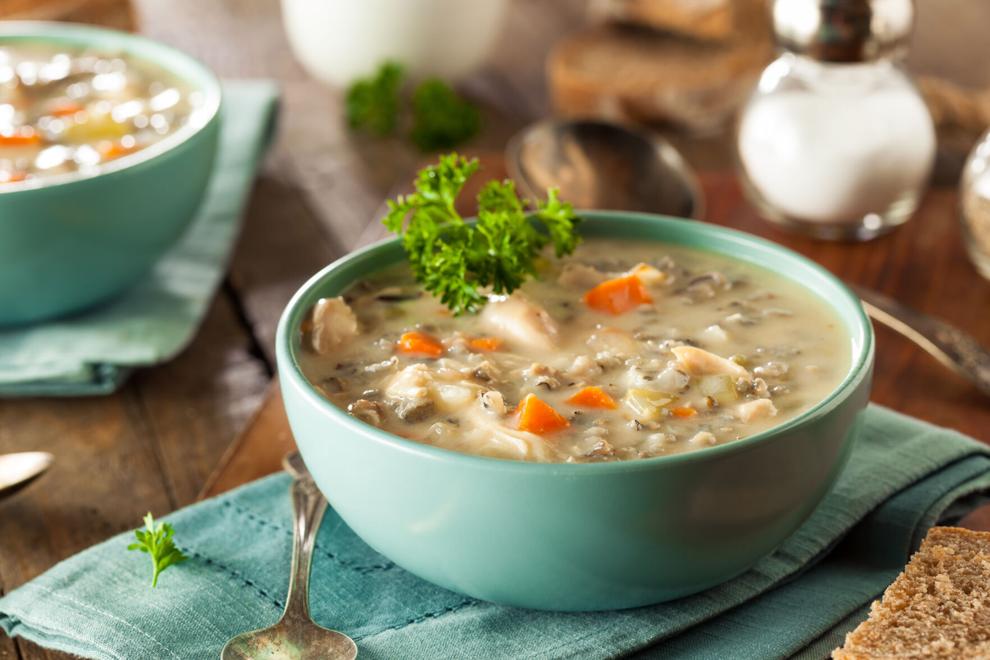 Chicken and Wild Rice Soup
Submitted by Betsie Freeman
• 4 tablespoons salted butter
• 3 celery ribs, cut into ½-inch pieces
• 2 carrots, cut into ½-inch pieces
• 2 garlic cloves, minced
• 1½ teaspoons fresh thyme, finely chopped
• Freshly ground salt and pepper
• 2 quarts low-sodium chicken broth
• 4 cups bite-size pieces of rotisserie chicken or leftover baked chicken
• 1 cup heavy cream (can substitute half-and-half for a lighter soup)
1. Melt butter in a large saucepan. Add the chopped vegetables plus the thyme and a generous pinch of salt and pepper. Cook over moderate heat, stirring occasionally, until vegetables start to just soften, about 8-10 minutes (don't overcook.)
2. Sprinkle the flour over the vegetables and cook, stirring constantly, until the vegetables are evenly coated and the roux is light brown.
3. Add the wild rice to the pan and gradually stir in the chicken broth and water. Bring to a boil, reduce to a moderately low heat and cook, stirring occasionally, until the vegetables are tender, about 30 minutes. (I like the veggies a little firm, so I cook them a little less).
4. Add the chicken and simmer, still stirring occasionally, about 10 to 15 minutes longer until the wild rice is tender.
5. Add the cream or half-and-half and season with salt and pepper. Ladle into bowls and serve. Can be cooked ahead and refrigerated for up to two days. Gently reheat before serving.
Adapted from Food and Wine Magazine