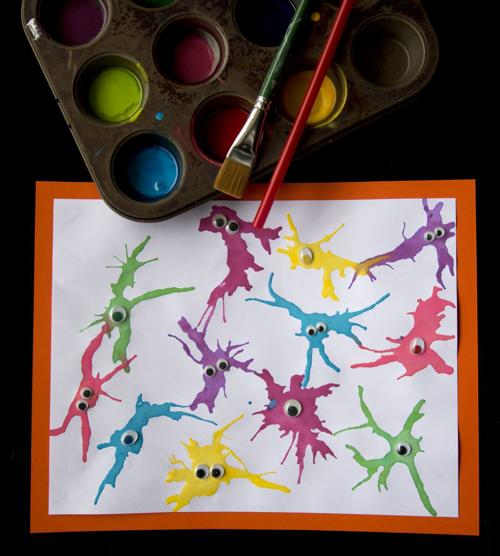 For parents looking for STEM activities, here's an art project and a hygiene lesson in one. The kids get to play chemist by mixing their own watercolor paints. While painting, they can learn how germs form and spread. Display the artwork above the sink and elsewhere around the house to remind everyone to wash their hands.
Talking points
Germs are tiny living things that can make you sick. They are so small that they can sneak into our bodies without being noticed. In fact, germs are so tiny that you need to use a microscope to see them. When they get in our bodies, we don't know until we show symptoms of being sick.
Most germs are spread through the air in sneezes and coughs. But germs can also spread in sweat, saliva and blood. Some pass from person to person when you touch something that is contaminated, like shaking hands with someone who has a cold and then touching your own nose.
Remember the two words that germs fear most: soap and water. Washing your hands well and often is the best way to beat the invaders. Wash your hands every time you cough or sneeze, before you eat or prepare foods, after you use the bathroom, after you touch animals and pets, after you play outside and after you visit a sick relative or friend.
There is a right way to wash your hands. Use warm water and soap, and rub your hands together for 20 seconds — which is about how long it takes to sing "Happy Birthday" twice. Remember to scrub between your fingers and under your nails.
Cover your nose and mouth when you sneeze, and cover your mouth when you cough to keep from spreading germs. If you have to cough, do it in your elbow. Then wash your hands.
Using tissues for your sneezes and sniffles is another great weapon against germs. But don't throw your tissues on the floor. Toss them in the trash and then wash your hands.
Germ watercolor blow painting
Watercolor paints (DIY instructions below)
Paintbrushes
Straws
Thick white paper
Construction paper
Googly eyes
Glue stick
Water
1. Use a paintbrush to add a small puddle of paint onto the paper.
2. Place a straw about an inch away form the puddle. Use the straw to blow the paint blobs around in all directions. Try blowing down directly onto the puddle, from the left and from the right. See how many different shapes you can make with the watercolors.
3. Repeat this step with other colors.
4. Let the paint dry completely (to speed the process, use a blow dryer).
5. Glue googly eyes on each blow-paint germ. (You also could cut circles from the white paper and draw eyes with a black marker.)
6. Glue the white paper onto a piece of colored construction paper for accent.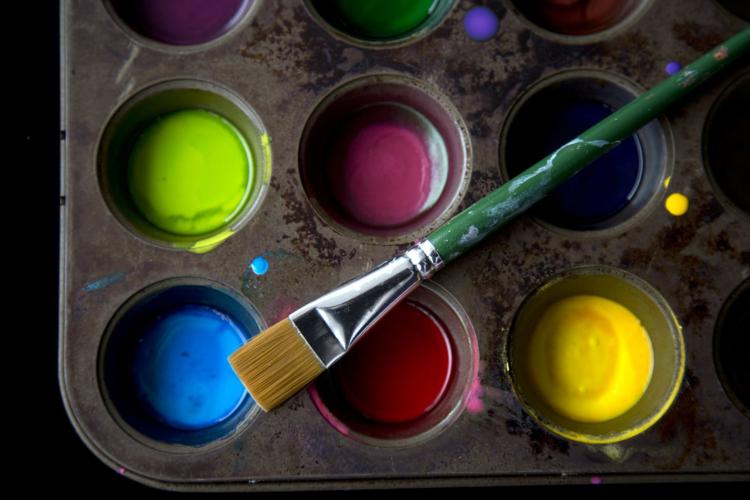 DIY watercolor paints
4 tablespoons baking soda
2 tablespoons white vinegar
½ teaspoon light corn syrup
2 tablespoons cornstarch
Assorted food coloring
1. In a mixing bowl, mix baking soda and cornstarch. Add vinegar until fizzing stops and mix well. Add ½ teaspoon corn syrup. Mix until you have a uniform consistency.
2. Divide the mixture into small containers such as egg carton cups, mini muffin tins or paper cups.
3. Add five to 10 drops food coloring to each cup, mixing thoroughly, to reach desired colors. (This is a good way to teach color mixing: using primary colors to get secondary colors.) The handle of a spoon works well to stir.
4. Allow paints to set overnight.
5. Use paints on watercolor paper with a wet paintbrush.
Omaha World-Herald: Momaha
Receive advertised offers, event promotions and discounts for you and your family. Created with parents in mind!