In the attic of a 100-year-old Lincoln home is a secret that has been safeguarded for seven years.
But last month, the much-anticipated mystery was revealed.
Clint Runge, 46, built a playroom in his home for his children, Ruby, 6, Pace, 4, and Reggie, 1, but it's been hidden behind a secret bookshelf and up a flight of narrow stairs since before they were born. Using a treasure hunt that spanned their entire property, Runge and his wife, Kristin, finally revealed the mysterious room to the kids.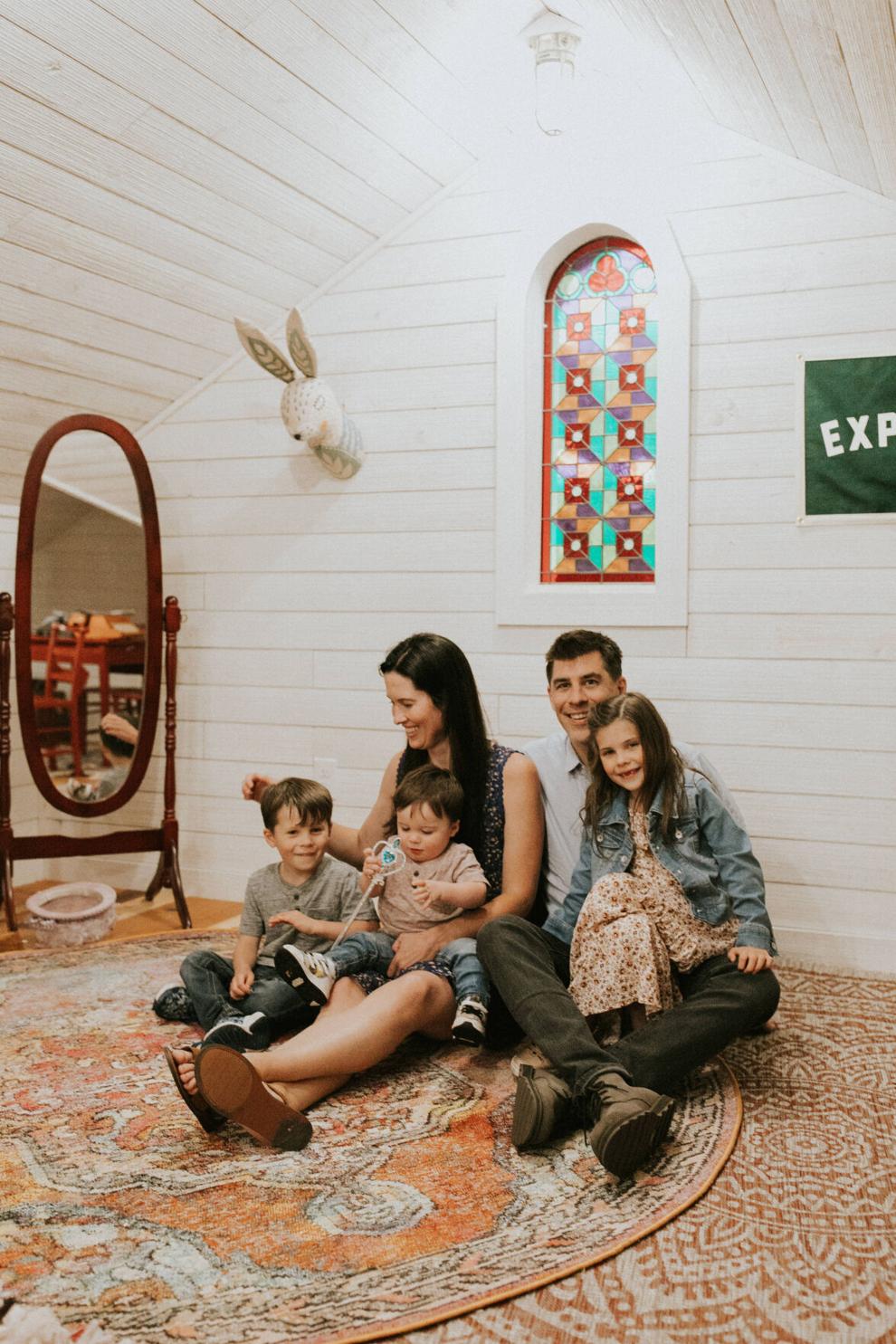 "I'm really into mysteries and curiosities," said Runge, who is also a magician as a hobby. "I like this idea of a secret that's revealed. It's part of my DNA; it's who I am."
The Runges bought their house, which sits in the Country Club neighborhood of Lincoln, in 2013. At that time, they weren't yet expecting any children. Still, they knew they wanted to create an epic secret playroom for future kids to find. Their daughter, Ruby, was born in 2014. 
"It's such a unique piece of property. When you look at it, you think, 'There's so many mysteries to this house,' " Runge said. "The house just feels like it would have a secret room."
The couple, who planned to renovate the house, took note of the unused attic space above what is now the kids' room. Runge, who has an architecture degree, worked with Zongkers Custom Woods, Inc., to create the bookcase door that, with the pull of the book "Robinson Crusoe," opened up into the staircase. The bookshelf was made to match the woodwork and details of the rest of the house because Runge wanted to "make it feel like it'd been there forever."
"There's a lot of ways to build secret doors, but I wanted the most typical, cliché thing," Runge said. "I wanted it exactly the way you'd read about it in a mystery novel. I wanted the book to pull and have it open."
Once the room was built, Runge took the last two years finding stuff to add to the room.
"I waited long enough to know my kids' personalities," he said.
He found old kids records and a record player for Ruby, who loves music. For Pace, who loves building things, the couple added Legos and a Lego table. There's an old cuckoo clock hanging on the wall, an old mirror, a globe, maps and a treasure chest full of costumes and dresses.
Some people might have a hard time hiding a big secret like that for so long, but not Runge.
"I was in it for the long haul from the beginning, so it was fairly easy for me to keep," he said. "Maybe that's the magician in me."
Last year, during the height of the pandemic, Runge almost decided to reveal the secret but decided against it because he felt they were too young. Still, he kept planning and prepping.
"These kids are curious creatures. I got them into reading mystery books and solving clues, and watching movies with mysteries," he said. "During stories before bed, I'd include stories with secret rooms. I prepped them in their young life for something like this."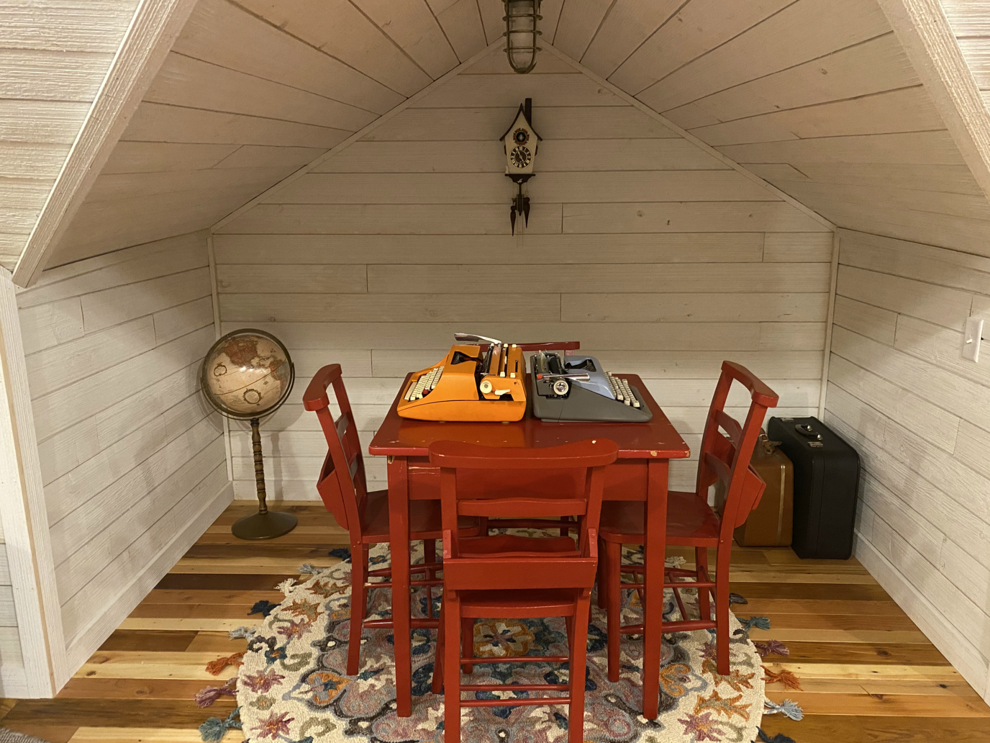 Last month, the couple finally decided it was time.
"They were getting really close to the old books on the bookshelf. They were becoming more interested in things on (it)," he said. "I thought, 'Let's do it now before they accidentally ruin it.'"
When the chance to begin the treasure hunt to the room presented itself, Runge jumped on it. The kids had written a letter to their family "ghost," Olive, to return Pace's old train set, which the couple had gotten rid of years before. Runge laid out 10 clues, which he'd secretly been planting as they renovated different parts of the house over the years, and came up with a way to string them all together. 
Once everything was ready, he wrote a note to the kids from Olive and the treasure hunt began. Highlights included an invisible ink note, a secret tile by the fireplace that held a special key, a headboard that had a mysterious keyhole, a sundial mystery and a relief sculpture with the name of the book that opened the secret staircase.
The kids absolutely loved it and the entire treasure hunt went off just how Runge hoped: "I don't know what I expected, but it's what I hoped," he said. "After the first clue, they were into it."
When Runge opened the secret bookshelf door and they got their first look at the mysterious staircase shrouded in darkness, Ruby bravely exclaimed, "I'm going up there!"
The couple wanted to be in the moment sharing the fun with the kids, but they were able to take snippets of video, which they strung together to create a short movie they shared to social media. So far, the video has gotten more than 700 views.
Armed with flashlights — and a request from Pace to hold dad's hand — they made their way up to the room to discover its secrets. They ran from one part of the room to another, shouting with excitement. In the video, you can even hear Pace utter a "Thank you, Olive," when he spots his long-lost train set (which Mom and Dad purchased again). 
Since the discovery, Runge said the kids are up in the playroom every day — though he makes sure they get outside time first. 
Runge said he often gets asked: "What are you going to do next?" 
"My son, Reggie, is 1, and now I'm thinking of the longer game," he said. "I'm gonna build something into the whole house that these kids have to discover when they're 15 or 16 years old with a different level of challenges. So I want to build that out and have some new thing revealed. That's now my next thing."
---