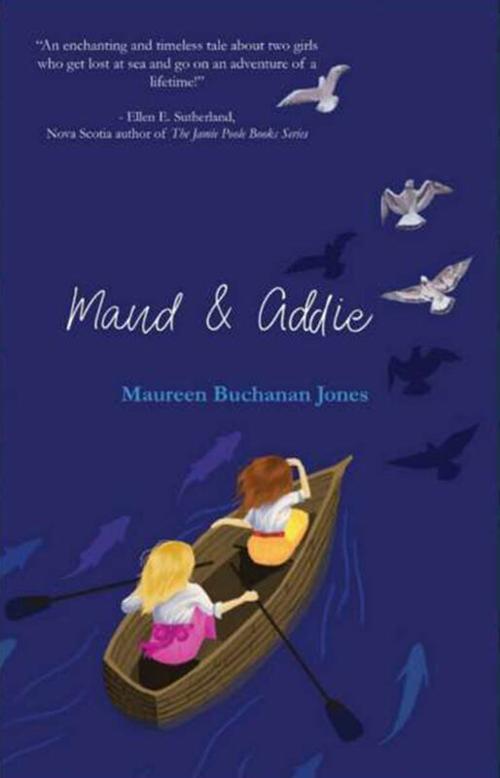 A forgotten chore, a dose of laudanum and a dream of pirate treasure converge with disastrous consequences and life-changing adventure in the middle-grade historical fiction novel, "Maud & Addie" (Regal House Publishing) by Maureen Buchanan Jones. The year is 1910. The location is Mahone Bay, Nova Scotia. Two sisters from Halifax are staying at their family's summer home while their parents are traveling through India for their father's tea-trade business.
Addie, the eldest, seems destined to follow in her mother's genteel footsteps, keeping up on the latest fashions and developing her social prowess. She's a bookworm lost in romantic daydreams and couldn't be more different from her younger sister. Maud cares little about her appearance, polite society or chasing after boys. In fact, she'd rather race boys — and win. Inquisitive and practical-minded, she wants to learn how things work and gets her hands into as many of those things as possible. Less than a year apart in age, they squabble incessantly, though never with any real cruelty. Little do they know that their differences will become their strengths in the coming weeks.
A SOCIAL OUTING GOES AWRY
Their plans to attend the town's summertime Social are temporarily thwarted when the carriage meant to convey them passes by. It turns out that Min, a mysterious and ailing houseguest helping to oversee the girls, forgot to arrange for it to stop for them. Meanwhile, Addie has found laudanum in the guest's bedroom and taken a swig, hoping to dilate her pupils into the dreamy look she sees in Min's eyes. Ever the practical one, Maud convinces her sister that they can simply row across the bay to the fairgrounds if they can find a boat. And maybe take a detour to search for pirate's treasure, she thinks privately.
The girls succeed in reaching the Social, but nothing goes well. Addie gets sick from the laudanum, though she keeps the reason a secret from her sister. Maud wins a marble match, yet the boys she's playing with won't acknowledge it. Dejected, they wait until the festivities are over and head for home in the borrowed dinghy. But Maud has other plans and while her sister sleeps off her illness (or rather, the laudanum), she sets her course for some pirate caves she's been told are in a nearby cove. What she doesn't expect are the strong currents she'll encounter, or that the waves are too powerful for her ability to row, and the girls are swept out into the open ocean, unobserved.
LOST ON A DESERT ISLE WITH ONLY THEIR WILL TO SURVIVE
What happens next will test their wits and courage — and forever change their relationship. After a storm nearly swamps their tiny boat, they land on a deserted island with nothing but the clothes on their backs, some picnic food in their basket and a carriage blanket. With Maud's impressive hands-on know-how and a little dash of Addie's book learning, the girls somehow manage to make a shelter, find food and water, and settle in to wait for a rescue that day by day they begin to realize may never come. Addie, never much help on practical matters, finds herself totally dependent on Maud's strength and skill for survival, so when the worst happens and Maud is unable to provide for the pair, Addie must take charge of their welfare — and destiny — for the first time in her life.
Reading "Maud & Addie" is like stepping back in time — or more accurately, into the pages of a classic children's book like "Anne of Green Gables" or "The Adventures of Huckleberry Finn." There is a charming, old-fashioned feel to the story, though its themes of sisterhood and personal growth are universal across time. The girls' relationship with each other is by turns funny and touching with a depth, complexity and evolution well rendered in both the characters and their actions. The girls may be lost on an island, but it is there that they truly find themselves and each other.
Strong characters and an engaging plot are often enough to propel a story forward. But the real star of the show is Jones's use of language. Her descriptions of the flora and fauna of the island, the water and the sky, the sand and the stones are as poetic as they are vivid. With its well-crafted, fluid sentences, this is prose to be lingered over, not skimmed through. You can taste the salt in the air, feel the grit of the sand, smell the seaweed drying in the sun. You'll never want to leave Maud and Addie's island. Or, for that matter, the company of these two believable and endearing characters.