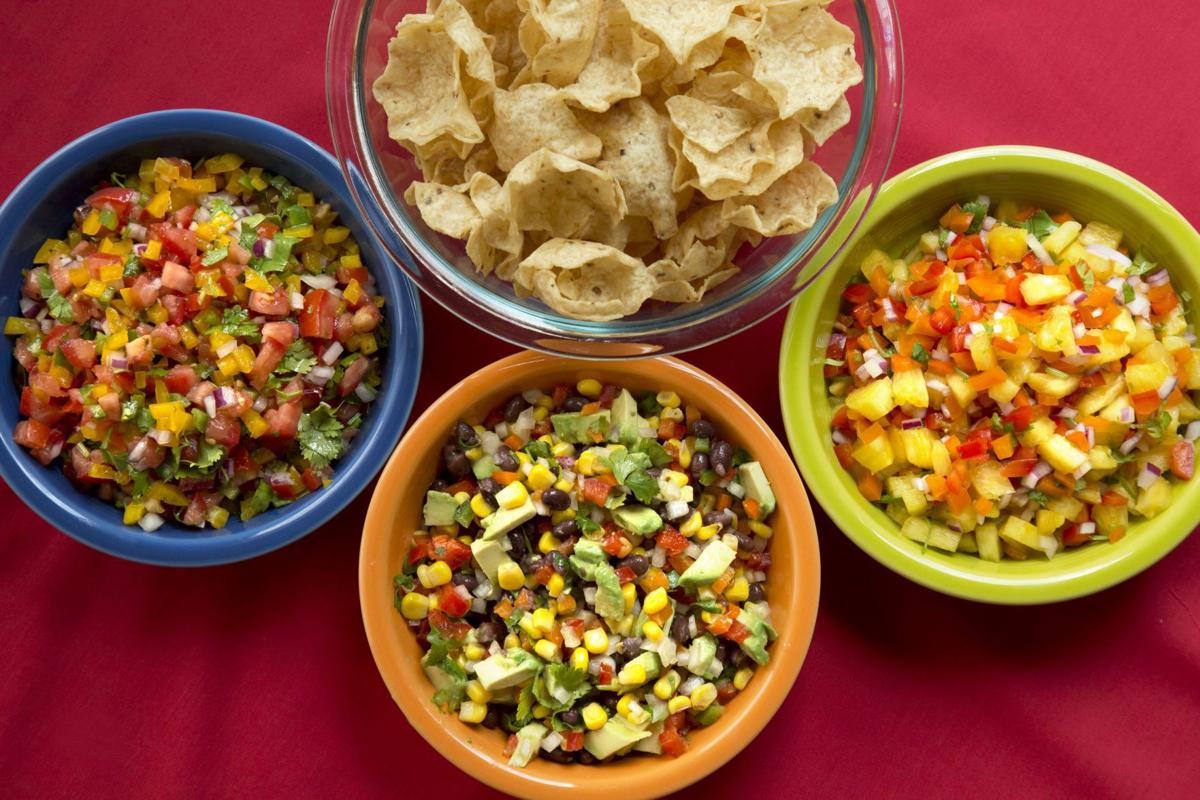 When fresh produce fills my garden and farmers market stands, my weekly meal plans begin to revolve around homemade salsas. The variations are endless, and salsas are an easy way to get your fill of fruits and vegetables. These recipes are great over chips, as a topping on a salad or grain bowl, or as a side with any protein.
Black Bean and Corn Salsa
15-ounce can black beans
15-ounce can sweet yellow corn
1 red bell pepper, diced
1 orange bell pepper, diced
1 avocado, diced
½ sweet onion, diced
1 jalapeno, diced
½ cup cilantro, chopped
½ teaspoon cumin
½ teaspoon garlic salt
2 tablespoons lime juice
Tortilla chips
1. Drain and rinse canned corn and black beans.
2. Mix all ingredients together and serve immediately with chips.
3. If not eating right away, wait to add avocado until just before serving.
Tomato and Sweet Pepper Salsa
2 medium tomatoes, diced
1 small red or yellow pepper, seeded and diced
1 jalapeño pepper, seeded and diced (optional)
5 tablespoons red onion, chopped
4 tablespoons cilantro, chopped
¼ teaspoon dried oregano
2 teaspoons red wine vinegar
2 teaspoons olive oil
1 teaspoon minced garlic
¼ teaspoon sugar
Salt and pepper to taste
1. Combine all ingredients in a non-metalic bowl.
2. Cover and refrigerate until ready to serve. This recipe can be prepared up to two days in advance.
(Source: Adapted from a recipe by World-Herald photographer, Chris Machian)
The Best Pineapple Salsa
1½ cups small diced pineapple
¾ cup orange pepper, diced
¾ cup red pepper, diced
½ cup red onion, diced
2 tablespoons minced cilantro
1 teaspoon lime zest
3 tablespoons fresh lime juice
½ teaspoon salt
1. In a large bowl, combine ingredients and stir well.
2. Serve immediately or refrigerate in an airtight container for up to three days.
Be the first to know
Get local news delivered to your inbox!