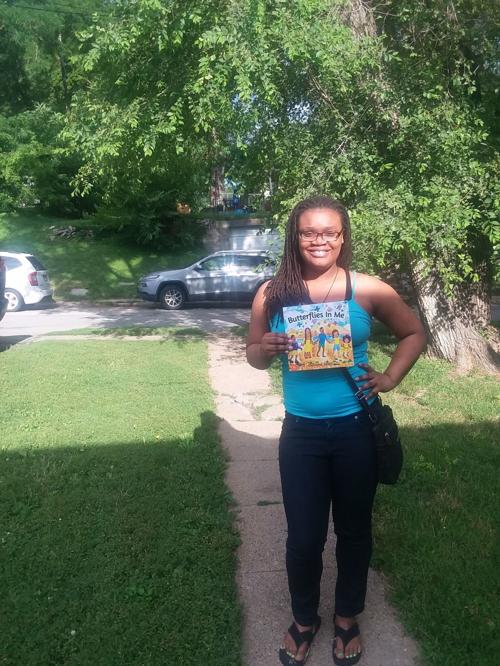 Denisha Seals understands what it's like to suffer from post-traumatic stress disorder, anxiety and depression as a child.
And it's something she doesn't want any other child to go through.
An Omaha native, Seals recently published a children's picture book, "Butterflies in Me." The book, which can be purchased online for $20, was created for multicultural children who have been diagnosed with mental illness, she said. In the book, there are five multicultural characters each with their own unique stories of how they've been diagnosed with different mental health challenges, including ADHD, bipolar depression, depression, anxiety and post-traumatic stress disorder. The common theme, Seals said, is "you are special and strong, and you did nothing wrong."
"The children's book is designed to create open discussion and critical thinking to bring awareness to the mental health challenges minority children face, which are often ignored," she said.
Seals was sexually abused when she was 5 years old. Her experience led her to PTSD, anxiety and depression, which in turn led to to writing and self-publishing the book.
"I prayed about it. I asked God, 'What is my purpose?' And God said, 'Tell your story to help others,'" Seals said. "I want to motivate people to stop the cycle of ignoring a topic that can occur to anyone."
Growing up, Seals said it was tough to keep a focused mind and not go down a path of destruction. She had nightmares, flashbacks, night sweats and anxiety attacks.
When the bell would ring at the end of the day, Seals would cry because she didn't want to go home.
"I isolated myself from people. You are considered weak if you talk about having anxiety, and you're considered soft if you are even sensitive. I'm trying to break that by telling my story," Seals said.
Even in college, she would be so depressed that sometimes she wasn't able to go to class.
"But through the grace of God, I pushed through that and was able to graduate as a first-generation college student in my family."
She also took time to study abroad in Argentina and Spain, and created a documentary featuring men and women of different racial backgrounds telling their story about sexual assault.
Seals, who has always been an avid creative writer, eventually started writing children's book characters with different mental illnesses. She gave the rough draft to her fiancé, Nikitah Imani, to look over, and he suggested that she should publish it. She was unsure of the idea at first, but eventually decided to self-publish the book.
While this is her first published book, she plans to write more in the future. Seals is also working on a documentary, "No Longer Silent: Hear Our Voices," which she hopes to license this fall.
"(The documentary) Designed to give survivors of child molestation and sexual abuse an opportunity to have their voices heard, and to have public policymakers and potential allies gain a greater awareness of the devastating effects of such negative social interaction on the lives of individuals, the community and social fabric as a whole."
Seals hopes telling her story will help people tell their story and start the healing process.
"I want to be the voice for other's who can't find their voice or are struggling to find their voice. I feel like my purpose is to help other people."​