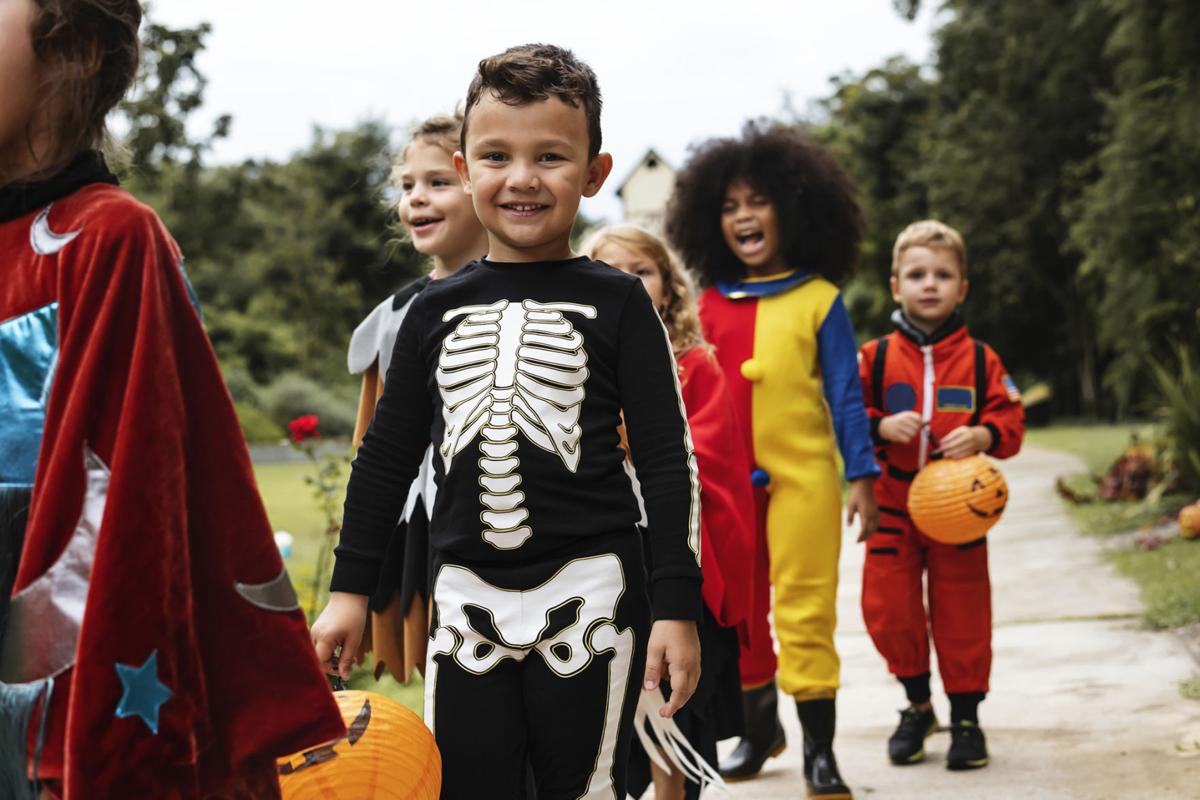 Q: Your child wants to go out trick-or-treating with friends. How should you handle the request?
A: The first thing you want to do is determine your risk level. What is the daily positive test percentage in your county? If in the 5 percent to 10 percent range or lower, risks are low.
What is your family's health risk? Is there a parent who has obesity, diabetes or chronic pulmonary conditions such as asthma or COPD? Is there a family member you see often who is over 65? What is your community doing? How far afield do they want to go? Will your kids be outside the whole time? Risks are much higher in an apartment building. Are they willing to wear COVID-19 masks underneath their costume mask? Are they willing to social distance? Will they use hand sanitizer after getting candy? Can they not eat any until they're home and hands are washed? If your child is too young to be expected to remember these precautions, you must accompany them.
Your child will be far more likely to agree to a plan if she feels a part of the decision-making and her side of the argument is heard and considered. Even if she doesn't get what she wants, feeling heard will go a long way. Let your child know you need to make an agreement you are all OK with. Hear your child's case first. Why does she want to go with friends? How important is it to her?
Then list the risks and benefits. Masks are non-negotiable. Only go to houses where the host is wearing a mask. Acknowledge that you, of course, want Halloween to be normal and fun and share what you're concerned about, then hear your child's response. Are the friends responsible enough to follow the protocols?
Some possible negotiating points are: Are we all willing/able to stay away from grandparents or compromised family members for two weeks? Perhaps the trick-or-treating stays within your block. Perhaps mom or dad accompanies to ensure protocols are kept for safety and promises to stay at a distance.
If your risk level is high: Hide candy around your yard for your child and friends to find, or invite a couple of friends to watch a scary movie at your house.
— Bonnie Harris, parenting specialist, founder of Connective Parenting and host of the podcast "Tell Me About Your Kids ..."
A: As the parent, your parental judgment needs to prevail. Traditional door-to-door trick-or-treating is basically going to be out this year, but that doesn't mean your kids have to skip Halloween. It does mean getting creative about safe ways to enjoy this kid-centered holiday. It also means having the adult perspective that safety and health are more important than a fun, one-day commercial holiday.
Check out the Centers for Disease Control and Prevention's list of low-risk activities for Halloween. Remember that Halloween masks are not protective cloth masks! So when planning a costume, let your child come up with something creative that can incorporate a cloth mask.
Scary things might not be the way to go this year, because screaming pushes air out much farther than normal breathing, so you need to be even farther away to avoid contagion. And kids are feeling so much stress these days that they may be more easily upset and frightened by scary content.
Depending on age, this may not be the year for kids to do something without adult supervision because without reminders and in the throes of fun and peer pressure, many children will simply bunch together and take off their masks.
Because it's been such a difficult time, it is good to help yourself and your child have fun! So have Halloween. But teach your children that making changes to the holiday to protect others and yourself is not only doable but is part of being an ethical, good, kind world citizen. Show them the value of creative problem solving by brainstorming your alternatives and their implementation. This may also be a great year for parents to dress up, increasing the number of costumed players in your pod, modeling that you like to have fun with them and helping them feel that, through the tough times and the good times, you're all in this together.
— Dr. Gail Saltz, associate professor of psychiatry at the New York Presbyterian Hospital Weill-Cornell School of Medicine and host of the "Personology" podcast from iHeartRadio
A: Halloween is a unique holiday. It's one that most of us celebrate. No matter your religion or location, we can agree that wearing a costume, hanging out with neighbors and receiving free candy is a good time. This year has been so weird, we are all longing for something normal. Dressing up in costumes and going trick-or-treating with friends is a tradition for most of us and it's hard to hear that it's not happening this year.
Listen to your kids' requests, take them seriously and let them down softly. Trick-or-treating in a traditional sense is just not safe in 2020. Open up the conversation in an age-appropriate way to talk about alternatives.
For preschoolers and young elementary-age kids, let them know we can't go door to door this year. It's not safe because we can't social distance and stay 6 feet apart. For middle schoolers and high school age kids, you might receive more pushback, so my advice is to keep it real.
The CDC describes trick-or-treating as a high-risk activity. It's not worth the risk. Redirect the focus as quickly as you can. Use the conversation to talk about alternatives and what we can do. Put on your thinking cap, and explore other options. You could have a Zoom pumpkin-carving contest, a costume drive-by parade, or a Halloween-themed movie night at home. This pandemic has caused us all to be extremely creative; this is another chance to start new traditions.
2020 has been hard on all of us, but especially our kiddos. Have a listening and compassionate ear but stay strong. Our job is to keep them safe.
If you are looking for me on Halloween, I will be on the couch, fully dressed in costume, while my 4-year-old and I eat our way through a Costco-size bag of candy!
— Jenny LeFlore, founder of Mama Fresh Chicago
Omaha World-Herald: Momaha
Receive advertised offers, event promotions and discounts for you and your family. Created with parents in mind!