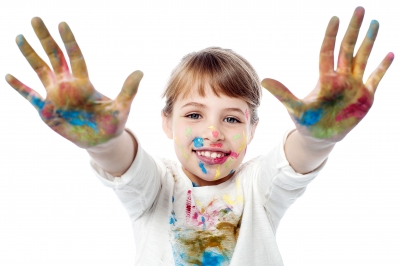 A lot of parents are often confused about the types of art products and paints that are suitable for use by their children.
Most parents are unsure of which types of paint are the safest for their children to use on their various art projects. There are always going to be moments when kids taste paint, or get it on their skin – sometimes even on purpose -  so it is important to know this won't be harmful to them.
Before you start looking for paints for your children to use, you should find out what kind of surface the paint will be applied to. There are a number of different materials that can be used in children's art projects, such as watercolor paper, canvas, wood, fabric, cardboard, and plenty of other materials. As an example, painting on canvas is a lot different to painting on paper, and different paints will be more suited to one or the other.
You should also look at whether your child is planning an art project or whether they just want to casually splash some paint around on some plain paper. Art supplies retailers such as www.jacksonsart.com will have a wide range of paints and painting materials for you to choose from, no matter how proficient your child is at art and painting.
The Dangers of Oil Paints
For canvas painting, oil paints are often used, but these paints can be unsuitable for very small children due to some of the chemical elements contained within them. In fact the general rule of thumb is that kids under the age of 12 should not use oil based paints Paints that are oil based are likely to include chemical solvents such as toluene and methyl alcohol, which are two elements that can give off Volatile Organic Compounds (VOCs).
Also, some of the pigments used for coloring oil based paints can contain a whole list of potentially dangerous and toxic heavy metals such as lead, arsenic and cadmium.
For very small children, it is advisable to start them off on water soluble paints that can easily be washed from clothing and fabrics should spills occur. Plus, as children have a habit of sticking their fingers in their mouths, these paints will not cause them to ingest harmful chemical elements.
Be Aware of Acrylic Paints
Despite being water based, acrylic paints are paints that should be avoided if you have a toddler or relatively young child. Even though acrylic paints are a very useful and versatile paint, they can contain harmful chemicals such as formaldehyde and ammonia.
Despite the fact that most finger paints that you can buy from an art supplies store will be non-toxic, if your child is still young enough to be putting things in his mouth, these paints could still pose a bit of a health problem. Despite being non-toxic, art store finger paints are not meant to be consumed, so in order to avoid any problems, a lot more people are looking at making their own edible finger paints for their children to use safely. Plain yogurt is a great medium to use as a simple finger paint as all you need to color it is a few drops of food coloring.
For slightly older children who wish to finger paint but understand that they should not put the paint in to their mouths, the addition of texture can be fun. Taking finger paints and adding some glitter, sand or sequins can really make a difference and add another dimension to your child's artwork.
There are lots of ways that you can give children a wide variety of paint to experience while still making sure that they are safe. Just take a little time to get to know which types of paint are most suitable for various age groups and then start experimenting.