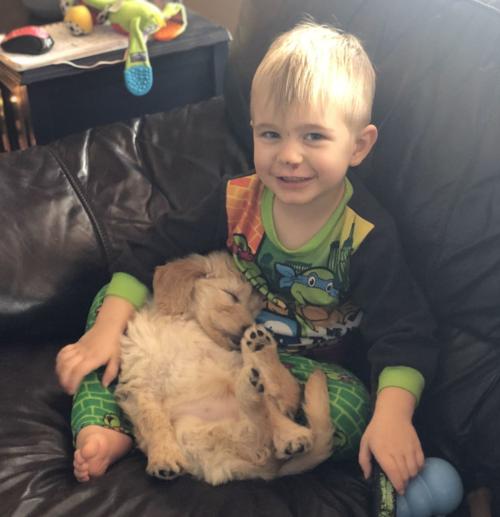 As a mother of five, I'm often asked what age or stage is my favorite. I always reply genuinely with "Whatever age or stage they're in."
I love being a mom. It brings me the kind of joy and fulfillment I didn't know could exist until I had kids, while also stretching me to be a better parent and human. My kids are my favorite people on the planet.
That said, if someone were to ask me what the worst age and stage is, I would — without hesitation — reply with the terrible 3s.
Right now, I have emotional tween girls who are 13 and 11. They cry all the time. They fight all the time — either with each other or with me. Everything they do is high drama and high maintenance. I also have wild, rough-and-tumble boys who are 9 and 7. They break things all the time — with their heads. Sometimes on accident and sometimes on purpose. They're loud, are constantly wrestling and really wear me out.
I also have a 3-year-old. Moment of honesty? He is the worst.
Okay, he's also the cutest and sweetest. I regularly find myself absolutely delighted with him. But I think that's part of the problem. He knows he has me wrapped around his short, chubby finger while he "feeds" the dogs by dumping their entire 40-pound bag of food on my kitchen floor at the moment we have to leave because we're running late.
Three is the age where naps become a daily battle that regularly sets the entire tempo for the day. Do you give the kid a nap? If so, bedtime becomes a living nightmare. Do you then skip the nap? If so, you'll deal with the toddler-turned-grizzly-bear who hates you because you deprived him of the nap. Or he'll fall asleep at supper, only to wake up at 4 a.m. ready to take on the very long, very exhausting day.
This is the time when you fully realize you're in a hostage situation. "We don't negotiate with terrorists" becomes your hourly mantra as your 3-year-old melts down in Target because you won't buy him the Paw Patrol beach towel you just passed. He's wanted it basically his entire life and reminding him that it's the middle of January and he already has one does nothing to stop the crying and kicking.
"I'm not a bad mom," I murmur to myself as we pass by wide-eyed witnesses. "He doesn't even like this show. He's moved on to Power Rangers." I know this because we've watched the same episode on repeat for the last 31 days. I can fully re-enact the show verbatim if you need me to. I'll even throw in the action moves.
Three-year-olds either eat everything in sight — and you've started setting money aside for when they're in high school because you're genuinely afraid of their appetite — or they eat nothing because they've hit a level of picky you didn't think was real before you had kids. Obviously, none of their food can touch, and heaven forbid you cut their pizza into bites when they're perfectly capable of eating it like a big kid.
In fact, they're good to do everything on their own. Life with a 3-year-old becomes a wrestling match of wills, strength and hand-holding as you daily save them from darting into oncoming traffic.
I see you, moms of 3-year-olds, and I think you're amazing. It isn't easy to guide a child who is small and mighty, vulnerable and yet totally capable of fighting for their rights and independence.
In just mere months, they'll be 4 and naps will be smoother or even a thing of the past. Discipline will make sense to them and danger will have an impact. They're only 3 for one short year. We can make it. And when the days get especially hard, just give them about 30 seconds to completely melt your heart all over again.
Rachel Higginson is a married mom to five kids. She is a New York Times and USA Today bestselling author who has received a Utopia Award for Best Contemporary Romance and Penned Con Award for Best Novella Series. She lives in Omaha.
Omaha World-Herald: Momaha
Receive advertised offers, event promotions and discounts for you and your family. Created with parents in mind!