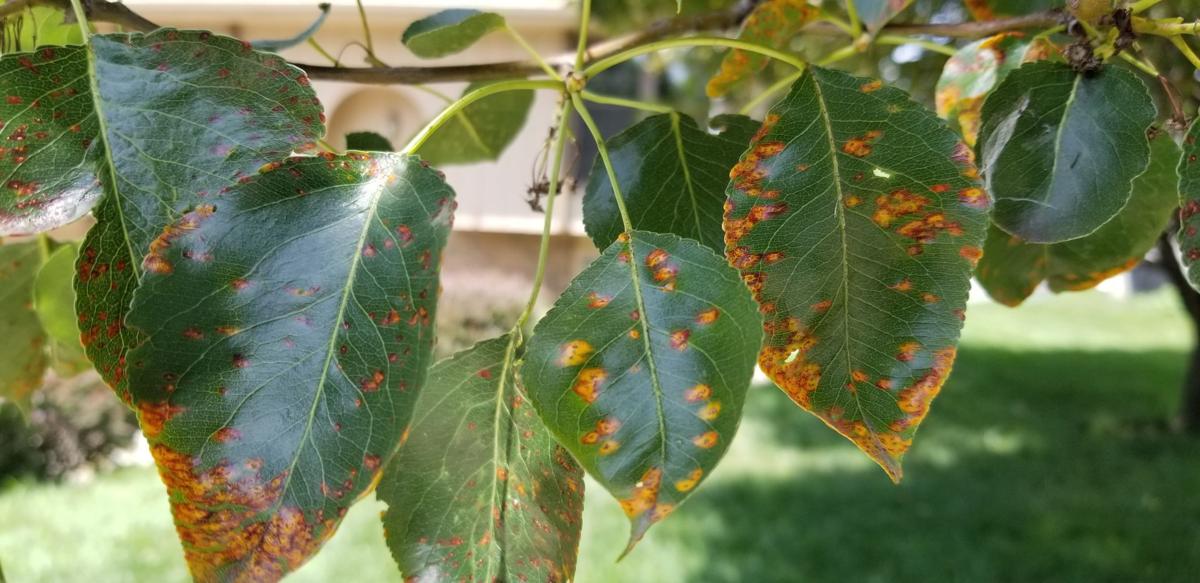 Pear rust, Scott Evans says, is taking the city by storm.
The fungus is turning pear leaves orange and seems to be the focus of about every third phone call to the Nebraska Extension in Douglas-Sarpy Counties right now, he said.
"It's nothing to worry about," said Evans, horticulture program coordinator for the extension.
Bradford pears have been a go-to tree for years — Evans said there are probably six on his block alone. The ornamental tree is popular because it stays small, has pretty white blossoms in the spring and doesn't bear fruit.
But because so many people own them, the fungus has been a big source of concern.
"The nice thing is that it's not going to kill the tree and it's not going to affect the health of the tree," Evans said. "It was just an exceptionally cloudy spring, and this was a very good condition for it to be so prolific."
It also may cause the leaves of the tree to fall early, in late August or early September, he said.
Don't overwater new plants
Don't let the hot weather dissuade you from buying marked-down perennials.
"Take full advantage," Evans said.
When planting, just dig a hole twice as wide as the new plant and mulch around it to conserve water.
But the most important thing to remember?
"Don't love your plant to death," Evans said. "Overwatering is our No. 1 issue right now."
Push back the mulch and check if the ground is wet or dry before watering. If the soil is moist, don't do anything.
Watering every other day or every third day will work, but check the soil first.
An overwatered plant will start to decline, and many plant lovers mistakenly think that's a sign the plant needs water. It's also common that plants wilt during the heat of the day. They'll perk up as it cools down at night.
It takes a while for plants to start growing roots in their new home. Evans said to avoid fertilizing them.
"We don't want to force the plant to grow when it's this hot," he said.
Bees are good
The extension office also is getting lots of reports about leafcutter bees. You'll know if you have them because it will look like someone took a paper punch to the leaves of your plants.
"If that's the case, we don't want to do anything," Evans said. "We want to conserve all of our pollinators, especially an excellent pollinator like the leafcutter."
---
What to plant if you want to attract pollinators
Be the first to know
Get local news delivered to your inbox!