He entered the Chicago courtroom on Sept. 21, 1951, wearing his signature white 10-gallon hat, looking like a cowboy from another time, which he was, and also was not.
Ever since anybody could remember, the man in the white hat had been an outsized character in his corner of northeast Nebraska, a lawman whose real-life story seemed ripped from the yellowed script of an old Hollywood Western.
He had busted bootleggers during Prohibition, gotten into gunfights with killers, and saddled up his prized horse, Buckskin Betty, and tracked thieves and fraudsters across the vast prairies of the half-tamed Great Plains.
He had forged friendships with the Omaha and Winnebago Tribes. He had made powerful enemies. He had met and protected the president of the United States.
He had shot well, punched first, posed for countless newsmen, strummed the mandolin and said precious little. He refused to talk about where he had come from, how he appeared one day in tiny Homer, Nebraska, why his own wife had never met a single relative of his.
He dressed like he was trying to prove something: the white hat, a bow tie, riding britches, riding boots and, hung off his belt, a pair of shined-up, pearl-handled pistols.
He called himself Richard Hart, or sometimes RJ, or sometimes Richard James, but it didn't much matter. For decades, Nebraskans knew him by his nickname: Two Gun.
It was Two Gun Hart who walked into that Chicago courtroom, an aging lawman now, jowly and paunchy, looking out of place and nervous as the cameras flashed and an overflow crowd leaned in to hear his words. He told the judge he couldn't much see anymore — cataracts and an old police injury. And then he made a single, simple request: Can I please wear my hat on the stand?
The question made perfect sense, because Richard "Two Gun" Hart, the man raising his right hand and pledging to tell the whole truth, had spent a lifetime carefully crafting his image, or concealing it, depending on which way you wanted to eyeball it.
He was a decorated war veteran, a fearless Prohibition agent, a skilled investigator and Homer's longtime town marshal — and yet he was also something else, something he had successfully hidden since the day he disappeared from Brooklyn at age 15.
If he seemed too good to be true, that's because he was. But, somehow, his whole truth seemed even more fictional than his fiction.
A lawyer asked: What is your name?
Richard J. Hart, he answered.
No, no. What name were you born with?
He spelled his first name for the jury: V-I-N-C-E-N-Z-O.
And then he uttered his family name in public for the first time in nearly a half-century.
* * * * *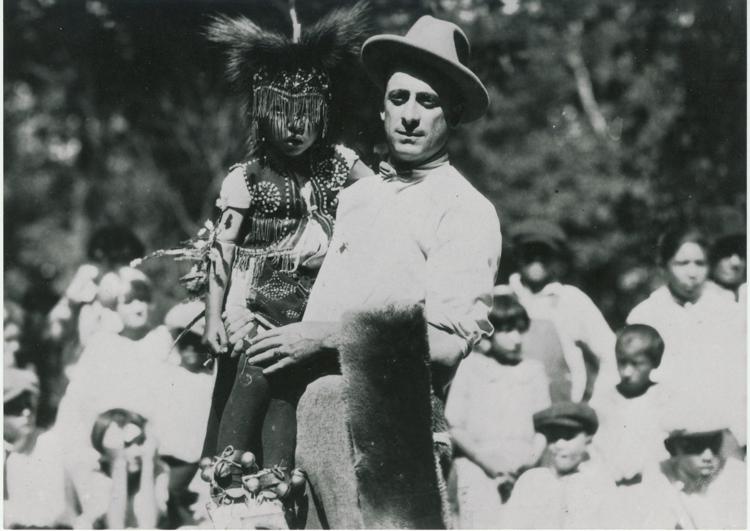 The Nebraska you don't know lies buried on a windswept rise 90 minutes north of Omaha, if you zip up Interstate 29. But here's the problem with the Interstate: You will zoom right by at 80 miles per hour. You won't veer left onto the highway that leads to Homer, population 549, town motto: "Little But Lively." You won't locate the gravel road that leads to the serene Omaha Valley Cemetery a few miles outside town, where generation after generation of Appletons and Harrises and Van Cleaves rest in orderly rows. And you will never park your car and climb up a little hill near the corner of this country cemetery, where the only sound is the March breeze rustling the pine trees.
"HART" says the gravestone. "Richard J, 1892-1952." "Kathleen M, 1899-1955."
You are standing at the end of a story that's equal parts Italian epic, Wild West reinvention and good old-fashioned American mystery. It's the story of a man and his secret. It's a chunk of hot-blooded Nebraska history that we have for too long zipped right by, unaware what we're missing.
You are standing at the final resting place of Richard "Two Gun" Hart, aka Vincenzo Capone, the famed Prohibition agent and eldest brother of the most infamous bootlegging gangster in American history.
"It seems like it wasn't true," says Clara Marie Maurice, a 93-year-old and one of the last living residents of Homer who remembers Two Gun Hart, "but it was."
* * * * *
No one knows why Vincenzo left.
He had always been a good boy, the eldest child, born in a tiny village in southern Italy in 1892 and a toddler when his parents, Gabriele and Teresina Capone, decided to move their young family across the ocean to Brooklyn.
As he grew up — and his parents had five children, then six and seven, then nine — Vincenzo became a caretaker to his younger siblings, a baby sitter while Gabriele worked long hours as a barber and Teresina cleaned and ran errands.
Vincenzo grew especially close to a brother seven years his junior, a little brother forever excited to be taken to Staten Island and shown the horse stables.
Vincenzo loved horses, loved them so much he got a job at a Staten Island stable tending to them. He loved silent films, particularly the Westerns. He loved Buffalo Bill's Wild West Show. And he loved sharing it all with his younger sibling, right up until the day in 1907 when Vincenzo took him to the Staten Island Ferry one final time.
Relatives and historians speculate that Vincenzo, by then roughly 15, had gotten into trouble with the law. Others believe he had a strained relationship with his father. But there is no proof, only speculation, says Jeff McArthur, who in 2013 published "Two Gun Hart," the only definitive biography, after years of research.
There is only this fact, McArthur says: When it was time to get on the ferry that day, Vincenzo told his 8-year-old brother to stay on dry land. You can't come, he said. I need to go alone.
Vincenzo Capone boarded the ferry, waved bye to his little brother Al, and vanished.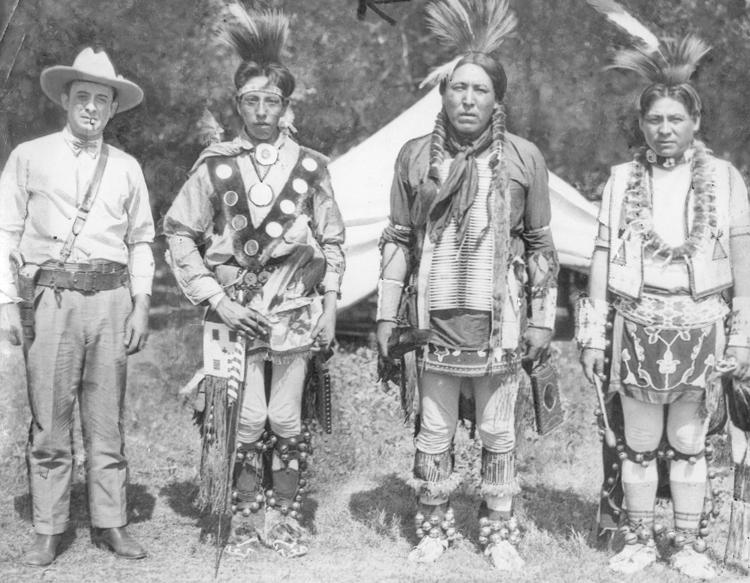 * * * * *
The figure who hopped from a northbound train and walked into Homer just after World War I must have struck the small-town Nebraskans, the sons and daughters of homesteaders, as a tad ... odd.
He dressed like a cowpoke from days gone by, wearing that 10-gallon white hat, cotton ranch shirts and boots, even though most of the town's men wore bowlers and shoes.
He said he was half-Indian. That explained the olive complexion, the residents of Homer figured.
He told everyone his name was Richard Hart, which seemed even weirder, because people in Homer — people all over the country — knew a man by that same last name, William Hart, as one of the era's famed silent Western movie stars.
The new guy in town looked an awful lot like the star in a Hollywood Western, and he acted like one, too.
After living in Homer for several weeks he jumped into rising floodwaters and helped rescue several people, including a 20-year-old woman named Kathleen Winch. A few months later, down at the Lutheran church, he actually married the damsel in distress.
Strangely, not a single relative of his showed at the wedding.
So, yes, the townspeople may have thought he was a little odd — why did he refuse to talk about his past? — but he also quickly became one of them, in that uniquely small-town way.
This kid Hart had fought in World War I and had the Distinguished Service Cross to prove it. He bought a pair of pearl-handled pistols and proved to be a crack shot.
He got a job as the Homer town marshal, and soon applied for — and received — a better job as the area's local Prohibition agent.
And quickly his exploits began to appear in the newspapers, first the Homer Star, then the Sioux City Journal, and then, every so often, the Omaha World-Herald.
He busted up an illegal still on a ranch near the Missouri River. He rounded up a few dozen rowdy boozers in Martinsburg. He went undercover, dressed as a day laborer, and pried information about the movement of booze from the low-life gangsters in South Sioux City, Nebraska. He disguised himself as a wounded war veteran and led a giant sting operation in Schuyler.
Train robbers in Grand Island. A dozen bootleggers in Fremont. Gamblers in Winnebago. Several murderers. And on and on, like one of those old movie montages where the music blares and the front page headlines spin, then stop smack-dab in the middle of the screen.
"State Agent Hart Cleans Up Randolph!"
"R.J. Hart Battles Gamblers"
For a little while, at least, everyone stopped wondering about Richard Hart, who now answered to "Two Gun." Some maybe thought he was a little too harsh with everyday residents who wanted a taste of whiskey. Maybe he acted a little too big for those laced-up boots.
Hart, wrote his hometown newspaper, "is becoming such a menace in the state that his name alone carries terror to the heart of every criminal."
And what criminal could disagree? Except maybe one a couple of states to the east, the new resident of a city quickly earning a reputation as the center of Prohibition-era vice and violence, an up-and-coming young gangster who would soon be known by a nickname, just like his big brother.
* * * * *
Harry Hart is 90 now — he can hear you just fine, thank you very much — but he will be damned if you think he's willing or able to fill in the blanks on his famous father's life.
He sits in a chair near a window at his Lincoln assisted living facility on a sunny Sunday morning and he listens to your questions, but that does not mean he is required by law to answer them.
Q: Why do you think your dad left New York and changed his identity? After all, the Capone name wasn't infamous until decades later.
A: "Don't have much idea about his early life," he says. "Never did talk to me too much."
Harry knows that he was born in 1926 on the Cheyenne River Agency in South Dakota. His famous father, Two Gun Hart, had gotten crosswise with one too many police bosses — too flashy and hated paperwork, they said of Two Gun — and moved west to become an agent for the Bureau of Indian Affairs. Harry learned to walk and talk in Idaho, after his dad moved the family farther west, to another Indian reservation, after another run-in with a boss. And then the family landed back in Homer just in time for Harry to start kindergarten, because Two Gun had lost another dispute with yet another boss and moved the family back home.
Harry remembers that he grew up in the teeth of the Depression. Times had grown tough for the Harts, like so many families. For a while they lived in a shack by the Omaha Creek, and subsisted on government flour and sugar.
Q: What did you think when your dad started disappearing for long stretches of time? What did he tell your mom? Where did you think he went?
A: "Nobody ever said nothing to me."
But it is true that Two Gun Hart began to leave town more and more when Harry was a teenager. Maybe he's working undercover, people said. Maybe he was simply searching for work. But it was harder to explain how, sometimes, when he had one too many, he would flash the wad down at the Homer bar. No one had that kind of dough during the Depression.
Author McArthur did scores of interviews with Harry and the family, and Harry loves McArthur's book, "Two Gun Hart." Swears by its accuracy.
But the rest of the family — Harry's own children and grandchildren — are now under contract in a production deal (presumably on the story of Two Gun Hart) that prevents them from talking.
Harry himself can talk all he wants, but he will not speculate. He will not give you what you want, simply because you want it.
He will talk about how his dad taught him to hunt, fish and swim, how he worked with the Boy Scouts, how he was a talented musician who played the mandolin inside the bar on Saturday nights. He will point out, proudly, that his father met and guarded President Calvin Coolidge on that president's trip to South Dakota. He will gladly say how he wants his father to be remembered.
"He was a lawman. Which he was. One of the best."
Then you lean toward the 90-year-old man sitting in the sunshine, and you give it another try.
Harry, what do you remember about the day your dad told you the truth? What do you remember about the day you learned that your very own uncle was none other than Al Capone?
Q: What do you remember about that, Harry?
A: "Never paid much attention to it."
Then, later: "It didn't mean piddly damn to me."
* * * * *
The Chicago reporter had become a favorite of Al Capone's, for a single simple reason: He always agreed to snap photos of the powerful gang leader's right side, hiding the two scars that a gangster had long ago slashed into Capone's left cheek.
That's why it makes some sense that, in 1924, this Chicago reporter, Tony Berardi, would encounter Capone with another man. And that Capone would exact a promise — you can't put this in the paper — and then jovially introduce the stranger to the reporter. This is my brother, Vincenzo.
Berardi told the story years later, long after Al Capone went to jail and his dynasty had crumbled. And while it's only that — a story — author McArthur believes it's the first time that the Nebraska lawman with the assumed identity met his grown-up kid brother, who now lived openly as a Chicago bootlegger and gangland king.
"It's of course shrouded in mystery, because these were two men whose professions involved hiding," McArthur says. "So nobody knows for sure. … But I don't see any reason why it shouldn't be believed."
If Richard Hart, aka Vincenzo Capone, did in fact reunite with his little brother Al some 17 years after vanishing, he likely had a bit of explaining to do.
He had written home only once in those 17 years — a year after he disappeared — explaining in a letter postmarked Wichita, Kansas, that he was working at an oil field and moonlighting as a wrestler and performer.
Why had he left? And why had he changed his name? After all, in 1907 the Capones were just another Italian-American family trying to make it in Brooklyn. It wasn't until Al and several brothers moved to Chicago years later that they became the Capones, infamous crime family.
(McArthur believes the name change may have been spurred by anti-Italian bias in the Great Plains. It was simply easier to be Richard Hart than Vincenzo Capone.)
The brothers also would have had a bit of uncomfortable business to discuss: One was a lawman stationed in eastern Nebraska, while the other was an ever-more-powerful bootlegger expanding west from Illinois into Iowa, Missouri and Kansas.
It's interesting, McArthur thinks, that soon after this alleged meeting, Richard Hart moved his family west, and then even farther west, as the Capone bootlegging empire expanded. And it's also interesting that Al Capone broke into the Kansas City and western Iowa areas but never really pushed his way across the state line into Nebraska.
It looks, to the author, like the lawman and the criminal were intentionally tap-dancing around each other.
"You had two places along that road, Lincoln and Omaha, that would have been friendly to Al, places he could get a lot done. But he never did," McArthur says. "It's a mystery why he didn't, other than the idea that he and Two Gun had an agreement."
They may have stayed out of each other's way, but there's no denying that as the years passed, Richard Hart drew closer and closer to his infamous family. Omaha and Winnebago elders talk about Hart holding meetings with a scar-faced stranger on those reservations, McArthur says. Hart took several known trips to Chicago, and at some point after Al Capone's imprisonment began to visit Ralph Capone (who had taken over for Al) at his Wisconsin cabin.
Hart began to tell the truth about his family to several confidants in Homer. Then, likely in the early 1940s, he finally confided in his family. At that point, he had been married to his wife, Kathleen, for nearly a quarter-century.
"Can you imagine?" McArthur asks.
But the truth remained hidden from the public, even as the cracks started to show.
Richard Hart, war veteran and still-respected Homer lawman, joined the local American Legion, quickly rising to post commander. But then a fellow World War I veteran began to talk about how there was no Richard James Hart in the Army's First Division.
The Legion members, confused and indignant, called on Hart to explain the discrepancy.
Hart did not explain. Instead, he walked out of the Legion Hall.
* * * * *
The old-timey newspaper headlines are flying at the screen again, but this time they are the sort of headlines Richard "Two Gun" Hart never wanted to read.
"Long Lost Capone Is Found"
"FBI Agents Turn Up Lost Brother of Ralph Capone"
"Was Prohibition Officer When Kin Ruled Gangsters"
Hart had been subpoenaed to appear before a federal grand jury, in a case involving Ralph Capone's alleged tax fraud. Ralph Capone had told the authorities — falsely — that his brother James, or Vincenzo, owned the Wisconsin property that had been in the family for decades. One problem: Just who was this Vincenzo Capone?
The authorities found him, and in September 1951 he boarded an Omaha train bound for a Chicago courthouse. As he departed, the residents of Homer and northeast Nebraska — his longtime friends, enemies and neighbors — were awaking to newspapers blaring the truth, or at least the half-truth, about their longtime town marshal. They were exiting their front doors and finding reporters — dozens of reporters — in town, looking for reaction.
Hart was "rough, abusive and mean as hell," the Dakota County sheriff told this newspaper.
"I have seen him shoot a crow on the wing with his revolvers," said a local mechanic. "Some people don't like him because he made them toe the mark ..."
A World-Herald reporter also found Harry Hart, who was then 26 and working as a house painter in the Homer area.
"And you can say for me that he has been as fine a dad to me and my brothers as anyone could ask for," Harry Hart told The World-Herald on Sept. 20, 1951. "I'm proud of him."
Today, Clara Marie Maurice, who lived in Homer at the time, remembers one predominant emotion: shock.
"I think it was mostly a great surprise," she says. "It's not like we were worried about it or anything. But to think he was a Capone … in Homer, that was something."
Several days after his decades-long secret was revealed in Nebraska, Two Gun Hart took the stand in Chicago, spelled out his given name, and began to testify in his brother's tax case.
And then he finished, and did something few expected: He returned home to Homer.
He walked the streets, as he had forever. He played the mandolin at the bar, as always. He kept calling himself Richard Hart, because the illusion had long ago become the reality.
Some neighbors gave him the cold shoulder, according to McArthur. Some seemed curious but were too embarrassed to pry. And some simply shrugged and thought, "Heck, that explains it," and went about their days.
No one lived with this new reality of Two Gun Hart for too long.
On Oct. 1, 1952, just a year after the trial, 60-year-old Richard complained of chest pains. He was dead within hours. They buried him in the Omaha Valley Cemetery, right outside town, on a gentle rise where, if you visit on a March afternoon, the only sound is the wind rustling the pine trees.
They buried him, per his wishes, under the name he preferred. The name he alone made famous. The name he made real.
"HART" says the gravestone. "Richard J., 1892-1952." "Kathleen M., 1899-1955."
You stare at that gravestone for a long time, then you walk back to your car, thinking about how they say nothing interesting ever happens in Nebraska.
"I remember learning a part of his story, and going 'No way!' and then I would see the photograph that proved it," McArthur said. "He really dressed like that. He really did all those things. In some way, his story is more captivating than Al Capone's. In some way, he lived a more fascinating life than his brother."
Be the first to know
Get local news delivered to your inbox!