LEWELLEN, Neb. — The skates are one sign that things will be a tad different in this Garden County town.
Hang a left off Highway 26, enter the first Main Street business you see, and you find co-owner Cynthia Miller on roller skates, skidding to a stop at the counter to grab chicken salad sandwiches and giant slices of strawberry rhubarb pie and then gliding across the room to deliver them to hungry diners.
"The tables used to be farther from the kitchen," Cynthia explains. "It takes less energy to skate than run, so ..."
Another signal that something is a bit offbeat here is this space itself. It has soaring ceilings and mismatched tables, brightly painted walls filled with folk art paintings and wood sculptures created by co-owner Dennis Miller Jr. — Cynthia's husband — and two of his siblings.
A third sign that this is no normal business: No one can really say exactly what kind of business it is.
It is a cafe, a coffee shop, an art gallery, a gift shop, an events space and also a music venue. It is a funky beast, in fact the epicenter of one Lewellen family's funky business empire that also includes rental homes, a sawmill and an organic farm.
Which leads us to the first and best sign that when you enter this singular spot on Lewellen's Main Street, you are entering something not duplicated on any other Main Street anywhere.
It is literally the sign out front, the name Dennis gave this business in 2009 over howls from relatives who thought the name a tad too long and smidge too weird.
The Most Unlikely Place, it is called.
"It is long and awkward," Dennis says. "Also accurate."
The Most Unlikely Place is indeed unlikely. It's also proof that, with a little money and a lot of work, a single family can reshape one small town in its unlikely image.
The Miller family had no real plan to do this, Dennis says. One day they simply started building, renovating and rebuilding. And nearly a decade later, people are most certainly coming. Out-of-towners who live 30 or 50 or 80 miles away. And tourists from all over the country, attracted to this most unlikely place by its unlikely nature.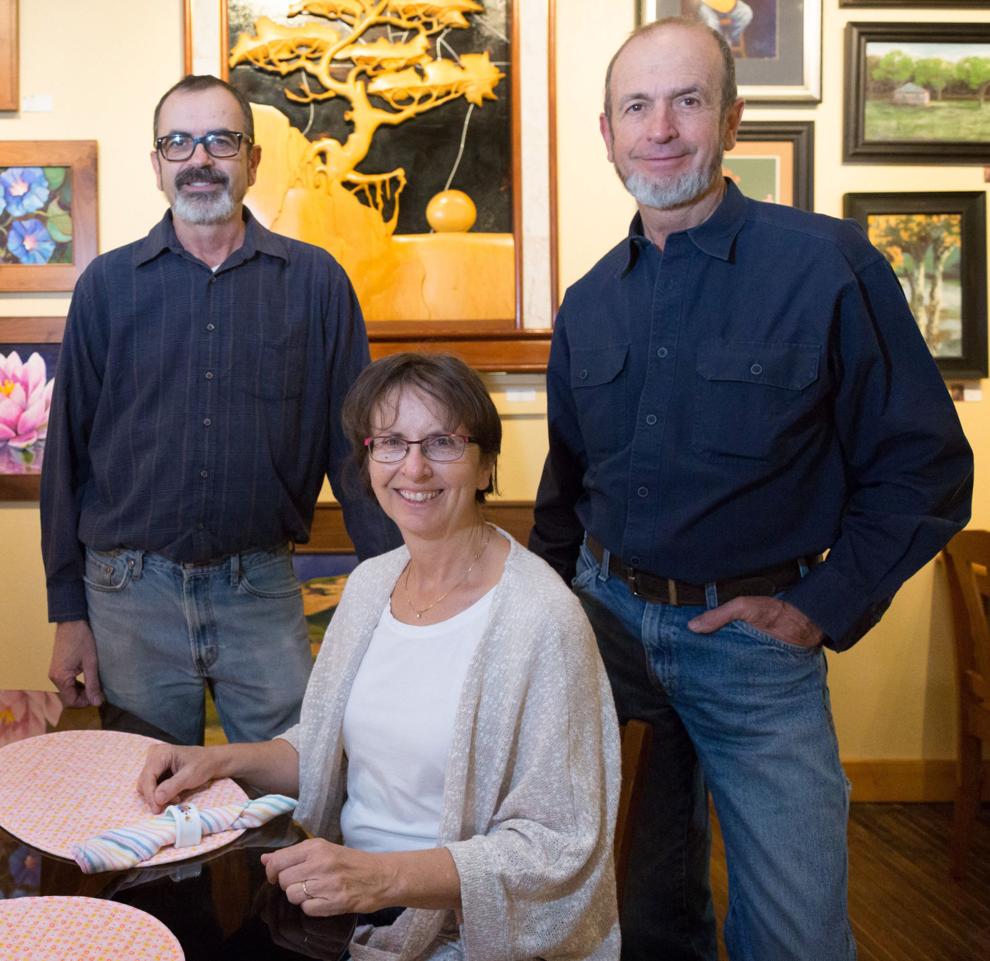 "My sister Jean always says Lewellen is going to be the Taos of Nebraska," Dennis Miller Jr. says. "I like that."
This Taos-ing of a town of 224 people just west of Lake McConaughy began for a suitably unlikely reason in 2008. That year a longtime Lewellen fixture named Paul Temple died, leaving behind a Main Street building that he had split into several businesses, including his sign-painting studio.
His daughter Mary approached Dennis Miller Jr after the funeral and said, "Daddy said I'm supposed to sell you the building." So Miller, a retired Naval officer, and his brother Rex bought it for $10,000.
"I thought, 'Great!' " Miller remembers. " 'Now what?' "
The family's first inclination was to open an art space, in part because the four living Miller siblings include three practicing artists who live near Lewellen.
There is Jean, a painter who also happens to hold a master's degree in cultural anthropology and sociology from a university in Nairobi, Kenya. There is Rex, a skilled carpenter, woodworker and craftsmen. And Dennis Jr. himself, who moved home to Lewellen with his wife, Cynthia, and boys after retiring from the Navy in 1991.
But the family worried, quite understandably, that an art space alone wouldn't make it in tiny Lewellen.
They decided to make it an events space. But any self-respecting events space needs a kitchen.
So Rex and Dennis built one, just as they had torn out walls and the drop ceiling, redone floors and fixed the roof to restore this grand old building — constructed in 1908 as a playhouse and silent movie theater — to its former grandeur.
Then, when the kitchen was complete, they wondered: Why not open a coffee shop?
Cynthia agreed, became the coffee shop's manager and laced up her roller skates to deliver lattes and desserts to patrons starting on April Fool's Day 2009. But then a friend wondered: Cynthia, why don't you do lunch, too?
And then someone else wondered: Why don't we also sell jewelry from local makers, and wine from the local winery? Why don't we have a rotating cast of western Nebraska artists who also exhibit their art in the gallery? Why don't we sell books by Nebraska authors? Why don't we host concerts, and special dinners?
So they did that, too, despite the fact that Cynthia and Dennis were then nearing and then blowing past normal retirement age.
"It is kind of crazy," Cynthia agrees. "Sometimes I think about it and just scratch my head and think, 'How did this happen?' "
And, incredibly, the Miller family was not done. As the Most Unlikely Place became well-known to western Nebraska diners and tourists from all over the U.S., Dennis and Rex bought the building next to it on Main Street and transformed it into Rex's woodworking studio.
Then they bought the Old State Theater, fixed it up and rented it out to a tax accountant.
Then they bought the old Chevron filling station on the corner and fixed it up, renting part of that building to another art gallery.
They also bought a sawmill, so Rex could turn fallen trees into beautiful wood frames for the gallery's artwork. They also bought homes and buildings in both Lewellen and nearby Oshkosh, fixed them up and turned them into rental properties. They also started that organic farm because ... well, why not?
"I told my brother, 'nothing new after I turn 70,' " says Dennis, who recently turned 70. And yet, he says, there is room for another studio or an office in the State Theater. There may be a way, in fact, to turn the old projection room into an apartment ...
Dennis is still telling you about his plans when Rex calls and says he needs help with a job. As Dennis prepares to leave, an older couple wander into the Most Unlikely Place, giving you a chance to watch its particular blend of small-town hospitality and unlikeliness in action.
It is past 3 p.m., and the Most Unlikely Place is actually closed for the day, but that doesn't stop Cynthia, who has just taken off her roller skates, from rising out of a chair and offering the couple dessert.
"We have one piece of pie and one slice of cake left!" she says cheerily.
The visiting couple are suitably moved by Cynthia's caloric kindness and quickly agree to one slice of each. But as they wait for dessert, they continue to look around the space. They look at the brightly colored walls and mismatched tables and dozens of pieces of art. They look at the banner that rings the space — a banner with painted words like, "Truth" and "Grace" and "Play."
They take all of this in, on this Main Street in a town of 224 people near Lake McConaughy, and it is clear that they do not know what, exactly, to think.
Finally, the woman of the couple speaks.
"This is unusual," she says.
Dennis Miller Jr. beams. "Yeah," he says. "Pretty much."
Food critic Sarah Baker Hansen is from Omaha. Columnist Matthew Hansen grew up in Red Cloud. As a married couple, they travel Nebraska to share with each other little-known people, unexpected stops and memorable foods. Come along and discover more of what the state has to offer in "The Better Half," an occasional series prepared with support from the Nebraska Community Foundation.