Each time Omahan Ellen Gerber thought things couldn't get worse, they did.
First there was the threat of coronavirus.
Then events in Nebraska were limited to 50 people. Then 10. And travel wasn't advised.
Those restrictions meant that her out-of-town siblings and her out-of-town pastor wouldn't make the wedding ceremony.
Then more than 3 inches of snow fell — threatening her outdoor ceremony.
"Everything that could happen did," said Gerber, 33. "It really felt that way. I panicked, but then I laughed."
Despite all the setbacks, Gerber went ahead with a scaled-down, revamped version of her original ceremony on her original date, April 18.
Many bridal couples are facing the same uncertainty about their ceremonies and receptions. They're grappling with whether to move forward with plans, reschedule or cancel altogether. That can leave vendors scrambling, too.
* * *
Instead of a country club wedding at Champions Run with more than 300 guests, Gerber pared the list to 10, including the officiant.
They shoveled snow at the backup location — her dad's deck. Friends and family joined via social media, and most of Gerber's plans for a cake and catered meal stayed the same. After the ceremony, her guests ate a socially distanced meal, with a few people in each room of her dad's west Omaha home.
But her flower order was revamped. Instead of two arrangements on pedestals, Rose McCormick and her team at Beyond the Vine created a floral backdrop on a metal frame for the couple's vows and photos.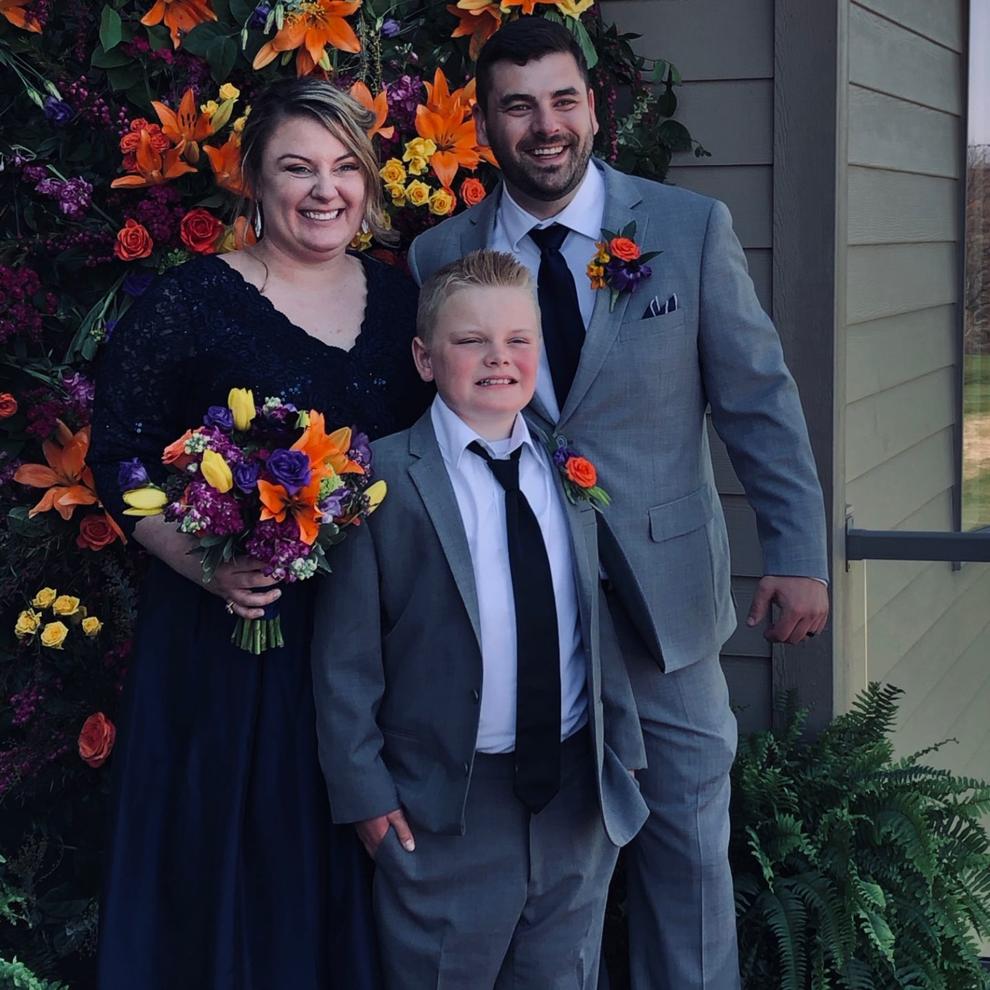 A more intimate wedding can allow more room in the budget for flowers, McCormick said. "You really can do a lot," especially with backdrops. "You're going to look at your photo album years from now and you want to love it." Flowers can help draw focus where it belongs.
"You will have memories forever and you will forget this COVID crisis," she said.
Gerber's floral wall featured the same bright blooms she wanted for her arrangements. It worked perfectly for screening all but a few small piles of snow and a handful of golfers in pictures, the bride said.
* * *
McCormick has had a handful of postponements. For some new wedding dates, that might mean tweaking flower orders to include selections that are in season. Other 2020 clients are moving ahead as planned.
While weddings aren't McCormick's main income source, COVID-19 still has been a challenge financially.
"It hurts right now because you planned on that revenue this month, and it just disappeared," she said of her floral and home accessories shop. "There's no way to recoup that. I'm glad they're not canceling and they are having something down the road."
Eric Maas was bracing for cancellations. Instead, the CEO of Complete Weddings + Events has seen about 90% of couples rescheduling.
The business, which specializes in DJ music, photography and videography, has been flexible with couples and isn't charging a fee to swap dates.
"We're all in this together," he said.
Next year is shaping up to be a big one in the wedding world, Maas said. Already, Complete has rebooked a handful of Saturday weddings. Some couples even are moving to weeknights and Sundays.
Catering companies are seeing the same trend. Kylie LaCour, lead catering coordinator for Save the Date Catering, said dates are booked for every month of 2021, and Sundays and Thursdays are in the mix.
Postponing is a tough decision, because couples naturally want to celebrate the milestone surrounded by family and friends, said Dana Osborne of Dana Osborne Design.
She has been encouraging couples to add what she is calling an "optimistic card" to their invitation packages. The card lets guests know that the COVID-19 situation is being monitored and directs them to the couple's wedding website for any changes in plan.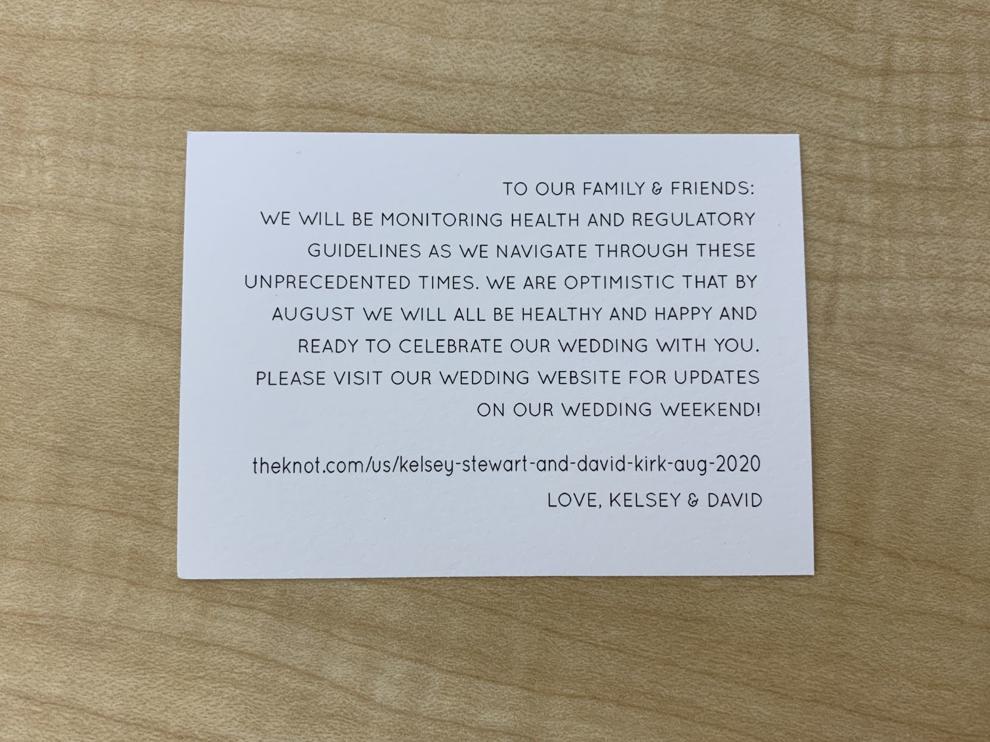 Osborne also has created graphics for social media, postcards and new invitations for couples who have postponed.
"You're going to get married," Osborne said. "It's going to happen. It may look a little bit different than you thought."
Postponing is a couple's personal preference, said Haley Flynn, manager of Bella Terre Reception Hall & Vineyard near Glenwood, Iowa.
The venue has seen a mix of postponements and scaled-back ceremonies, with a few cancellations sprinkled in.
Flynn advises couples to have a backup plan sooner rather than later.
"Making a decision can ease the stress of the unknowns," she said. "The only way we're going to get through this is by working together. Know that everyone's in the same boat."
Some rental businesses haven taken a hit with restrictions on large events. Dean Brown, co-owner of United Rent-All, said his business has had a large number of cancellations for weddings and other events, such as graduation parties.
Brown said they're not issuing cancellation fees and they're refunding in full.
"We understand that this is beyond everyone's control," he said.
A few clients are moving ahead with scaled-back events, requiring smaller tents and fewer chairs and linens.
The future of large events is a concern, Brown said, but United Rent-All is in a fortunate financial position and hopes to be back in the party business soon.
Katie Brown and Kimberly Persons, owners of Tiny Luxe Weddings, have seen an uptick in inquiries because of size restrictions on weddings.
Their business specializes in intimate weddings with fewer than 100 guests. They also offer elopement packages.
"A lot more couples are frustrated and emotionally drained," Persons said. "Our business is set up to help people like that, who are at their wits' end. That's kind of our jam."
Many of their couples are finding that being married is more important to them than having a large wedding. But still, Brown said, it's OK to mourn the loss of your original wedding plans.
* * *
Jess O'Neill and Kyle McMindes decided to move forward with an intimate wedding ceremony with immediate family on their planned date, April 25. The big party can happen later, the Omaha couple agreed.
The high school sweethearts have been together for eight years.
"It was small, but we loved it," said the bride, 24. "We had the people who meant the world to us there."
What they didn't plan on was a parade of would-be wedding guests cheering them on from the street as the newlyweds exited Our Lady of Lourdes Catholic Church.
The surprise continued at home. The couple found a bottle of champagne waiting for them, along with giant yard signs with congratulation messages.
Their parents teamed up to assemble the surprise parade and yard swag.
"We just wanted to make it special for them," said the groom's mom, Patti McMindes. "They've been planning it for so long."
The newlyweds and their guests celebrated with Runza sandwiches and cake, and a first dance.
It was important to O'Neill, a cardiac intensive care nurse, to abide by the health directives. Even in the church, she asked guests to maintain a safe distance of 6 feet.
Despite the changes, the bride said she was happy with how the day turned out.
"We think our wedding day is so much more special," O'Neill said. "All those surprises from our family members made the day the best."
* * *
The setbacks as new health directives rolled in were frustrating, Gerber said.
"A lot of tears were shed," she said. "There was a lot of wondering if I was still doing the right thing by going forward with it."
But Gerber wanted to marry fiancé Tyler Waugh. And as long as her 10-year-old son, Henry, was there to celebrate, she was happy. The couple plan to host a vow renewal ceremony and reception on their one-year anniversary.
Gerber's advice for brides-to-be is to roll with the changes. Take a deep breath, cry a little and move on.
Photos: Omaha couple surprised with parade on wedding day during coronavirus pandemic