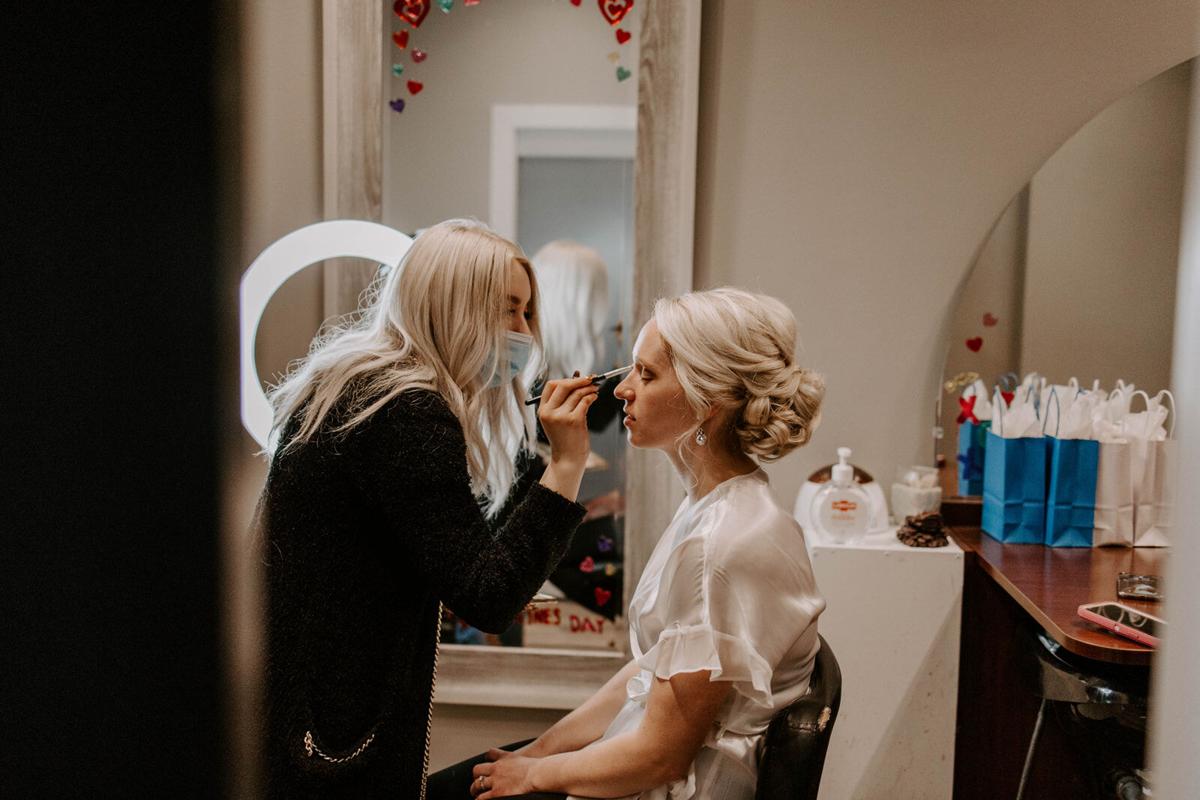 The best makeup artists have a common wedding-day goal: making you feel happy and beautiful.
The process starts by getting to know the bride and a little about the venue, said Kristen Rozmiarek, a master stylist and lead makeup artist for Kontempo., a salon in Omaha.
Select a makeup artist who fits your style: You should feel comfortable with his or her approach. Don't be afraid to say what you want. If you see something you don't like, speak up. If your preferences are ignored or dismissed, find a better match.
Do a trial run: A practice session the day before your ceremony can yield lots of information. Maybe the eyeliner didn't last or the blush disappeared. Those are things that can be fixed on the big day. Using high-quality products will give you the best results.
Block plenty of time: Rozmiarek typically blocks an hour for the bride and 45 minutes per bridesmaid and mother of the bride. If the photographer is there, request a test photo so you can see how your makeup will look in the official photos.
4. Keep it light. While you want to look special, you also want people to recognize you as you walk down the aisle. If you don't wear a lot of heavy makeup on a day-to-day basis, don't do it on your big day, either.
5. Ditto for lips. If you have light hair, an ivory dress and soft green flowers, don't distract from that picture with a hot pink or dark lip color that takes away from your color scheme. A nude lip, on the other hand, can make you look sickly and washed out (lip colors tend to appear one shade lighter in photographs). Stay light but play off your natural lip and skin tones. You also could wear a more dramatic lip color for photographs and then blot it for the ceremony. Or go with a lighter shade entirely. Avoid lip stains; opt for a lipstick that can be easily refreshed.
6. Eye your palette. For a natural look, consider eye shadows in earthy tones. The exception is a bride who typically wears darker colors, has deep-set eyes or a dark wedding palette. Heavy black eyeliner will overpower a soft romantic feel; dark brown most often is a better choice.
7. Go easy on tanning. Makeup artists can fix a lighter face, but the orange from a spray tan gone wrong will eat its way through most foundations (and ruin your dress). Play it safe: Do not apply self-tanner to your face. If you have to tan because you're heading to the beach for your honeymoon, apply self-tanner very lightly to the face.
8. Beware of concealer. Some under-eye concealers and setting powders reflect light in flash photography and show up as white or light spots on the face. When touching up with powder, press a small amount into the skin and dust off any excess, or use blotting paper. In a pinch, gently blot with a clean tissue.
9. Prepare to blot. When the tears come, blot them with your finger or a tissue and let your skin air dry. Don't wipe; you'll get rid of the tears and your makeup at the same time.
10. Hydrate and catch some zzzz's. It's amazing what good sleep and lots of water will do for your face. Sleep reduces puffiness and dark circles under the eyes. Hydrating well before the wedding plumps the skin and creates a better surface for makeup. Rozmiarek recommended waxing at least a week before the wedding so your skin texture has a chance to bounce back. Don't worry if you have acne, rosacea or scarring. "That is really easy to cover up with makeup,'' Rozmiarek said.
---
The Big Day: Your video guide to planning your wedding
Feast Living presents The Big Day: Bridal Party Hair sponsored by Nebraska Realty
Feast Living presents The Big Day: Bridal Party Makeup sponsored by Nebraska Realty
Feast Living presents The Big Day: Hair Accessories sponsored by Nebraska Realty
Feast Living presents The Big Day: Wedding Ensemble Details sponsored by Nebraska Realty
Feast Living presents The Big Day: Wedding Cakes sponsored by Nebraska Realty
Feast Living presents The Big Day: Wedding Dress Trends sponsored by Nebraska Realty
Coming soon: The Big Day video series starting Jan. 7
Planning the perfect wedding requires skill, organization, a few lucky charms, some magic and a village of great friends to help you pull it off. Enter The Big Day video series – your friendly resource designed to help you create your fairytale day.
To kick off the six-part series, we'll start with the main event – the dress, obviously. Bridal shop experts will reveal the hottest trends in wedding dresses this year and explain what to ask for on your monumental shopping trip to look chic and in-style for every photo op.
The following week, tune in for tasty tips on arguably the best part of wedding planning – the cake. A winner of TLC's "Next Great Baker" will show viewers the three mouthwatering, gorgeous cake designs brides are loving right now and explain which trend pairs best with which type of wedding.
Next up, we'll visit our bridal shop experts again, where their stylists will zero in on the show-stopping details that will make your wedding ensemble truly special – from buttons to beading to lace to silhouette features and more.
For our fourth video, we'll turn our gaze to something that is top-of-mind for many brides – literally. Get inspired by their review of the hair accessory trends to note this year – after all, why should the dress get all the attention?
And even though this technically is your day, you can't forget your girls – the ones who have always been by your side in life and in love. For our final two installments of this series, we'll introduce you to the "Bridal Party Boutique," where fabulous bridal beauty specialists will share DIY makeup and hair tips and tricks with your bridesmaids, so they can feel beautiful and camera-ready from the ceremony to the reception to the sparkler-lined send-off.
No matter what kind of celebration you're dreaming of, let "The Big Day" video series keep you inspired and on-trend as you plan the best day of your life. Stay tuned for the launch on January 7!
---

This content was produced by Brand Ave. Studios in collaboration with the sponsor. The news and editorial departments had no role in its creation or display. For more information about Brand Ave. Studios, contact sales@brandavestudios.com.